Exclusive Interview with MHS Alumni Tony Gonzalez and Jim Cooney
Two Prestigious Thespians Reminisce on the Lasting Impact of Mentor High School on their Lives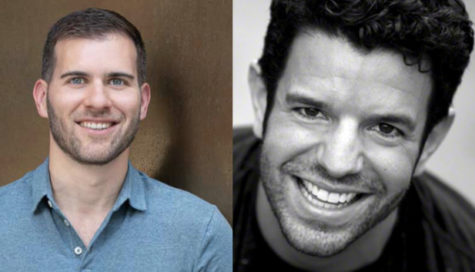 Here in Mentor, we are fortunate to not only have the facilities to allow for the seeds of an excellent performing arts program to be planted but also to have a culture that has turned those seeds into something that is truly special. 
Recently, I had the pleasure of being able to chat via email with two products of MHS' stellar theatre program that have gone on to have remarkably successful careers in the theatrical world: Mr. Tony Gonzalez and Mr. Jim Cooney.
Following his graduation from MHS in 1999, Tony Gonzalez studied musical theatre/dance construction at Otterbein College. While a major in musical theatre is one that is typically associated with a great amount of risk due to the competitive nature of the field, Gonzalez's decision to take this risk and pursue his dreams would prove to be one that was well worth his while, as following his graduation from Otterbein, Gonzalez's theatrical career soared. He spent a decade with the musical "Mamma Mia!" on Broadway, and has served as a dance captain for productions around the country. In 2021, Mr. Gonzalez returned to his roots here in northeast Ohio and became the Show and Casting Manager at Cedar Point Amusement Park. In 2016, Tony Gonzalez was inducted into Mentor Theatre's Hall of Fame.
Jim Cooney was a 1996 graduate of Mentor High, and, similar to Gonzalez, elected to attend Otterbein College for his musical theatre education. Cooney's career has focused primarily on choreography, with him having choreographed countless productions around the country in addition to numerous other projects, including commercials, parades, and casino shows. In fact, in 2019, Cooney choreographed a production of "A Chorus Line" in which Tony Gonzalez was a member of the cast! Cooney has been recognized with a plethora of awards and award nominations for his work as a choreographer by well-respected theatrical organizations such as the New Jersey State Council on the Arts. Currently, Cooney is again working alongside Tony Gonzalez to put together various shows at Cedar Point. Jim Cooney is a member of Mentor Theatre's Hall of Fame, class of 2018.
Mr. John Greene is the current director of Mentor Theatre and a member of the Council that selects the individuals who are inducted into the Mentor Theatre Hall of Fame, an initiative he started.
"When I first started the Mentor Theatre Hall of Fame in 2016," Mr. Greene says, "I wanted to recognize individuals whose time in the program matched their successes in life.  Both Jim and Tony were positive forces in the program by all who knew both of them and they have gone on to phenomenal careers in the entertainment industry. I have loved watching their careers over the years and they are perfect role models for the current crop of theatre students."
We asked them some questions about their time at Mentor High and their careers. Here is what they had to share:
Cardinal Nation: How did your time at Mentor High shape who you are today?
Cooney: "The year I got to MHS was the year the performing arts center opened, so there was a lot of excitement in the community about that. It was the biggest space I had performed in at that point and had the latest technology, so I got to have a more realistic experience that was closer to the professional world than most other high school students. "
Gonzalez: "Confidence and Comfort come to mind at first when I think about my time at MHS Theatre. HOW VERY LUCKY we were/are to have such a glorious venue and strong team to support theatrical arts in northern Ohio! Joe Lorek [(MHS's theatre director from 1980-2001)] has always been a powerful driving force in my training as an artist [as well as] a human. My experiences in high school most definitely powered me to be stronger, bolder, unique, and proud. I'd be remiss to not mention that other parts of my high school career were not as pleasant…which is why the minute I walked through the doors to the Fine Arts Center I always felt at home, safe, creative, and happy!"
Broadway World profile – Tony Gonzalez
Cardinal Nation: To what extent did your involvement in Mentor Theatre further your theatrical interests?
Cooney: "I got to work with Marlene Leber [(MHS's longtime choreographer]), who was choreographing some of the shows. She invited me to perform in some productions and concerts outside of MHS, which gave me the confidence I could pursue this as a career. Also, I got to observe how she put dances together, and it was the first time I began thinking about being a choreographer instead of a performer."
Gonzalez: "Being introduced to so many aspects of theatre, design, choreography, production, rehearsal process, creative process (even if they were brief lessons) have truly kept me always on the edge of asking 'what next?' How can we tell THIS story? How do I make this magic happen on a tight budget? How do we truly surprise the audience?' [Et cetera]."
Cardinal Nation: What was your favorite role and/or production that you played/participated in during your time in Mentor Theatre?
Cooney: "Probably playing the Carnival Boy in Carousel. It was the first musical to be done in the performing arts center, so I was really excited to have been cast in it, especially as a feature. The collaboration between my dance partner and Marlene, the choreographer, was fascinating to me. It showed me how you can create movement based on the skills of the performers you have and how to highlight their strengths."
Gonzalez: "This will be NO ONE'S favorite answer, but in the lesser-known musical "Blood Brothers" I got the opportunity to play the Narrator. I would like to be wildly honest with you, the vocal demands of this role were NOT for me, I am a lot of things but a ROCK TENOR is not one of them. ALL that being said…the role was absolutely incredible. To play a Narrator in any story is the epitome of storytelling, right? To be in almost every scene, to not be seen by anyone on stage but to always be in their conscious, to embody each character as if to play each character's arch through the play, WHOA I'm tired thinking about it, but it was THRILLING!!!!! LOVED IT, love the show, loved the opportunity, can't get enough."
Cardinal Nation: What would you say that your induction into the Mentor Theatre Hall of Fame Means to you?
Cooney: "To be honest, I had a different experience in high school than most of my peers. I was performing in community theaters, so I often had conflicts that prevented me from auditioning for a lot of the MHS shows. I wasn't in Top 25 because at that time you had to also be in the school choir to even audition, but I was taking the TV production electives instead (which ended up being very helpful in my career). I also graduated a semester early, so I didn't get to have the big send-off most of the seniors got during the last show of the year."
Gonzalez: "Legitimately when I read this just now I got emotional. HONOR is truly what it means to me. There have long been honors such as this for academic and athletic humans, [but] not often [for] the artistic humans. This is major, ya know? For a guy whose family is ladened with football players and coaches, I just wanted to sing and dance. I did it cause it filled my heart and brought me joy,  for the longest time it didn't seem like I could turn that into a career. THANK YOU MR. GREENE and [the] MENTOR THEATRE TEAM for showing the folks that what we are doing is legit."
Cardinal Nation: What advice would you give to any current high schoolers who may have plans to pursue a career in the performing arts?
Cooney: "That you can do it. If your gut is telling you to pursue this, listen to it. Put in the work, and you can make it happen. I love the life I've created for myself and feel so lucky to get paid doing what I love. I've gotten to travel the world and have had so many experiences I never even imagined. Everything is already out there for you. You just have to believe in yourself."
Gonzalez: "Much like I mentioned earlier, find YOURSELF in every single aspect of the industry. Onstage, backstage, in the house, in the box office, in the shop, up on the catwalk, costumes, hair, writing, composing, choreographing, designing, management, casting, creating, building, ALL OF IT. Don't limit [yourself]. ALSO, do NOT stop learning, ever, promise me that!!!!"
——————————————————————————————————————————-
The time, effort, and thought that went behind each and every one of those responses from both men was evident with each word that they wrote. I feel a great amount of gratitude towards each of them for being willing to allocate a portion of time from their incredibly busy schedules towards their alma mater, it truly speaks volumes about each of their respective characters. 
As detailed by both men in the above responses, the connections made, bonds built, and experiences had as a result of their time at Mentor have played an instrumental role in shaping each of these accomplished individuals into becoming the prominent thespians that they are today. So if you happen to find yourself at Cedar Point this summer, as I am sure many of you will, each time you watch a performance or witness a parade during your stay, make sure to keep in the back of your mind that the top-tier quality of the performance is likely due in part to the contributions of a fellow Mentor Cardinal.