Ari Kocab (MHS '18) talks about her bioarchaeological findings in Spain! (Part Two)
MHS graduate traveled to Europe this summer and shares her experience there
October 13, 2022
We profiled Ari Kocab in a previous story. She is the MHS alumni who recently graduated from Ohio University with top honors with a Bachelor's of Arts in Anthropology, a History minor, and a Museum Studies certificate (see Part One for more). Over the summer, she took a once-in-a-lifetime trip to Spain for a bioarchaeological dig. Cardinal Nation had the privilege of contacting her to learn not only what archaeologists do on a dig, but to see all of the experiences Ari has had since her time here at MHS.
Here is what Ari shared:
The dig in Spain was absolutely amazing. I also want to point out something I learned after being there is that the town of Roncesvalles and it's people, the Basque culture, do not identify as Spaniard. Their culture and Basque region has been fought over by the French and Spanish for centuries on end, leading to the genocide of the Basque people and killing of their culture. Luckily, the monarchy in Spain is working with the Navarrian government (Navarre is the basque region's personal government) to recognize their culture and improve their relations. So, it was geographically in Spain, but I would use the Basque Country or Navarra to describe geographically where Roncesvalles is.
The dig went on for three weeks in the town, which only has 21 residents living there. They mostly run the three bar/restaurant/hotel buildings that are in the town. The other buildings were the izendegia where us archaeologists stayed, the albergue where the Catholic pilgrims stayed, the tourist stand, the museum/cloister, and the Silo site itself. Very small! We started at 8:45 a.m. and were split into five groups based on our test scores from the first bone quiz. I had a good score, so I was put into Group 5, whose members had the most knowledge about osteological anatomy. We would rotate these groups in and out of the "pit" of the silo where all of the bones were. Another term for this is an "ossuary," or a place where many bones of (usually) people are held for burial or decoration. The company in charge is Aditu Arkeología, a cooperative group which self-fund their projects based on their interests and resource access. They are lovely people!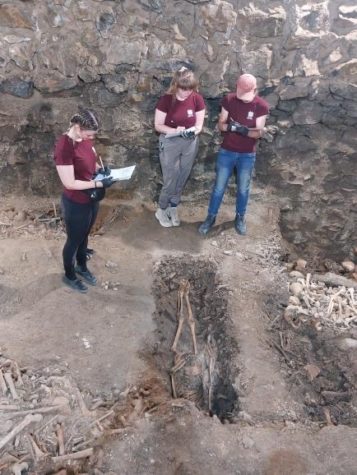 The webpage for this site is https://aditufieldschool.weebly.com and has more information about the site. Like how even though the site is called "Charlemagne's Silo," we don't believe it was built even in his time period or by him. Roncesvalles is two miles from the French border and has an easy mountain trail that Catholic pilgrims use for the Camino, and sadly, as well as past soldiers invading territories. The bones in the site are believed to be passing warriors, local warriors, locals, clergymen, and Camino pilgrims who all died in town. The 1000 year old Camino used to take more than 5 months to do (nowadays about 3 months if you're non-stop) so many people have died during their trip over the centuries. The accommodation where we were has been used as a church, horse stables, children's/sick people hospital, and a place to rest for travelers. If people died, or even animals, they were thrown into the Silo. We found lots of cow bones when excavating! The latest burial was on the upper floor of the silo in 2019 because many locals want to be buried there for its historic importance.
About one or two days every five days I would be digging in the pit. We worked for ten days straight, had two days off,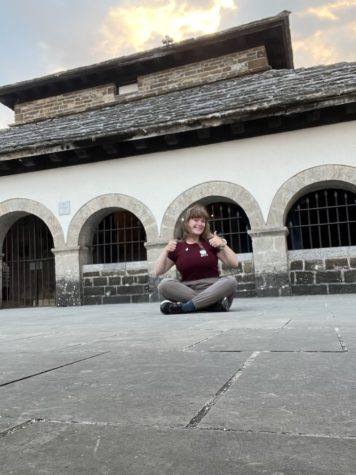 then [we] were working 8 more working days. This would include learning how to profile the bones by using tiny wooden tools, brushes, trowels, and little dust pans to put excess dirt into. The bones or artifacts found were placed into a "bone box" that had a number associated with the context where they were taken, since the site itself is vast geologically and temporally (soil type, time layer). Once out of the pit, the groups would go through the boxes and identify what whole bone a fragmented piece would be from. All of the groups switched between sorting and digging, but the groups with better osteological knowledge would stay and sort since we could identify fragments easier than those unfamiliar with bones. Once these were sorted by bone (sacrum, femur, os coxae), they would be put into plastic bags with an identifying name and number for the context it was taken from. This was so they could sort the bones in storage easier, as well as use certain bones to conduct MNI measurements. MNI is minimum number of individuals, which is something everyone is curious about. Without thousands of bones, you want to know roughly how many people might be in there. Aditu Arkeología created a process and used certain bones, like your talus, to count MNI. The talus is a foot bone and preserves more often than other bones, and you only have two of them. So, if you find three right tali and one left tali, you would have at least three people in that collection. I believe Aditu Arkeología has estimated there are over 1000 people excavated so far, including men, women, and non-adults.
A special thank you goes to Ari, who dedicated her time to documenting her journey for Cardinal Nation. Her story not only demonstrates the potential students receive from an MHS education, but inspires future generations to set high goals for themselves and try out things that interest them, for you never know where those experiences can take you.
The community of Mentor wishes you the best as you pursue your career and passion, Ari!
Below, enjoy a collection of photos Ari took on her trip: