Alumni Profile – Kevin Kleber
Hear some life lessons and experiences from the U.S. Army Special Operations Officer and West Point grad.
Cardinal Nation had the pleasure of sitting down with MHS alum, West Point grad, and former US Army Special Operations Officer Kevin Kleber to discuss his life and experiences.
Kevin was born and raised in Mentor, graduating from MHS in 2003. Kevin's mother worked as a school teacher in Painesville and his Dad worked in a factory near Tyler Boulevard. Prior to attending Mentor High, Kevin went to Garfield Elementary and Memorial Middle School.
While a student at Mentor, Kevin was involved both in and outside of school. Kevin wrestled, played football, participated in speech and debate, and was involved in theater productions.
"Wrestling was my real love at the time," Kevin recalls, but he was also an active member of Boy Scout Troop 75, attaining the rank of Eagle before he graduated. In school, Kevin was enrolled in multiple AP and honors courses.
"For me," Kevin recalled, "getting into college was the standard that my parents kind of instilled in me. It's like, 'you will go to college, you will get a degree, after that, whatever, but you're going to get your bachelor's degree.'"
However, Kevin's motivation to do well in school extended beyond his family's expectations. Throughout his high school career, Kevin was focused on gaining an appointment to the United State Military Academy at West Point. 
"Something that really inspired me was that so much of American history is shaped by the graduates of the United States Military Academy," Kevin told us. His determination to attend West Point was further strengthened after the 9/11 attacks. 
In his interview, Kevin recalled hearing news of the attacks after walking out of his 3-4 APUSH class.
"I'd kind of be a coward not to go in the military now," Kevin remembers thinking. "There's kind of a solemn obligation."
After graduating in 2003, Kevin attended West Point for four years, majoring in Sociology.
"When you go off to university or an academy or a new job, whatever," Kevin remembers, "it's going to be uncomfortable. It should be uncomfortable. There's no comfort in growth, and there's definitely no growth in comfort."
After graduating from West Point, Kevin went to Fort Knox to train as an armored officer.
"I drove and fired tanks," Kevin says, "and it was awesome. It was one of the coolest things I've done in my life. It's great. It's a fantastic experience. Tanks…tanks are awesome."
After completing his armored officer training, Kevin attended Airborne and then Ranger School at Fort Benning, Georgia. Kevin was then assigned to Fort Hood, Texas, arriving there in August, before deploying to Iraq in 2009. In Iraq, Kevin was stationed in North Baghdad for six months, before moving to Camp Taji until the end of his deployment in December.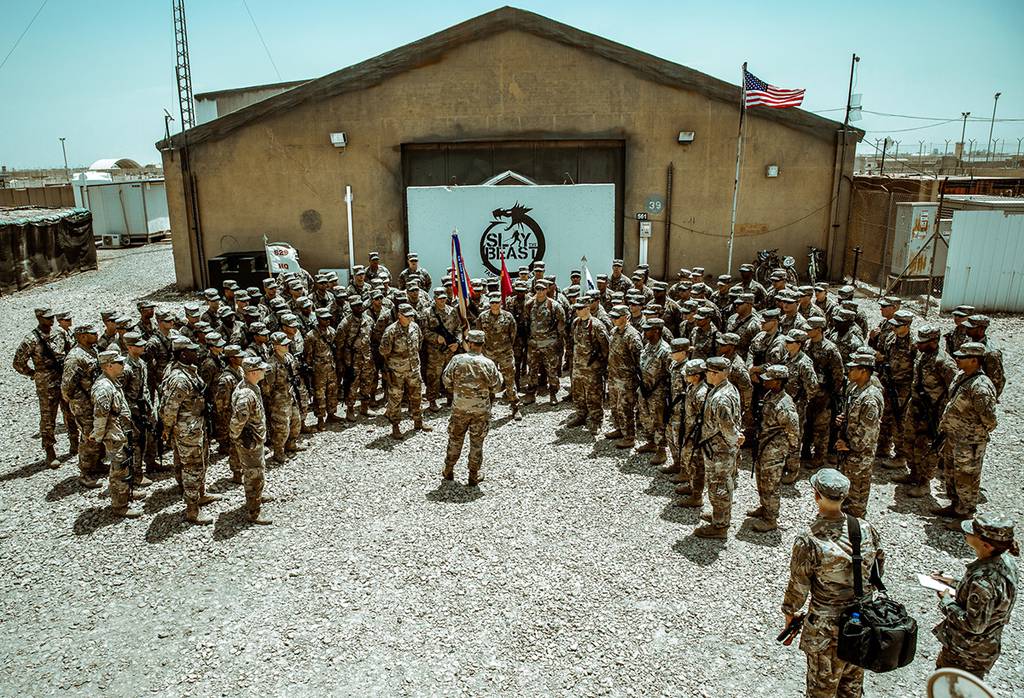 After his 2009 deployment, Kevin transitioned to a branch of the army called Civil Affairs.
"What I saw in Iraq was that, you know, the biggest problems were not ones of security," Kevin says. "The issues were economic, so that was really interesting to me because I thought that [I] was really addressing the underlying issues, right, as opposed to just, you know, going out looking for a fight."
After transferring to Civil Affairs, Kevin was deployed to West Africa on a training and peacekeeping mission. After the mission's conclusion, Kevin was once again deployed, this time to Afghanistan. 
A few years prior, in 2013, Kevin had started night classes for his masters, funded by the army. Hoping to demonstrate his academic ability, Kevin earned a master's in management leadership through these classes before applying to Georgetown University. After his return from Afghanistan, Kevin was accepted into Georgetown, graduating with a masters in International Security.
After serving in the Army for eleven years, Kevin decided to move into the private sector, securing a job with Facebook on their Politics and Government team based out of London. For the next two years, Kevin worked with Facebook to promote elections and empower voters. Currently, Kevin works on Twitch's trust and safety team, creating "programs and processes to keep bad actors off of twitch and to make sure that it's safer for our users."
Kevin enjoys his current position, saying that it provides his with a sense of purpose similar to his time in the Army.
"Making this community safe," Kevin says, "it's still a sense of service, and I'm still learning and having fun, and I love the people I work with."