From the Archives – Mentor Log (1965 & 1966)
What books were our local libraries acquiring in the 1960s? Check it – and maybe them! – out!
Please enjoy these two archived articles from the old Mentor High School Log, one of the earlier incarnations of the Mentor High School student newspaper. Special thanks to Mr. Sanelli for finding these in an old bureau taken from the old Mentor High School Library during its renovation into the Hub. Also thanks to Mrs. Ford and the GenYes team for scanning and sharing the original article.
This is National Library Week! According to the American Library Association, "National Library Week (April 23 – 29, 2023) is a time to celebrate our nation's libraries, library workers' contributions and promote library use and support. The theme for National Library Week 2023 is 'There's More to the Story,' illustrating the fact that in addition to the books in library collections, available in a variety of formats, libraries offer so much more. Many libraries now lend items like museum passes, games, musical instruments, and tools. Library programming brings communities together for entertainment, education, and connection through book clubs, storytimes, movie nights, crafting classes, and lectures. And library infrastructure advances communities, providing internet and technology access, literacy skills, and support for businesses, job seekers, and entrepreneurs."
School libraries have definitely been in the news, as Cardinal Nation has reported. So we found it interesting to read these two articles on what local libraries were acquiring almost sixty years ago – apparently without incident! Check out some of these titles – literally! They may still be there! Happy National Library Week! Librarians rock! – Mr. Couch, Cardinal Nation Advisor
December 1965
Library Has Unusual Book
By MRS. JAMES B. HOPE JR.
An unusual and interesting volume, new at the Garfield Unit of the Mentor Public Library this week is THE STORY OF AMERICA, as reported in its newspapers from 1690 to 1965 and edited by Edwin Emery. The volume with text and reproduction of newspaper pages give first accounts of Lexington and Concord; a letter to the editor from Robert Fulton defending his steamboat; the shock of Lincoln's assassination; the drama of the Civil War and the two World Wars; Gene Tunny upsetting Dempsey; the 1929 crash; events and moods of 275 years. Almost 300 newspaper pages from every state are reproduced; starting with a Boston weekly called "Punlick Occurences"' which was the country's first attempt at a newspaper. Here is history in the making as it looked to newspaper readers when it was presented.
Other new volumes this week are:
Fiction
AFRICAN STORIES, by Doris Lessing, includes all the author has ever written about Africa, where she lived for 25 years.
THE LONG DAY WANES, a Malayan Trilogy, by Anthony Burgess.
DOOBIE DOO, by Ivan C. Karp, is a novel that is a history of a pioneer of pleasure who both has his cake and eats it without dire results.
GLOVER, by Francis Pollini. A satire. a tragedy and comedy, it is ribald and wild, shocking and startles. It is a novel of Bunyanesque virility and blunt sexuality.
HANDBOOK FOR POISONERS. a collection of great poison stories, written by Dorothy Sayers, Agatha Christie, G. K. Chesterton and others, edited by Raymond T. Bond.
DEVILWEED, a Crime Club selection, by Bill Knox.
BRAZILIAN SLEIGH RIDE, a Captain Jose Da Silva novel, that is an Inner Sanctum mystery, by Robert L. Fish.
Non Fiction
PROPAGANDA, THE FORMATION OF MEN'S ATTITUDES, by Jacques Ellul who maintains that propaganda used by political organizations, churches, labor groups, ideological blocs, advertising and other mass media is one of the greatest dangers to the freedom of mankind.
THE COMPLETE BOOK OF DECOUPAGE. by Frances S. Wing, easy to follow, step by-step instructions on how to beautify and decorate everything from a cigar box to a grand piano.
MAINLINE TO NOWHERE. The making of a heroin addict, by Yves J. Kron and Edward M. Brown.
THE INVESTOR'S DICTIONARY by Janet Low, 442 technical terms used by investors in the securities market.
THE COLE PORTER STORY, by Cole Porter as told to Richard G. Hubler, an autobiography that was not published until after the composer's death.
EIGHT BELLS, AND ALL'S WELL, by Daniel Gallery, the story of the author's 44 years on active duty in the navy from a battleship sailor to a jet pilot to an admiral.
HOME SWEET HOME IN THE 19TH CENTURY. a nostalgic history of the mechanical contraptions that made life easier in Grandmother's day, by Walter Buehr.
THE COMPLETE BOOK OF TABLE SETTING AND FLOWER ARRANGEMENT by Amelia L. Hill's illustrated volume includes every occasion, etiquette, selection and care of china, glass, silver, linens, choice of menus and recipes and more.
PITTSBURGH. the story of an American City, by Stefan Lorant, with more than 1.000 illustrations.
EXPERT SKIING, a how to guide from beginners' instruction to advanced techniques, by David Bradley and others.
THE LOWER ANIMALS. living invertebrates of the world, beautifully illustrated volume, by Ralph Buchsbaum and Lorus J. Milne.
LIVING REPTILES OF THE WORLD. with 266 illustrations of snakes, lizards and turtles, by K. P. Schmidt and R. F. Inger.
February 17,1966
Puppeteer Explains his Art
By MRS. JAMES HOPE JR.
Bill Baird, the famous puppeteer is the author of a beautifully illustrated large volume. THE ART OF THE PUPPET, new to the Garfield Unit of the Mentor Public Library. In this book Mr. Baird recounts the history of his art, from its remotest yesterday to its bright and promising tomorrow.  Along the way he examines the famous and outrageous Mr. Punch, the raucous Karagioz, the noble knights of the Orlando legend, the lovely shadow plays of Asia, the unique Bunraku puppets of Japan and the exciting developments in today's puppetry around the world.
Other new volumes this week are:
Fiction
THE SCARLET THREAD. By Doris Betts. the story of Sam and Mildred Allen and their family, the mill they launch in the back country in North Carolina and the changes it wrought.
AFTER JULIUS. by Elizabeth Jane Howard is a moral tale and a portrait: of three states of mind.
ONE WOMAN'S LAND, by Gertrude E. Finney. When an airline makes an offer to buy her big. thriving farm, 90-year old Hannah calls a family meeting. Her money hungry relatives urge her to sell, while those who love her remain silent as she searches for the right decision.
DEMIAN, by Hermann, first published in 1919 under a pseudonym, was the novel that made the author famous. It is recognized as a classic account of a young man's awakening to selfhood.
THE STALKING MOON. by Theodore V. Olsen. Sam, a rancher and former Army Scout, and an Apache chief face each other in a deadly duel over Sam's white wife and her two half-breed sons by the Indian.
TO HAVE AND TO KILL. by Robert Martin, a Red Badge mystery.
NIGHT'S EVIL. a Crime Club Selection, by Mark MeShane,
GREAT SCIENCE FICTION STORIES ABOUT MARS, edited by T. E. Dikty.
Non Fiction
THE LAST EAGLE, the "Biography" of a bald eagle from birth to maturity, by Dan Mannix.
AWARENESS OF DYING, a compassionate and rational view of what happens to a dying patient, his family, his nurses and his doctors, by B. G. Glaser and A. L. Strauss.
THE UNTOLD STORY OF QUMRAN, by John C. Trever. the adventure and intrigue which followed the discovery of the most valuable archaeological documents of our time, the Dead Sea Scrolls.
HOPE FOR OUR TIME, by Joseph T. Durkin, S. J., a summation of a great scientist's spiritual and scientific beliefs.
MORAL DILEMMAS, a lively and provocative commentary on practical issues of faith and modern morality, by Gerald Vann.
DECISIVE BATTLES OF WORLD WAR II: THE GERMAN VIEW. edited by H. A.Jacobsen and J. Rohwer.
About the Contributor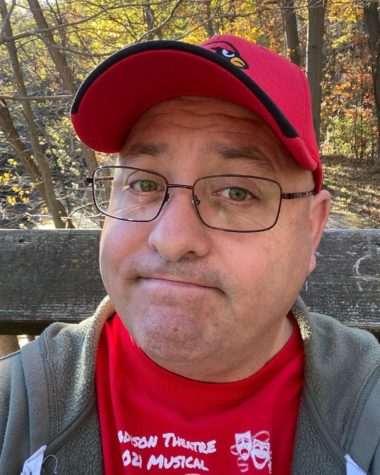 Mr. Steve Couch, Advisor
Mr. Couch is a 1988 graduate of Mentor High School and has been a the advisor of the Cardinal Nation online student newspaper for Mentor High School since...