Welcome back Mentor High School! Summer break is over and it is time to get back into the swing of things and start learning again. Congratulations to the class of 2024 for making it to Senior year, and welcome Freshman class of 2027! There seem to be quite a few changes happening at MHS this year. From the bell schedule to unit office organization, Mentor is keeping us on our toes. Make sure to check your email often.
One of the biggest changes this year is the unit offices. They are now being organized by alphabet, not grade level. Mr. Crowe tells Cardinal Nation that the goal of this change is to benefit both students and staff because counselors and principals will be able to oversee all grade level aspects each year, not just one specific grade level. The benefits include allowing staff to focus on the entire high school experience. Unit offices are now organized as such:
Unit 1 (Last Names A – E)
Unit Principal – Mr. McKnight
School Counselor – Ms. Gomori – last names A – Car
School Counselor – Mr. McMahon –  last names Cas – E
Unit 2 (Last Names F – Ln)
Unit Principal – Mr. Russo
School Counselor – Mrs. Howell – last names F – Hop
School Counselor – Mr. Nemunaitis –  last names Hor – Ln
Unit 3 (Last Names Lo – Ror)
Unit Principal – Mr. Fullerman
School Counselor – Ms. Loughry – last names Lo – N
School Counselor – Ms. Krizan –  last names O – Ror
Unit 4 (Last Names Ros – Z)
Unit Principal – Mrs. Johnson
School Counselor – Ms. Srsen – last names Ros – S
School Counselor – Mrs. Rhodes –  last names T – Z
"Personally I feel it's a little shaky to change it," says student Aishu Pandit, "for kids who had a good connection and relationship with their first counselor or principal it's difficult to switch to another one."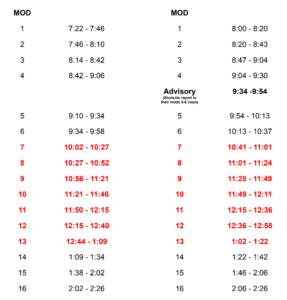 Another one of the changes this school year is the number of minutes between classes. For a long time, Mentor High School provided students with 5 minutes during class changes. Now it is going back down to 4 minutes like it used to be years ago. The extra time is being added to lunch mods. This is because of the declining number of students enrolled at Mentor High School. It is no longer necessary for 5-minute class changes because the hallways are less packed and there is less locker usage. This change shouldn't frighten anyone too badly, because Late Start Wednesdays only had 4 minutes between classes anyway. Get the link to the new MHS bell schedule here.
"The change from five minutes to four minutes is sometimes a little challenging," says student Ayesha Faruki. "Crowded hallways make it hard to get places in a timely manner. As someone in one of MHS's music programs, I know how hard it is for some of us to pack up our instruments, put them away, and get from M wing to classes across the building."
Busses are being labeled slightly different this year as well. The route number is now placed on the side of the bus instead of the bus number to help students find their bus at the end of the day if the driver is on a different bus. The route number is on the magnet next to the door. If you plan to ride the bus home, make sure you know your route number. No one likes missing their bus, so this change should help to eliminate that possibility. Get the link to the MHS bus lineup spreadsheet here.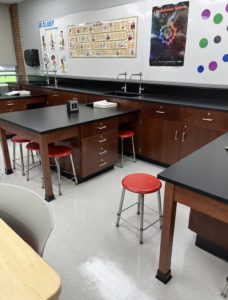 On a more exciting note, MHS gets to enjoy updated science rooms this year. The lab tables and cabinets have been replaced after many years of use. You may have already noticed this if you've paid attention during your science classes. The lab tables have smooth black tops and the cabinets and tables are dark brown wood with outlets on top, providing an easier way to plug in electronic items like the microscopes.
"I feel that the new science lab tables are a good investment for our schools," says student Zoe Barninger. "Although they need some adjustments I feel they could be easily made. I am glad the school decided to invest in our education."
The final major change Mentor High School is experiencing this year is the change in F-wing. Staff size has decreased over the years the same way student size has. This allowed for the relocation of certain departments so that they are now grouped together in one or two spaces instead of three. With these new adjustments, Mentor is able to bring CTE programs on campus. They are now based in F-wing, which Mr. Crowe says will soon be called the "Future Ready" wing.
That covers the major changes at Mentor High School. Cardinal Nation wishes you all a successful school year and we hope you enjoy the new updates happening at MHS!