Fire And Police Training: Making A Safer Mentor
Cardinal Nation observed as Mentor EMS practiced their response to mass casualty events
There is an unsettling reality that hangs over all school districts – a threat of attack that leaves unrest in everyone's stomach. 
That is where Fire and Police Departments help. Over spring break during the week of March 20th, I had the privilege as a writer for Cardinal Nation to attend an updated training for the emergency departments of Mentor when they held a joint emergency drill at Mentor High School. They allowed me to be there because I am currently studying and becoming a Firefighter/Paramedic. Hopefully, their preparation will ease the unsettled minds of countless citizens including you. 
We have endured tragedy – personal or seen on the news – and these emergency service women and men are here to lessen the stress we all fear and safeguard the younger generations from danger. Wanna know how they are doing this? Keep reading…
Mentor Police Department 
The training of police officers prepares them for danger. When an officer dons their badge, it is the pride they feel that gives them the motivation to serve and protect. 
At the Mentor drill, police received training in response to mass casualty events, receiving instruction on how to handle dangerous suspects. These scenarios can happen in our classrooms or huge gatherings. 
Cardinal Nation was able to observe some of these drills, but in order to avoid making all of their tactics public, we were unable to attend the beginning of the police training. They conducted drills that continued all week to further train fellow police officers. 
The head of the training for the Police Deptartment gave a speech to the officers addressing this pressing national challenge that is at the end of the barrel of a gun. 
Police can't just carelessly charge a structure in order to defend all those inside and themselves. They must have a form of attack which unfortunately takes time. Each second counts, which is why their training is so important and why they held these drills. 
Mentor Fire Department
The Fire department trained in search and rescue. This extremely draining but necessary training pays off at every call when a fire or mass casualty has occurred. Conducting drills to perform more efficiently in real situations, Mentor FD learned the doleful reality of what violence can cause. 
A lesson occurred on shooting statistics and the failures that were done in past shootings. The training is trying to prevent and set a serious mood for the instructions given. The scene must be secured before medical personnel enter and treat victims. The firefighters/medics were introduced to equipment such as bulletproof vests, cat tourniquets, special bandages, and more which they carry inside. 
Personnel dealt with a scenario in which victims were presented with detailed cards. A medic only has 30 seconds to a minute to assess and treat a patient. They must keep focusing no matter what noise and pleas are made and must mentally prepare for having to move past victims or see people's last moments. This training is vital to saving a greater number of lives and helping make a safer Mentor. 
The Mentor Chief of Fire Ron Zak talked with me at the beginning of the training. He has been in the service for thirty-three years. His main goal is to protect the youth and bring more students into the Fire Department, as we currently – like most places – have a shortage of firefighters and medics. He showed great leadership when working alongside Officer Scott Bell and made sure his men and women learned all there is to offer when met in a scenario like such. 
Personal View
As a student who has undergone lockdowns, I share a fear with my peers about the fact that we must rely on first responders. It was unsettling but reassuring when I witnessed the drill.
I saw firsthand what my future may entail when I become a paramedic for the Fire Department. I saw how they wore bulletproof vests and tried to mentally prepare for what would occur if and only if a shooting was to occur in Mentor. I wish I could say they will save everyone or that we could help everyone but as long as a person has bullets there is a threat of death with each bang. 
Statistics
There have been 376 school shootings since the Columbine shooting in Colorado in 1999, which means more than 300,000 students have dealt with gun violence in 24 years. Attackers have been unbiased as to whether their targets were students or staff. Most of the shooters have the desire to hurt those who have wronged them, but innocent people get shot as a result of anger and uncontrolled gun access. These attacks have left almost 200 dead and 424 physically injured. 
| | | |
| --- | --- | --- |
| School  | Injured  | Killed  |
| Columbine  | 24 | 13 |
| Red Lake Senior High School  | 5 | 8 |
| Virginia tech university | 26 | 32 |
| Northern Illinois University  | 16 | 5 |
| Sandy Hook Elementary School | 0 | 26 |
| University Of California  | 14 | 6 |
| Douglas High School | 17 | 17 |
| Robb Elementary  | 17 | 21 |
These are just ten out of the 376 school shootings that have occurred as of this writing. If it weren't for police and EMS the death tolls in many cases would have been even higher. That is why drills and scenarios like the ones being taught are so important. Whether an incident takes place in office buildings, mass groups, or schools, police want to ascertain the threat and get possible victims out safely and quickly. The EMS side response treats patients and saves lives. Essential is communication between the departments so they can work together and end the heartache quickly.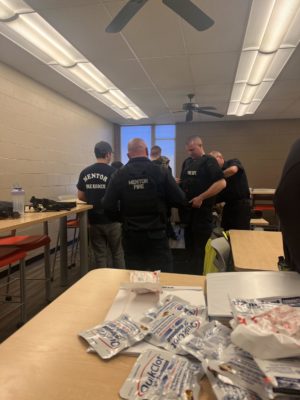 With everything that is going on all around us, there is no one way to guarantee that all are safe. There are situations and training we can conduct to decrease the sorrow and provide assistance when it is needed. We could not be a functional society without Fire and Police Departments. Though we wish not to have these drills or live in this harsh reality, these departments hopefully lessen the anxiety for all in hopes of making a safer Mentor for future generations. 
As a follow-up, I had the privilege of conducting an interview with our very own Unit Principal Ryan McKnight. Mr.McKnight is not only a unit principal, but he oversees building security, the five-person security team, the buildings SRO (Student Resource Officer), and the off-duty officers. But before his time at Mentor he was the assistant principal at Perry High School for two years and prior to becoming an administrator he was a PE and health teacher  at Willoughby-Eastlake for twelve years.
The reason he went into this field was because he wanted to make an impact on the student body both inside and outside of the classroom and believes the best way to do that was to become an administrator. This is how he answered the following questions…
Cardinal Nation: When was the first time you heard about gun violence in schools?
Principal McKnight: Unfortunately gun violence has been in schools for a long time. I was first involved personally in 2007 when we had an active shooter at Willoughby High School while I was teaching there. Fortunately there were no injuries and the person was apprehended.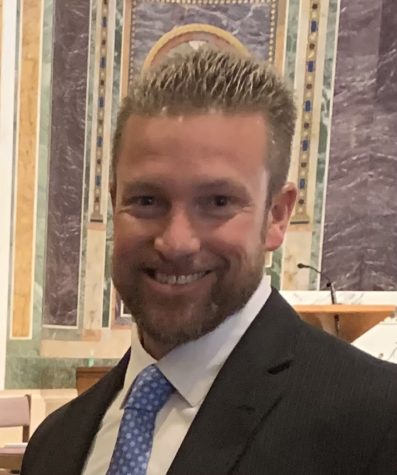 Cardinal Nation: What training have you received on active shooters? 
Principal McKnight: I have received numerous hands-on active shooter trainings including a 3-day hands-on seminar, a number of tabletop scenarios, online training tutorials, and refresher courses. I also participate in state organized training partnerships with the local police departments a couple of times a year.
Cardinal Nation: What aspect of the threats against the school is the toughest?
Principal McKnight: The most challenging aspect of threats is constantly preparing for any potential scenario. This is something I think about every morning when I wake up and every night before I fall asleep. Constantly ensuring students and staff are safe and provided with the necessary training and resources necessary to be safe. 
Cardinal Nation: Why is it essential that you remain informed with your training?
Principal McKnight: It is essential to remain informed and up-to-date with the latest training and resources in order to ensure all potential options are explored to maintain a safe environment.
Cardinal Nation: Are these issues commonly discussed at meetings?
Principal McKnight: As a staff we are routinely keeping the lines of communication open with training and communicating all safety measures. This includes regular drills for active shooters and various other safety-related issues.
Cardinal Nation: And last, If you could ensure the students and families of one thing what would it be?
Principal McKnight: I can assure all students and families that Mentor schools are at the forefront of school safety and we are continuously taking every approach possible to keep our students and staff safe.
"Inspiring Students Today to Reach Their Potential Tomorrow" -Mentor High School Motto 
Thank you to the Mentor Fire and Police Department, Fire Chief Zak, Mr. Crowe, and Mr. McKnight.