Cardinal Nation Exclusive: Mentor School Board Issues Statement on New Policy Regarding Public Participation at School Board Meetings
After months of contentious public comments, the board acts to bring decorum to its public meetings.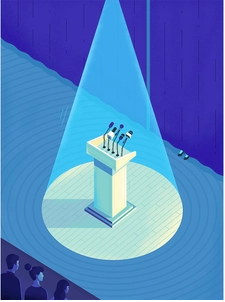 After months of vehement debate, Mentor's school board has updated its current policy regarding public speaking at meetings.
On December 9, 2022, parents and guardians of Mentor Schools students received an email from the Mentor School District. The message announced new policies on the hearing of the public at monthly school board meetings.
This revision comes after months of disruptive outbursts that have often turned board meetings into fighting grounds between different viewpoints. Superintendent Mr. Craig Heath, along with the school board, worked to amend current policy in an effort to regulate the public commentary.
What is the hearing of the public?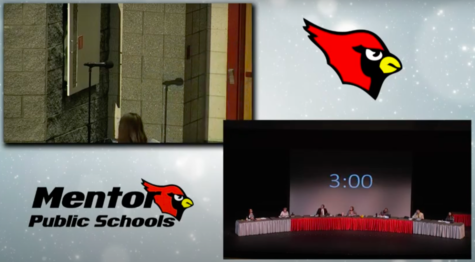 At each school board meeting (held the second Tuesday of every month in Mentor's Fine Art Center) there is a period of time at which the board opens the floor to hear comments, concerns, and everything under the sun from whoever wishes to speak- until now.
While at face-value this seems like an opportunity to reach elected officials with ease, it became a platform for attendees to bash each other. At previous meetings, people wishing to speak have been met with booing and screaming from the crowd and participants have erupted in applause for specific board members.
This particular part of the board meeting has long been met with criticism for one reason or another but it often revolves around the notion that many people speaking at the meetings had no real connection to the district.
What exactly is the new policy?
The Board, composed of the five board members, the superintendent, and the chief financial officer, explained it to Cardinal Nation this way in an exclusive statement:
"The Board limits public participation to residents of the school district, parents or guardians of a student in the district,  employees in the district,  individuals with a business ownership in the district, or elected/appointed public officials whose jurisdiction includes the school district.

Attendees must register their intention to participate in the public participation portion of the meeting prior to the start of the meeting so as to be recognized at the appropriate time by the presiding officer.

Participants must be recognized by the presiding officer and must preface their comments by an announcement of their name, address, and school(s) where their children attend."
In summary, those wishing to speak at all future board meetings are now required to meet the stipulations to be a contributor as well as signing up prior to attending.
How do other districts compare?
Out of local districts Riverside, Madison, Fairport Harbor, and Chardon, only the last two require participants to fill out a form prior to speaking at the meeting. According to Mr. Heath the board "researched the Public Participation policies of 50 school districts around the state of Ohio to identify some of the best practices of some of the highest performing districts in the state."
While people often are under the impression that certain issues are only prevalent where they live, this is most certainly not the case in terms of the conversations taking place at Mentor and the way in which they occur. Cardinal Nation has previously reported on issues like book banning and pronouns, both topics which sparked intense debate at board meetings.
On a national stage, we continue to see that district board meetings are becoming fighting grounds for parents and community members, and it is not new.
Just two years ago in Glastonbury, Conn. a fight broke out between a school board member and an audience member, who during his chance to speak to the board about a proposed change in mascots, began screaming and directing insults towards the board.
"The decision to phase out the mascot came over a year ago in August 2020, when all meetings were virtual, which made the public feel like they could not be properly heard," according to an article from Fox 61 on the incident.
Ultimately, this incident came down to the desire of the public to be heard on issues voted on by the school board. The school board member was charged with second degree breach of peace.
Similarly, in Missouri in 2021 an incident occurred in a parking lot following a meeting regarding the school board instating a mask mandate at their schools. In this case, one man ended up in handcuffs.
While this has seemed to become somewhat "normal", studies do still show that this is not how the majority of parents feel. An article from the Brookings Institution, a research center, titled "Are fiery school-board meetings representative of all parents?" found that parents have actually become less concerned about their child's quality of education and amount being learned compared to previous years.

Looking Ahead
While these are extreme cases, they are not entirely out of the realm of possibilities. The goal of the new policy in Mentor is to avoid such extremism and allowing the public to be heard.
In an earlier interview with Cardinal Nation, Mr. Heath said, "The biggest goal I have for myself this year is to get out and listen to as many people as I can about what they hope to see out of the Mentor Schools. I want to hear from our parents, our teachers, our principals, but most of all I want to hear from our students."
As the board looks ahead, it seems evident that they are working with this goal in mind.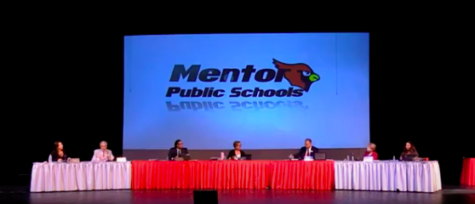 The school board explained their position in their statement to Cardinal Nation:
"What we hope to achieve in implementing this policy is a return to civil discourse with those individuals who have a vested interest in Mentor Public Schools; our Mentor School District residents, our Mentor School District  business owners, our Mentor School District  teachers, our Mentor School District  parents / guardians, and our elected officials representing the Mentor School District.  We want to be able to hear from them in an organized and efficient way that leads to true understanding of the concerns they have and in a manner in which we can respond appropriately to move the district forward in a positive direction. We are very fortunate to have a community and a Board of Education that represents a broad political spectrum.  This policy change allows us to hear all perspectives and make decisions that are in the best interests of every student in our district."
Additional Resources: