Want to be an actor, public speaker, or lawyer? What about if you're a part of Mentor Theatre, Model U.N., or Mock Trial? Then, there is another club for you to consider – Mentor Speech and Debate.
If you want to pursue a life of theatrics or acting, famous actors such as Brian Baumgartner, Zac Efron, Chadwick Boseman, and Paul Rudd were members of the National Speech and Debate Association when they were in high school. Brain Baumgartner and Chadwick Boseman happened to place at the national tournament in the years of 1991 and 1995 respectively.

Here at Mentor High, we have two amazing coaches in Mrs. Roediger and Mrs. Coleman who will help you.
"Every person will have to incorporate communication skills into their work after high school," says long-time Speech and Debate coach Mrs. Roediger, "whether that's employment, enrollment, or enlistment. Our team trains people to hone their communication skills which will serve them well beyond high school."
Students can participate in one of twelve competitive events – three debate and nine speaking. In all events speakers earn points, and earn ranks in the National Speech and Debate Society, and after certain milestones they earn titles. Here at MHS, Once members reach 500 points, they will have their name put on the Speech and Debate board.
The three forms of debate in which are offered at Mentor are Lincoln Douglas, Public Forum, and Congressional Debate. In Lincoln Douglas students debate about topics related towards morality and how society should best be run. For example, one of the topics in previously was "The Appropriation of Space by Private Entities is Unjust." In this format you face your opponent one on one. In Public Forum debate, you have a partner to help you out. The two formats are similar but have differences in how it's timed and how many opponents you face. Congressional Debate acts similar to how United States legislation works. Students compete against 10-25 people in what is called a chamber to try to pass bills or resolutions.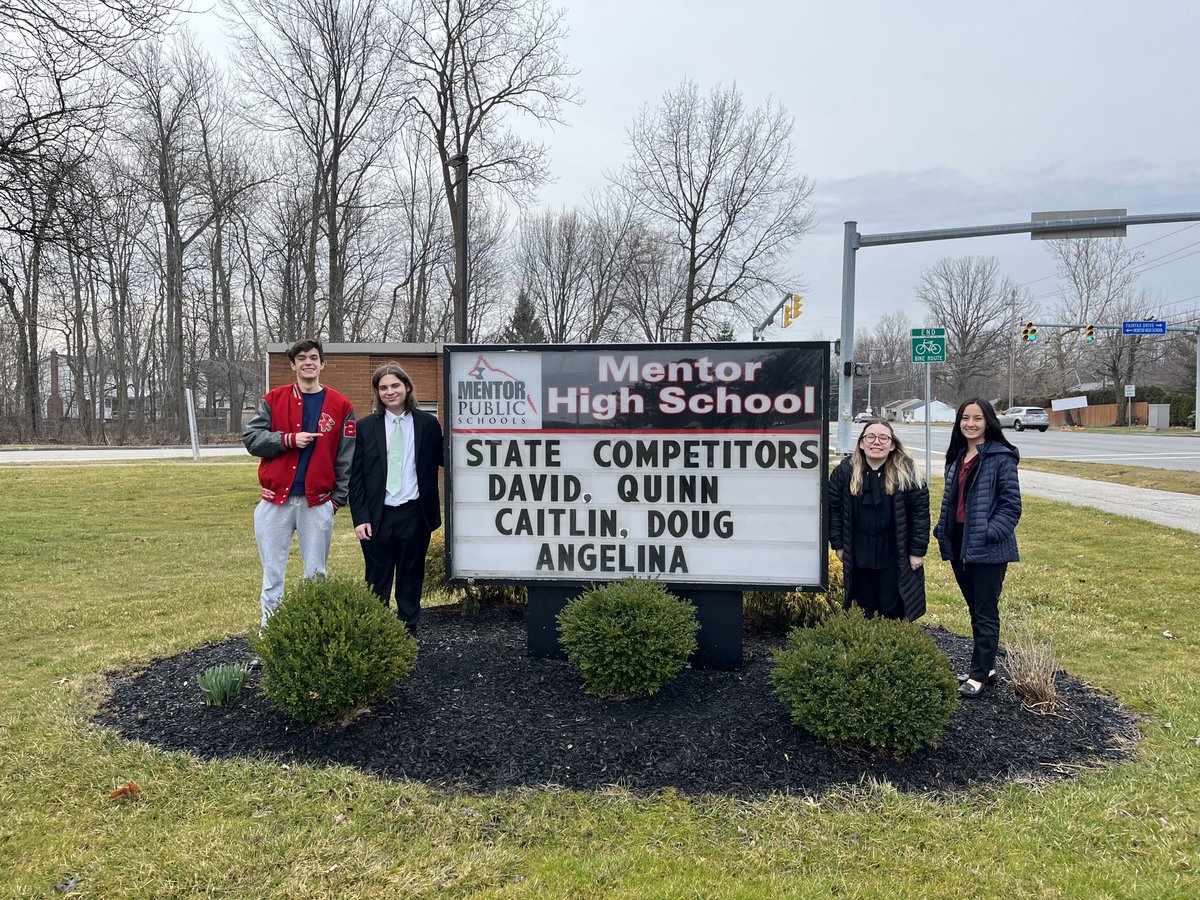 The nine forms of speech events offered at Mentor are U.S. and International Extemporaneous, Original Oratory, Declamation, Dramatic, Humorous, Duo Interpretation, Program Oral Interpretation, and Informative Speaking. In both Extemporaneous, students have thirty mins to make a speech to either talk about U.S. issues or International issues. In Original Oratory, speakers try to persuade an audience why a topic is important. In Declamation, a person recites a portion of a speech previously given by another speaker, and tries to develop the speech in a way that conveys the old speech in an original and engaging way. In the Interpretation events, speakers portray a wide array of characters and use tone to flesh them out. Lastly, In Informative Speaking, speakers try to inform an audience why a topic is important. Visual aides can be used in this.
When asked what is the most important thing that you learn from speech and debate, Mrs. Roediger responded, "For me, the most important skill is confidence. Students leave the team with the confidence to stand before a group of people and present ideas to convince them of something."
With the start of the season on the horizon, Cardinal Nation asked the new captains of the team – Sydney Vihtelic, captain of speech; Quinn Fuerst, captain of congress; and myself, captain of debate – some questions related towards the team and activity as a whole.
Cardinal Nation: Why did you join speech and debate?
Sydney Vihtelic: I joined to improve my public speaking skills, since I often get nervous when having to speak to other people in a professional manner. I love getting to speak on issues that I care about, and getting to show how deeply these issues matter to me!
Quinn Fuerst: I joined speech and debate because my future career involves a lot of public speaking. Also I knew previous members who spoke fondly of the coaches and the members. I am so glad I was able to connect with so many amazing people. 
Casey Gray: I've always been into public speaking, and being in debate allows me to apply my skills in a unique way. Been in this group for two years now, and I've never regretted it.
Cardinal Nation: What is your favorite part of tournaments?
Sydney Vihtelic: My favorite part is getting to meet people who also have the passion of public speaking and feel free to share that passion with other people. I also really enjoy getting to hang out with other members of our team during breaks, as these are the times where we bond.
Quinn Fuerst: My favorite part of tournaments is being able to connect with the people from other schools in your event. From being able to talk about their personal stories to discussing college applications with the seniors for advice. You always gain valuable information from others. 
Casey Gray: My favorite part of tournaments is getting the feedback after a round. You know what you did well and what you needed to improve on. This feedback helps you become a better speaker or debater for later.
Cardinal Nation: What is the most valuable skill you have learned or improved from participating in speech and debate?
Sydney Vihtelic: I have improved the pace at which I talk. I have always been a fast talker, so being timed and getting feedback on the speed at which I speak has taught me to slow down so people can understand me better.
Quinn Fuerst: My overall confidence when getting in front of a crowd. Prior to joining I would always be so nervous before presenting but now I am able to get up and speak with confidence. 
Casey Gray: Being able to argue both sides. In the event I participate in, we are forced to argue both the affirmative and negative side of a prompt. You might not agree with a side but have to find that silver lining and argue it either in a way that stays true to you, or have to make it seem like you believe full-heartedly in what you are saying.
Cardinal Nation: What is your favorite memory about speech and debate?
Sydney Vihtelic: I do not have a specific favorite memory; the memories I enjoy the most from Speech and Debate are those with other team members or memories from my performances!
Quinn Fuerst: My favorite memory was when I went in person to compete for the first time because seeing everyone together and speaking to people face to face was amazing. 
Casey Gray: Watching other teammates succeed; always being able to cheer them on always improves my mood.
Cardinal Nation: What would you tell people who want to join speech and debate?
Sydney Vihtelic: Please join! We are not about perfection or scores, we just want to see all of our members enjoy what they are doing and improve their skills. Whether you love public speaking or have been terrified of it, you will never know if this is the club for you if you don't try!
Quinn Fuerst: Just join! I promise you that competing is not as intimidating as you might think. The whole community is super welcoming. Also there are so many valuable skills you gain from being in speech and debate.
Casey Gray: Try it out! Go for one or two tournaments and if you like it, stick around. If you don't, you could always change events and see if you like that more. The team is incredibly open, feels like family, and there is no judgement within our community.
Our first meeting is on the 25th of September after school in B221. If you want to read more about Speech and Debate, Cardinal Nation has previously interviewed the old team captains before nationals during 2021-2022 and last years states team. Hope to see you at our first meeting.