What Is Speech and Debate?
Check out Mentor High School's award-winning team
If you're a part of Mentor Theatre, Model U.N., Mock Trial, like public speaking, or you just want to improve your public speaking abilities, there is another club for you to consider – Mentor Speech and Debate.
"Every person will have to incorporate communication skills into their work after high school," says long-time Speech and Debate coach Mrs. Roedeiger, "whether that's employment, enrollment, or enlistment. Our team trains people to hone their communication skills which will serve them well beyond high school."
Speech and Debate is an extracurricular activity in which students can participate in one of twelve competitive events – three different styles of competitive debate and nine categories of competitive speaking.
The three forms of debate in which are offered at Mentor are Lincoln Douglas, Public Forum, and Congressional Debate. In Lincoln Douglas students debate about topics related towards morality and how society should best be run. For example, one of the topics last year was "The Appropriation of Space by Private Entities is Unjust." In this format you face your opponent one on one. In Public Forum debate, you have a partner to help you out. The two formats are similar but have differences in how it's timed and how many opponents you face. Congressional Debate acts similar to how United States legislation works. Students compete against 10-25 people in what is called a chamber to try to pass bills or resolutions. 
The nine forms of speech events offered at Mentor are U.S. and International Extemporaneous, Original Oratory, Declamation, Dramatic, Humorous, Duo Interpretation, Program Oral Interpretation, and Informative Speaking. In both Extemporaneous, students have thirty mins to make a speech to either talk about U.S. issues or International issues. In Original Oratory, speakers try to persuade an audience why a topic is important. In Declamation, a person recites a portion of a speech previously given by another speaker, and tries to develop the speech in a way that conveys the old speech in an original and engaging way. In the Interpretation events, speakers portray a wide array of characters and use tone to flesh them out. Lastly, In Informative Speaking, speakers try to inform an audience why a topic is important. Visual aides can be used in this.
In all events speakers earn points, and these points earn ranks in the National Speech and Debate Society. Once speakers reach 500 points, they will have their name put on the Speech and Debate board at our school.
When asked what is the most important thing that you learn from speech and debate, Mrs. Roediger responded, "For me, the most important skill is confidence. Students leave the team with the confidence to stand before a group of people and present ideas to convince them of something".
The first Speech and Debate meeting is on September 26th at 2:35 in B-221. In the meantime, to learn more about Speech and Debate, check out the official NSDA website and the this previous Cardinal Nation article from when the team went to nationals.
About the Contributor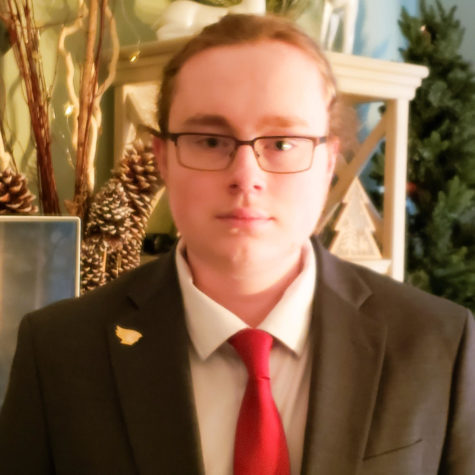 Casey Gray, Contributor
Casey is currently a freshman, who in addition to Cardinal Nation, participates in Model UN, Speech and Debate, and Future Leaders at Mentor High School.