What's in a pronoun? Depends on who you ask – and how
A new board policy under consideration put Mentor on the national radar when the community discussion hit Fox News
September 12, 2022
The Controversy
The Mentor Schools made headlines on the Fox News website this week over a proposed new policy on student pronoun preferences. That discussion has been going on for weeks, but it became news when an internal e-mail to the staff of the district about how to handle student pronoun preferences somehow found its way to Fox.
The issue started locally when the Mentor School Board, at its August 9 meeting, introduced an amendment to Board Policy 7.30. Titled "Screenings, Surveys, Physical Examinations, and Instructional Materials", Board Policy 7.3o outlines numerous topics that teachers cannot require students to provide information on, such as political affiliation and religious practices. If passed, new amendment would specifically prohibit teachers from issuing any written question to students about their preferred pronouns in pre-kindergarten through eighth grade (PK-8).
As for grades 9-12, if a district employee issues any written question to a student requesting the student's preferred pronouns, the district will message the parents or guardians of the affected students in advance. These guidelines would supersede any current provisions. (New policies must be read at two meetings first before a vote, so no official vote was taken in August as to whether to adopt this policy).
The Fox News web article details the recent policy discussion in Mentor, but specifically focuses on an e-mail that was sent by Assistant Superintendent Tim Hamman to teachers and staff afterwards as they attempted to navigate the issue. The only quote from the e-mail cited in the article is the following:
"If a student shares with a teacher what preferred name they would like to be called, and the student does not want it changed in IC [Infinite Campus] or Google, there really is no need to go any further. That teacher can just use those preferred pronouns/name with the student and there is no need to share the info with any other staff member or family member unless the student would like additional support with this throughout the year."
Fox News characterized the e-mail in its article title this way: "Ohio school district tells teachers they don't have to inform parents of students' name, pronoun changes."
How did this issue land the district on a national news site? To understand this, some context is necessary.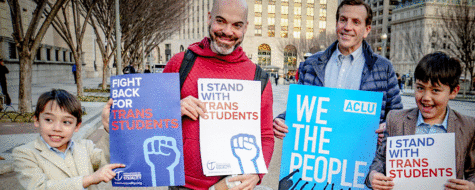 Conversations Across the Country
Discussing the use of preferred pronouns in the classroom is not unique to Mentor. In fact, many school districts across the country have been battling similar issues and many different organizations have contributed to the debate.
In Loudon County, Virginia, one school district was met with backlash after teachers, along with the school's superintendent, said that they would refer to the student by what the student had identified as their pronouns even if the parents had requested otherwise. The teachers in this district also made the distinction that they were able to stick to their policy because of the support they received from the district.
Elsewhere, Stephanie Salem, a member of a union associated with the American Federation of Teachers (AFT) proposed her idea for a "Student Introduction Card" that would allow for students to share their preferred pronouns and give them an option to withhold this information from their parents if they so choose. Similar ideas have been passed around through the teacher community that allow students to be even more specific with who their gender identity can be shared with, including other students and teachers.
The University of Pennsylvania's Graduate School of Education writes that, "Being thoughtful about how we use pronouns is a meaningful way to support children whose gender might be different from what appears on their birth certificate."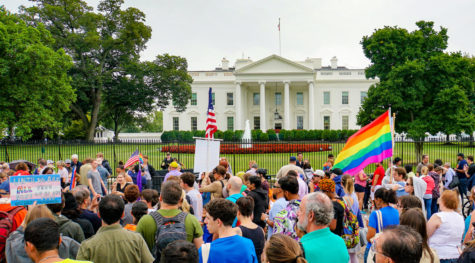 Conversations on the Global Stage
There are many arguments claiming that the United States is alone in attempting to use gender preferred pronouns; however, there are many nations debating this issue outside the U.S. An article from The Washington Post explains that many cultures, and subsequently their languages, have transformed the words they use to be more inclusive to all people. Some of these languages include English, Spanish, Arabic, Hebrew, German, French, and Swedish.
In fact, Sweden added "hen" to their dictionary in 2012 as a neutral pronoun and it has quickly caught on. The Insider article that features this story also refers to a study published in "Proceedings of the National Academy of Sciences" that featured over 2,000 participants and found that most people used "hen" when asked about a cartoon animal, demonstrating that not all things, including inanimate objects, need to be gendered as male or female.
Elsewhere, preferred pronouns are not as accepted. Earlier this year, in March 2022, the United Kingdom's Attorney General Suella Braverman expressed her views on gender's role in school saying, "Medical professionals, teachers should be taking a much firmer line. They shouldn't take an unquestioning approach, they shouldn't just take what the child says. There could be a whole host of other causes to why that child might be coming forward with these issues. It might not actually be that they want to go down the line of gender reassignment."
Braverman's statement has since brought attention to other cases in the UK such as that of Joshua Sutcliffe, who was one of the first teachers to lose his job for "misgendering" a "transgender student". Many have debated that firing as a violation of the Equality Act of 2010.
Do students reserve the right to determine their pronouns in our schools? If so, at what age? Would a policy be violating Title IX by not allowing for discussion of preferred pronouns?
The Conversation Comes to Mentor
This global debate over pronoun usage in schools came to Mentor when the amendment to Board Policy 7.30 was introduced at the August 9 school board meeting. Public comments then revolved around this amendment. (See video to see the public comments in full).
Supporters
To summarize, proponents of the policy being passed cited many reasons as to why they feel this is the decision the board should make. One reason parents said they were against their children being asked for their pronouns is because they believe it could lead to exposing vulnerable children to what they see as inappropriate topics in the classroom. One speaker suggested the sole purpose of surveys asking for pronoun preferences is "to begin, or further, the indoctrination of the students into matters of sexualization, another potential word for this is grooming."
According to the Oxford Learner's Dictionary, one definition of "grooming" can be "the process in which an adult develops a friendship with a child, particularly through the internet, with the intention of having an illegal sexual relationship." Although this may seem to some an extreme description of a classroom survey, many parents echoed those fears throughout the rest of the meeting with comments such as "we need to keep our children's innocence" and prevent them from feeling fearful of "what will happen to them when they don't conform."
Other public speakers supporting this proposed policy expressed the belief that surveys asking pronoun preferences infringe upon their rights as parents as to what their children are taught about and at what point during their adolescence. As the country witnessed earlier this year with Florida's "Don't Say Gay Bill" as well as Ohio HB 616 (check out Cardinal Nation's previous article on these issues), many parents claim that by introducing LGBTQ+ themes and lifestyles into schools violates their right as a parent.
The concerns raised at the board meeting suggested that by giving students pronoun surveys that children would be able to "choose their gender" and that it poses a threat to allow children to have a different identity at school than in their home life.
Opponents
Opponents of the new policy were quick to respond that if a child feels the need to do use different pronouns at school, the issue may actually be at home. While addressing the board, parents and students in support of the surveys pointed out the need for students to feel safe while in school even if they do not at home, and shed light on the consequences when teachers and schools fail to meet these standards.
In 2021, the top leading cause of death for children ages 10 to 14 in Ohio was suicide. According to The Trevor Project, members of the LGBTQ+ community are up to four times more likely to commit suicide than their peers, and that one makes an attempt every 45 seconds across the nation. Community members in attendance used these statistics to show that the pronoun surveys do not impact those who are cisgender but is "life and death" for those identifying otherwise.
Regardless of their position on this issue, many parents expressed that they simply think that elementary school is too young to ask a child what their pronouns are. While many parents expressed that their children would simply not know how to respond to this question, the Mayo Clinic indicates, "Most children typically develop the ability to recognize and label stereotypical gender groups, such as girl, woman and feminine, and boy, man and masculine, between ages 18 and 24 months. Most also categorize their own gender by age 3 years." The Clinic also suggests children are rigid about these choices by age 5-6, making children aware of their own gender by the time they enter kindergarten. This information contradicts the suggestion that children will be confused by being asked for their pronouns, as many of them already feel comfortable in their identities, and those do not will be affirmed in their feelings.
The Legal Issues
During the time at which the board discussed this policy, there was a considerable amount of discussion surrounding Title IX and its role in this policy. In simplest form, Title IX was passed as part of the Education Amendments of 1972 and prohibits discrimination "based on sex" in education. According to the National Center for Transgender Equality, Title IX also ensures that "students have the right to be addressed by the names and pronouns that they use."
The American Academy of Pediatrics seems to agree with the National Center for Transgender Equality in a statement they issued on the subject as early as 2018.
Countering these professional organizations, however, many parents on August 9 expressed that it was their right as a parent to know how their child responds to a survey, should one be given in class. The National Center for Transgender Equality interpretation of that is different, however, saying "While it's not always possible to prevent other people from finding out about a student's transgender status, schools must make every effort to keep that information private unless the student has given them permission to share it."
Towards the end of the August 9 meeting, a junior MHS student spoke and identified that he had never been questioned by a teacher on their pronouns during the time in the Mentor School District. This resonated with many that believe supporters of the new policy are trying to solve a nonexistent issue since the policy does not speak at all to what is taught in classrooms, but rather that a student cannot be surveyed directly on their preferred pronouns.
The E-mail Controversy
The e-mail on August 31 seemed aimed at bringing clarity to how teachers should handle this issue. Although the new policy is not in place and may never be, the discussion raised practical classroom questions for the opening of school.
Although Fox News chose to run only a portion of the e-mail, Cardinal Nation has acquired the entire e-mail exchange and – after requesting to do so from administration, since it is now a matter of public record – is presenting it here in full.
As it turns out, the original e-mail is what is quoted in the Fox News story. But the Fox story completely ignores a follow-up e-mail which was the result of a staff request for clarification. The entire exchange is below: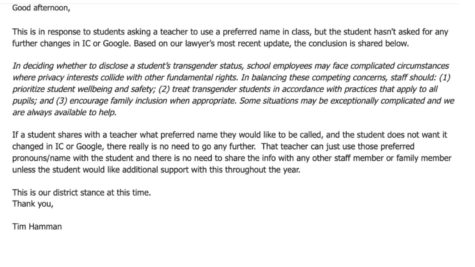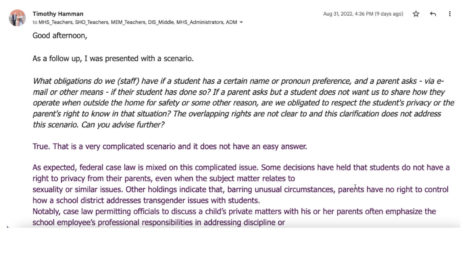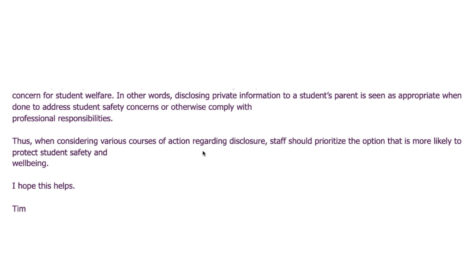 When viewed in context, Assistant Superintendent Hamman does recognize parental rights, contrary to the Fox News headline. But the e-mail makes clear – as the national debate and danger to LGBTQ +students discussed earlier shows – that case law is still conflicting on this point. It is also worth noting that the Biden administration proposed amendments to Title IX on the occasion of its 50th this summer that would add language specifically protecting LGBTQ+ students, clarifying the argument over the word "sex." Student safety, therefore, remains the district "stance" until policy or case law is further updated, as is consistent with the Mentor Schools Mission Statement: "Together we will maintain a safe learning environment."
Cardinal Nation reached out to the author of the Fox News article, Jessica Chasmar, for a response as to why the entire email was not published. As of this writing, Chasmar has not responded to our request.
The e-mail, as the Fox News story stated, was acquired through a group called Parents Defending Education, which – according to their website – is "a national grassroots organization working to reclaim our schools from activists promoting harmful agendas. Through network and coalition building, investigative reporting, litigation, and engagement on local, state, and national policies, we are fighting indoctrination in the classroom — and for the restoration of a healthy, non-political education for our kids." The website allows for any citizen to submit an "incident report" to "share your situation."
The non-profit group Influence Watch describes "Parents Defending Education" as "a right-leaning organization that opposes the teaching of critical race theory and related left-progressive ideology in K-12 public schools."
Cardinal Nation reached out Parents Defending Education through their website for a response as to how they acquired an internal district e-mail. As of this writing, Parents Defending Education has not responded to our request. (Update: the evening of September 12, Parents Defending Education sent Cardinal Nation a one-sentence response to our query: "We were sent screenshots of the email from someone in the district." We have followed-up for more information.)
It is typical for new policy to be read and then subsequently voted on at the next board meeting to take place, in this case on September 13. However, Superintendent Craig Heath told Cardinal Nation exclusively that the board will be having a retreat on September September 21 with a work retreat to follow. This, he says, will hopefully allow for a second reading at the October board meeting with a potential vote that same night.
Mr. Heath also exclusively told Cardinal Nation the following:
"These topics were brought up by one of our board members to discuss as part of board policy change. We are going to continue to have discussions with the board around these topics to determine what guidelines we need to put in place here in the future during our board retreat and a possible work session. We also want to make sure we take into consideration guidance from our legal counsel and we want to see how these topics play out with the federal regulations and the court cases that are currently being debated."
Therefore, the fate of the pronoun preference amendment to Board Policy 7.30 remains undecided. To see reactions to this issue from multiple stakeholders, check out our article "What's in a Pronoun? Mentor Responds."
More Resources: