Earlier this month, state report cards were released for every public school district in Ohio, and Mentor's results were impressive.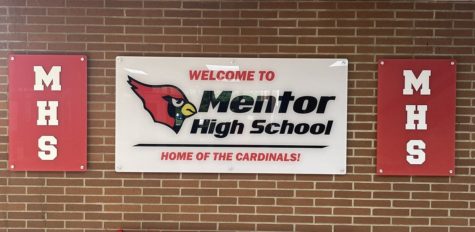 "It's not just about numbers on a report card," Principal Jason Crowe said in a message to the staff. "It's about the lives we are positively influencing and the futures we are shaping."
Following every school year, the Ohio Department of Education releases a report card. This information represents a school performance on state tests and general education. It is very important to a school that the score reflects on them well, as it can be a deciding factor for many families on whether or not to enroll their child or children.
With that it is very exciting news that  Mentor schools received  4.5 out of 5 stars. This overall score is decided by five categories:
Achievement
According to Ohio's guidelines, the achievement portion represents students' general performances on state tests that are taken in the fall and spring. Both in previous years and now Mentor scored a 4, which shows that the district has performed above the state standard.
Progress
This portion of the report card examines the growth students have made over the course of their education. This section of the report card shows the most growth in our district with a score of 4. In comparison to last year this is a 2 star increase. In addition, it puts Mentor in line with other top schools in Northeast Ohio, such as Orange schools, who also received a 4 in progress.
Gap Closing 
Gap closing refers to eliminating differences of students based on income or minorities. We once again improved, earning a perfect score in comparison to last year's 4 stars.
Early Literacy 
Early literacy regards the reading abilities of students in grades K-3. Reading becomes a key component of future education so it is very important to students that they can read starting very young. Mentor received a 3 showing basic and typical understanding of reading for this age.
Graduation
The Graduation section is exactly as it sounds, measuring the percentage of students who graduated in a 4-year time period. It also measures the number of the non-graduates and sees if they were able to graduate after being given an additional year. In Mentor, 93.9% of students graduated within the standard four years, and of the non-graduating that graduated after a fifth year raised that to 95.8%. As a result, Mentor received a 4 in this category.
College, Career, Workforce, and Military Readiness
This portion of the report card did not count towards the overall score but in many peoples' opinions it could easily be considered the most important. Students should ideally be prepared for adult life by the time they graduate high school. Unfortunately, like many schools, last  year only about 47% were.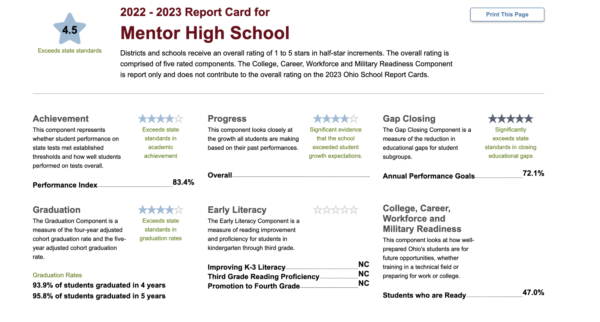 However, Mentor High School has already looked to turn this around. At the beginning of the 2023-2024 school year it was made mandatory that every student takes a financial literacy class in their sophomore year. This is in hopes that students feel better prepared to take on the financial challenges of adult life. So, if it goes as planned we can look forward to a higher percentage on next year's report card. Now let's take a look at what students and teachers had to say about the report card.
But do students and teachers think the overall score reflects Mentor and their efforts?
"Yeah," sophomore Bella Land explained, "I think the score shows the work most students have put into tests and assignments."
Some students, however, think state report cards might increase pressure on students they are already struggling to manage.
"It is a nice score but with that grade comes work that has had a negative effect on students health," sophomore Jobeyka Ponce suggests. "I personally have extracurricular activities where often I might finish very late. Then I go home and have to study because there's a test. Which doesn't feel like it helps me at all."
Frau Friend, MHS German language teacher, also believes that students are working very hard.
"I see 4.5 / 5 as a very good score," Frau Friend says. "I think it reflects what I see daily, but since I only work with a select group of students – those who are willing to learn a new language – my perspective may be slightly skewed. I believe the overall score of 4.5/5 tells us that the entire school community is working to ensure student success, and that students attending Mentor Schools not only want to succeed and grow academically but are also working very hard to reach their goals."
In general teachers and students agree that lots of effort is put into school and the report card certainly reflects that.
The College, Career, Workforce, and Military Readiness portion of the report card is another item that got student and staff attention, and we asked if they were concerned that it might be a low percentage.
"Yes I am worried that the percentages are low because I can't see the point of any of this work if it's not likely to prepare me for college," Jobeyka said.
However Frau Friend was more reassuring.
"I know that 11 factors are considered when determining College, Career, Workforce and Military Readiness," Frau Friend says, "but this 47% score doesn't seem accurate when I consider the stars we have earned in all reported categories and the progress we have made as a district. If we had a lower score on the report card, I might be more concerned about this finding. I would like to see the data used to determine this percentage, and maybe then I'd be able to give you an informed answer."
Overall, without seeing the information that is used in the percentage, it is hard for some people to understand whether or not any of these state numbers are actually a concerning matter.
Bottom line, all fellow students should believe we – as a group – have done an incredible job persevering. So, with this school year just starting out here is your reminder to keep working with excellence.