The 2023-24 school year has merited many changes; renovated rooms, new technology, a revised bell schedule, and a switch in the structure of our unit offices. Amongst all of these changes is how students at Mentor will be applying to colleges moving forward: the transition from using Naviance to SchooLinks.
With college application season in full swing, both students and staff are adapting to the new opportunities posed by SchooLinks. Naviance and SchooLinks both intend to help students explore their interests, skills, and goals, and help them find postsecondary opportunities that match their interests.
Previous to this year, students used Naviance, a program from the creators of Schoology, for college and career readiness. Naviance allowed students to take self-discovery assessments, explore college, career, and military opportunities, make post-secondary plans, build a resume, and set goals. It also served as a college application and transcript management tool that streamlined the application process. In the program, students could search for careers and colleges that interest them, connect with colleges, and compare their admissions stats to other students from Mentor who were accepted.
"We were looking for a more updated, engaging and user friendly career and college readiness program," says Mrs. Meagan Howell, one of MHS's Unit 2 counselors. She says that this is what prompted the transition.
SchooLinks offers similar functionality and is comparatively newer, having been launched in 2015 while Naviance was developed more than two decades ago. It boasts a more appealing, modern interface with gamified features. In addition to the features that Naviance provides, students are also able to explore career outlook, watch videos from industry professionals, view scholarship opportunities, find internship and volunteer opportunities, research potential employers, and send their official transcripts for scholarships, NCAA eligibility, and other non-college app purposes. Students can also take advantage of its learning plan to explore lessons on the college application process, planning for two-year schools, planning for the military, and exploring careers to better understand how to turn their plans and ambitions into reality. SchooLinks additionally allows parents to collaborate with their children regarding their future plans, which Naviance did not possess. In the interface, students are able to message teachers and staff while also including their parents/guardians in these conversations.
Mrs. Howell specified three SchooLinks features that could be useful to students for their postsecondary endeavors: the College Application Manager, Scholarship Matching tool, and Career Center.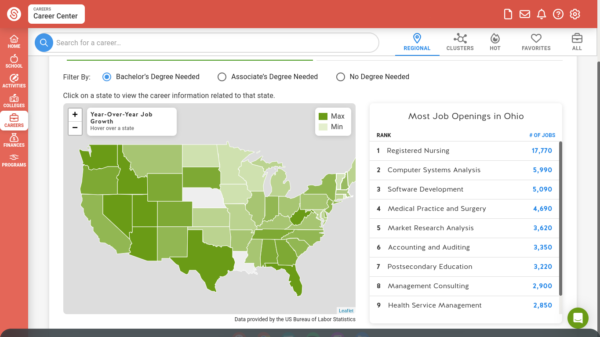 The College Application Manager helps students track the application materials needed for applying to colleges. Students are also able to request letters of recommendation in the interface, which then allows counselors to send them to colleges. After setting up an application in the College Application Manager, students can start tracking the requirements for applying to a certain college and seeing which ones are their responsibility versus which are the school's responsibility. After college application season, students are able to indicate to the counseling offices which schools they were accepted to and where they intend to enroll.
SchooLink's Scholarship Match provides students with information on local and national scholarship opportunities. Found under the finances tab on SchooLink's main page, the Scholarship Match tool finds scholarships fit for each individual student. Students are able to input their demographic information, interests, keywords, and potential colleges to filter a list of available scholarship opportunities. Each scholarship has a brief description, eligibility requirements, and the option to apply.
The Career Center tool provides students with opportunities to learn about different career clusters and watch videos from professionals in the industry. It gives students a view of the job outlook for certain careers in states across the country. The interface lists the minimum education for a career, the median salary, and a description of the career itself.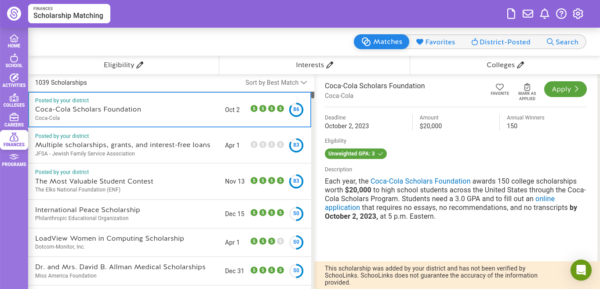 Overall, SchooLinks offers a plethora of new features for student's postsecondary planning. Students, staff, and parents will be able to utilize the new tool for endeavors that await students after their time at Mentor High School. SchooLinks is currently accessible to students in Clever.
"SchooLinks can be useful for all students, regardless of their plans for life after Mentor High School," Mrs. Howell told Cardinal Nation. "It has something for everyone, whether your plan is to enroll in a 2 or 4 year college, enlist in the military or head straight to the workforce."