Getting Started in Showbiz: Introducing Muse
Music critic Brian Mignogna reviews the group Muse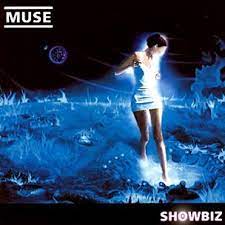 Introduction: Muse, the gloomy space rock band with songs about relationships and black holes, was formed in 1994 in Devon, England, consisting of members Matthew Bellamy on vocals, lead guitar and keyboards, Chris Wolstenholme on bass and backup vocals, and Dominic Howard on drums. In the early 1990s, the three members became friends and started to play music together, and the band would move through different phases. Some of their first names included Gothic Plague and Rocket Baby Dolls, the latter under which they won a local battle of the bands competition, a victory which shocked their initially negative outlook of the band's future. They began to dedicate more time to their band and started to play gigs through England, allowing them to build up a fanbase. In 1997, they changed their name to Muse and, after releasing a couple of EPs, released Showbiz, their first studio album, in 1999 under Taste Media. Throughout their career, the band would experiment with different genres of rock, such as alternative, progressive and space rock, as well as with electronic music. Notably, a sci-fi theme would appear through much of the band's music in songs such as "Space Dementia" and "Supermassive Black Hole," and the band would look at themes of revolution and rebellion later in their career as well. However, Showbiz displayed the band's potential at an early age, and as such is very much worth exploring.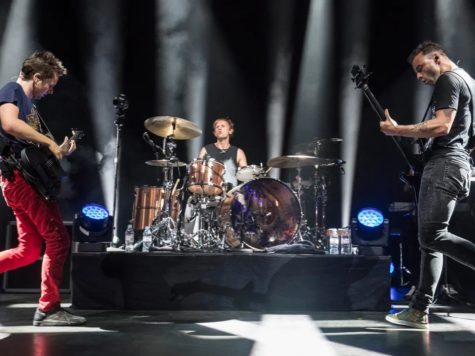 Production/Instrumentation: To begin, although the band would look at other styles later in their career, Muse would stick to more of an alternative rock sound on "Showbiz." With somber and soft verses often contrasting with aggressive and hard-hitting choruses, the band would show ways that they could work through this sound. The album was produced primarily by John Leckie and Paul Reeve, as well as Muse themselves, and the production would appear somewhat rough during this stage in Muse's career, though this benefits the album in many cases. The sharp and shrill guitars on "Uno" and the static that can be heard in songs such as "Escape" and "Fillip" help to give the album a certain edge that, though can be found on other Muse records, shows up here most often. The aforementioned sci-fi theme, though not referenced in any lyrics, is shown through the album cover and the unique synthesizers the band uses in songs such as "Hate This and I'll Love You," "Spiral Static," and the end of "Cave." For the most part, the album is focused on more aggressive and rhythmic tracks, though the ballads "Falling Down" and "Unintended" help to balance this out. Compared to the heavy instrumentation heard most often, these songs often feature Bellamy's vocals occupied by simply acoustic guitars and soft drums, showing a sharp contrast and expanding the band's range. The band also uses the piano in many cases, which can be heard most prominently during songs such as "Sunburn," "Fillip," and "Cave," which helps to balance the more aggressive sound out. Altogether, "Showbiz" shows Muse tackling a more rough alternative rock sound and production style.
Songwriting: The songwriting on "Showbiz" is strong throughout, tackling similar themes of heartbreak and resentment. Throughout the album, Bellamy's vocals and writing most often comes off resentful and dramatic, which help to bring a more emotional energy to the stronger tracks. These help to bring an anger and a dark tone that is prevalent throughout the album. For example, "Uno" shows the frustration at the missed potential of a breakup, and "Showbiz" is one of the more emotionally intense songs on the album, as though the lyrics often repeat, lines such as "Visions of greed you wallow" still remain impactful. Similarly, the writing bring a depressed and solemn mood to the ballads as well. "Falling Down" shows the desolation that comes with a breakup and "Unintended" changes the tone as the narrator pleads for his lover to return to him. Notably, this song has much less of the frustration present through the rest of the album, showing Muse in a comparatively more level-headed place. Overall, through "Showbiz," Muse's songwriting showcases a more emotional and dark side of the band.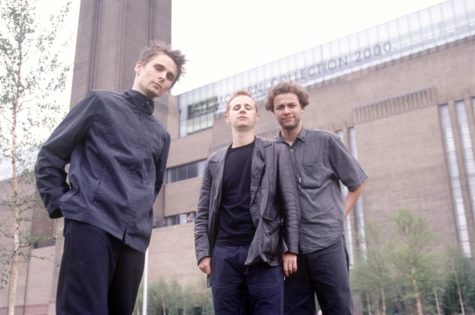 Artist Performance: One aspect of Muse made most clear through "Showbiz" is the talent possessed by each of the band members. Bellamy, for instance, demonstrates himself as a talented vocalist and guitarist. His dramatic and somber vocal performances help to make for very engaging moments on the album, such as his almost chaotic screams on the title track "Showbiz" or his slower melodies on the album's ballads. His singing also leads to strong choruses and melodies in songs such as "Muscle Museum" or "Sober," as well as a sense of theatrics that accompanies the album. His guitar and piano playing shows notable skill as well, as each of these instruments adds to and creates depth to their respective songs. Wolstenholme also shows skill on the bass, as the instrument is utilized to add a groove to various tracks, as well as to naturally back up the guitars. His backing vocals also help to supplement and strengthen Bellamy's performances. Finally, Howard's drumming is given time to shine during the aggressive songs, where his strong playing fits the tone of these songs, while also showing range during the ballads, as his softer playing helps these songs to move forward. The band also shows how they can work as a unit during this album, as shown by moments such as the guitar and drums syncing up during parts of "Fillip," and where the bass mixes in with the guitars at the start of "Cave." This is also shown by the way the guitars and vocals often trade melodies, particularly during "Muscle Museum" and "Showbiz." To summarize, through "Showbiz," each band member demonstrates their skill both individually and as a unit.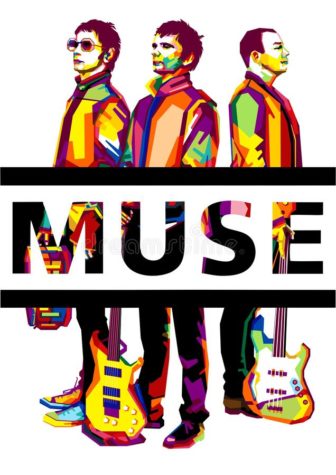 Personal Enjoyment: Overall, in my opinion, I found "Showbiz" to be a very solid start to the band's musical path. I think that "Showbiz" is a great display of their potential from early on, even if I do prefer more of their later albums. As I explained before, I think that the band showed various kinds of skill on this album, and their raw energy is captured very well. However, I do feel that more varied topics could have been covered with the songwriting. I also think that many of the non-ballads sound fairly similar, to the point where it can make the album feel sort of one-note at times. This is why I found "Escape" to be my least favorite track, as though it is not a bad song, it does little to distinguish from the other tracks. Despite this, I do think that the album is still very enjoyable and shows Muse's skill early on, and as such is well worth a listen. My favorite tracks include "Sunburn," with excellent piano playing that contrasts with one of the strongest and most memorable choruses on the album and "Falling Down," the best example of the album's balladry with passionate vocal performances and melodies from Bellamy. "Uno" is my favorite track on the album, as the raw production combined with Bellamy's intense vocal performances, driving and screeching guitars, bass lines which helps to establish the song's melody, and drums which hammer down the song's rhythm combine to create the album's most abrasive yet passionate song. However, if I were to recommend a specific song to represent the whole album, I would choose "Muscle Museum," as this song exemplifies the themes the album delves into and the skill in production and performances present throughout as well. To wrap it up, "Showbiz" remains a solid album that showcases the band's skill and potential at the start of their career.
Favorite Songs: Sunburn, Falling Down, Uno (Would recommend Muscle Museum)
Least Favorite Song: Escape
Rating: 7/10