Teacher Appreciation Week: Miss Fisher
Meet Miss Fisher from the Math Department!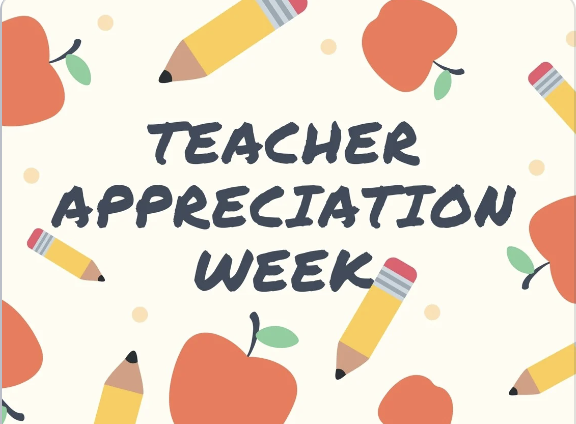 May 8th-12th is Teacher Appreciation Week, a national holiday in the U.S. celebrated each year during the first full week of May. The purpose is to recognize and celebrate all teachers for the hard work they put in throughout their careers to educate their students and help shape the future. More often than not, teachers go without recognition or thanks for the effort they contribute. They work overtime before and after school, and into the weekend hours, too. Make sure to thank your teachers this week for all that they have done!
In honor of Teacher Appreciation Week, I chose to profile Miss Fisher, my geometry teacher, because she has been a friendly face all year and brings positivity to the classroom.  She has helped me excel in math this year. Because of her, this has been one of my highest-scoring years of any math class I've taken. She made me realize that I like geometry. Last year, I never would have said that!
I like that Miss Fisher is always encouraging students to try their hardest and think outside the box. She supports collaboration and intellectual discussions on the topic at hand. On top of that, she always makes herself available after school if students need extra help. She believes no question is a stupid question, and her math jokes brighten up the classroom.
She has taught me a lot about geometry, but also what it means to be a hard-working and kind person. She is someone people can relate to, and she is a good communicator. She leaves helpful comments on assignments and is always willing to share feedback. She does her best to grade tests as quickly as she can. She inspires me to put my best in my work and she always brings a smile to my face.
Cardinal Nation reached out to Miss Fisher to ask her some questions for Teacher Appreciation Week.
Cardinal Nation: Why did you get into teaching?
Miss Fisher: I've always enjoyed doing math but I was not one of those people that knew I wanted to be a teacher since I was in the second grade. I remember either my second or third-grade teacher told me I should become a teacher because my handwriting was so nice. That's funny to me now because my handwriting is so not nice. Anyway, when I was in high school I started to explore some options of what I could do with math. A lot of people suggested engineering. My parents were both educators so that was comfortable to me and I could definitely see myself as an educator. It was a great fit for me as I definitely enjoy working with people and wanted to do something where I was helping people. But I wanted to make sure I didn't just choose that because it was the only thing I knew. My calculus teacher senior year suggested I loo
k into actuarial science (a field heavy in mathematical modeling with a fantastic salary). I did my senior project shadowing an actuary and found out I hated everything about it…just not the kind of environment I could see myself in and ultimately decided I just didn't want to be in the corporate world. I am forever grateful for that experience and would encourage every student to explore as many options as you can. I also remember thinking as a high school senior that I could not picture myself doing any one thing for "the rest of my life." I had this great idea that wouldn't it be cool to just do a different job every year. So I just decided I would start with teaching. Guess it was a good choice because 15 years later I'm still here and still loving the job more every year! If I ever stop liking teaching I would not be afraid to do something else.
Cardinal Nation: What do you get from this job?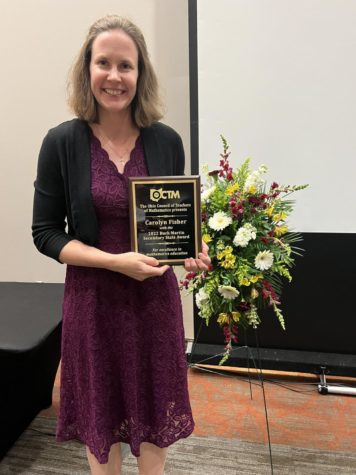 Miss Fisher: Teaching has given me a great way to make a living. On the days that are difficult where things don't go as planned, I remind myself that I cannot imagine doing another job that would be as much fun and challenging at the same time. I love the fact that this job constantly makes me think (I don't think I could do a job where I had to do the same thing over and over again), requires me to use my creativity to come up with better ways to present things and engage students, and provides free entertainment. Honestly the time flies and with the right attitude teaching is a joyful and entertaining job. That saying that time flies when you're having fun is so true about teaching. I never watch the clock and wonder when the day will finally be over. Usually, it's 2:30 and I'm like "Where did that day go?"
More importantly, though, teaching has given me a purpose. I feel like I'm getting up every day and doing more than just earning a paycheck. They say that if you find something you love doing you never work another day in your life. I hope I am making a small difference in the lives of my students, whether it be showing students how to live life with a positive attitude (many students observe and comment on how I'm always happy…definitely not true but I do try to make a conscious choice to have a positive attitude as often as possible), helping students to gain confidence in themselves as capable of doing hard things, giving students a different experience of math than they are used to, or encouraging students to live life to the fullest by sharing some of my crazy adventures of things I enjoy doing. Sometimes I don't know how I influence students…I can only hope that I'm making a positive difference for many. I also have had several students that have gone on to become math teachers because of the experience they had in my class and that is a pretty amazing feeling to know that you had that kind of influence on a student. I hope their career is as fulfilling for them as mine has been for me. 
Cardinal Nation: What about being a teacher do you think it is important for people to understand?
Miss Fisher: Teaching … it's a work of heart! Many people are quick to judge when teachers are tired and complain saying that in no other job do people get their summers off. I don't think people understand how emotionally draining and exhausting teaching is. I don't mean the kind of exhaustion where you sleep a solid 12 hours and you're good. It takes me a couple of weeks in the summer to recover to the point of wanting to do things and I mean fun things. It takes me the ENTIRE summer to fully recover to the point of being ready to start over again and do it all again. And I love my job. But I'm wiped out at the end of the year. I would not say I do not take my summers 'off.' I would say I do a crazy combination of reflecting, professional development (sometimes that means taking a class, sometimes that means professional reading, sometimes that means meeting with other teachers to share ideas and strategies), organizing from last year, planning for next year, and actually taking time for me which rarely happens during the year. Teachers are the worst at taking care of themselves. There is some saying about how you can't care for someone else if you don't first take care of yourself. I wish people understood that we actually do A LOT over the summer so that we can be our best for the 9-10 months we are working with students.
Cardinal Nation: What things are on your "Favorites List?"
Miss Fisher: Favorite things to do: Pretty much anything active and outdoors such as hiking, kiteboarding, kayaking, and skiing. Favorite food: chocolate (that's definitely a food group the way I count.) Favorite places to travel: Any national park. Favorite musical: Whatever musical Mentor High School last performed! 
Cardinal Nation: What do you think most students would be surprised to know about you?
Miss Fisher: Most students do not know that I am an artist, also. I tend to talk more about my outdoor activities that I enjoy so they find out about that but I don't talk as much about my love of art. I studied art alongside math in college and have a great appreciation for all of the visual and performance arts. I enjoy pursuing my passion for visual art mostly in the summers when I have more time. I especially enjoy oil painting and currently have approximately a dozen paintings in progress (mostly landscapes). I also enjoy collecting driftwood and creating sculptural art from it. While I do not directly use my artistic skills in teaching (other than my fabulous geometry drawings, of course) I do believe that having a creative side is helpful in my job and has allowed me to not be afraid to think differently and try things that maybe other teachers have not tried. Most students also do not know that I have a twin sister and two older sisters who are twins. My twin sister is a math teacher at Chardon High School and while we do enjoy collaborating professionally when we have the chance we also enjoy doing many non-math-related things together. She is my best friend! 
About the Contributor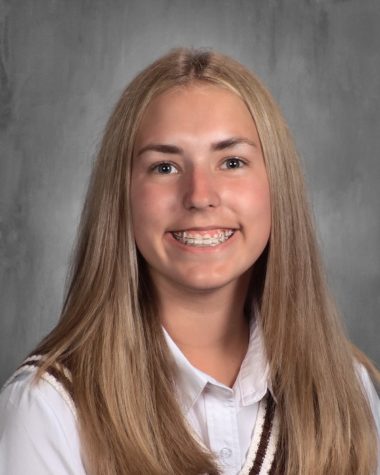 Olivia West, Contributor
Olivia West is a current freshman at Mentor Highschool. She is a member of the FCMB Color Guard and the Helping Cardinals. Her hobbies include reading,...