Looking Back At "Born to Run"
On the day "The Boss" plays Cleveland, our music critic looks back at the album that broke his career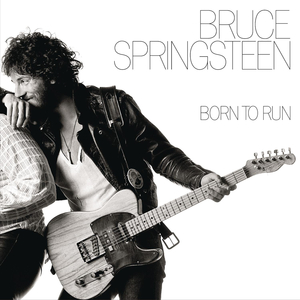 Introduction: Singer-songwriter and rock star Bruce Springsteen, "Born in the U.S.A." on September 23, 1949, would grow up in Freehold, New Jersey, eventually leading him to the Jersey Shore where he would become a solo singer-songwriter in 1972. Springsteen and the E-Street Band, which remain his backing musicians to this day, had seen little commercial success with their first two records "Greetings From Asbury Park, N.J." and "The Wild, The Innocent & The E Street Shuffle," neither of which seemingly gave Springsteen enough of an audience to keep their record label. However, Springsteen's third album, "Born To Run," would bring him into the mainstream and help his music to reach a far greater audience. The title track and single for the album, also titled "Born To Run," would be released on August 25, 1975, which would be the public's introduction to Bruce Springsteen. With the title track ascending into the Top 40 on October 11th, it would show promise for the album to follow. The album would be the breakthrough the group desperately needed, giving Springsteen and the band the chance they needed to appeal to a wider audience. The album would shoot onto the 3rd spot on the "Billboard 200" albums chart and eventually be certified 6x platinum. Throughout his decade-spanning career, Springsteen would create and release various iconic pop and classic rock songs, including "Born In the U.S.A.," "Dancing in the Dark," "Born to Run," "Tougher Than the Rest," and many more. In particular, his 1984 album "Born In the U.S.A." would spawn seven hit singles and become his most well-known album. Nonetheless, it is possible that none of this popularity or commercial success could have been achieved without the opportunities opened up for Springsteen by "Born To Run." As the album will be hitting its 50th anniversary, and with Springsteen playing Cleveland on April 5, 2023, now appears a good time to look back on the album and its impact.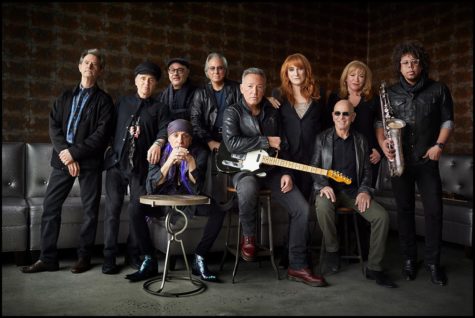 Instrumentation: Though listed as a solo artist, Bruce Springsteen would be backed by The E Street Band for most of his career, a rock band which has toured and recorded with Springsteen ever since 1972. Throughout "Born To Run," they supplied the majority of the backing instrumentation, including saxophones, pianos, drums, organs, and much more, with the piano handled mostly by Roy Bittan being the most prominent instrument on the record. Saxophone solos are present during songs such as "Born To Run," "She's The One," and a great part of "Jungleland." Trumpets are even used for the jazzier cuts of "Tenth Avenue Freeze-Out" and "Meeting Across The River." Springsteen himself is naturally given various opportunities to shine as well. His rough baritone, one of the more recognizable voices in rock, is heard throughout the album, and his guitar playing is put to good use as well, such as during his solos on "Backstreets" and "Jungleland." He even shows off on the harmonica on the intro to "Thunder Road," the album opener. The album maintains a both radio friendly yet densely layered style of production which assures each instrument is heard as well. This is a part of Born To Run's appeal both now and on release, as this style allows for catchy notes and solos while also retaining a human quality.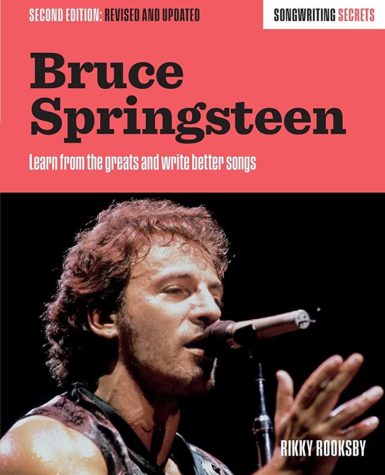 Songwriting:  In various ways, "Born To Run" demonstrates Springsteen's songwriting skills. Many of the songs on the album share a common theme about running away, looking for freedom from the limits of  home, and simply moving away from it all with a loved one. "Thunder Road" and "Born To Run" best exemplify this theme, and lines such as "These two lanes will take us anywhere / We got one last chance to make it real / To trade in these wings on some wheels" and "Oh, baby this town rips the bones from your back / It's a death trap, it's a suicide rap / We gotta get out while we're young"  show the determination and longing for freedom Springsteen incorporates into his lyrics. Songs such as "Backstreets" and "Jungleland" show off Springsteen's storytelling as, through longer epics, he describes the environment he presumably grew up in and is looking to escape.  This also further gives motivation and context for Springsteen's motivations. "She's The One" and lines in "Thunder Road" take a more romantic note, as Springsteen romanticizes and sings about a woman, one whom he wants to run away with.  Each song, whether directly or subtly, connects to this timeless narrative of fleeing from a harmful environment and the need to do so, framing it in a romantic, determined, and human way. Once again, years into the future, this narrative remains relatable and relevant, as the youth of each generation feel this need for freedom that Springsteen expresses so thoroughly.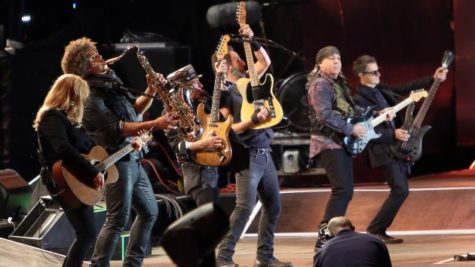 Artist Performance: During "Born To Run," many artists and instruments are given time in the spotlight, but first and foremost, Springsteen himself demonstrates great skill as both a vocalist and an instrumentalist. His singing, helped by his unique and recognizable voice, is often dramatic and rough around the edges, but this fits the album's theme of running away, a dramatic theme itself. Examples of notably captivating performances from Springsteen include his aggressive screeching delivery on parts of "Backstreets,"  his catchy and rhythmic notes on "Tenth Avenue Freeze-Out," and his especially theatrical performances on "She's The One" and "Jungleland." His guitar playing, though more subdued for much of the project, is given time to shine during solos such as the one in "Jungleland" and on more naturally guitar-heavy songs such as "Night." The E Street Band also presents itself as a unified and tight-knit group throughout, as they remain in sync during complex rhythms, such as the staccato-like descending notes partway into "Born To Run," or during songs where they show their ability to work well in tandem with Springsteen, such as "Thunder Road" and "Born To Run." In terms of specific instruments from The E Street Band, Bittan handles the piano with masterful skill, using catchy notes and varied arpeggios throughout, and the saxophones and trumpets are played with energy and strength whenever they appear. The dramatization that these performances bring out help to make the album's message more convincing and its songs more appealing, as they help to bring a youthful energy to the album that makes it more enjoyable.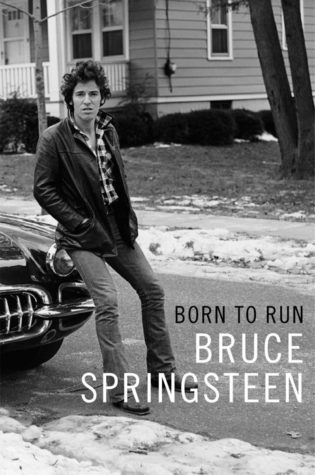 Impact: Many of the factors that led "Born To Run" to its mainstream success are also part of what make the album appealing today. This could be attributed to many factors, such as the climatic energy, fast pace, and catchiness of the album, emphasizing an aggressive and dramatic yet poppier rock sound more so than his other albums. In my opinion, many of the lyrical themes throughout the album may have helped in its success. The stories Springsteen tells about yearning for freedom and running away with a loved one from a seemingly repressive home are stories that most can relate to, even if not put in his exact situation or cinematic terms, and both his vocal performances and writing convey a sense of authenticity. The album's message still remains relevant and relatable today, and the fact that this is backed up by poetic and creative songwriting only strengthens this idea. Lines such as "I'll love you with all the madness in my soul / Oh, someday, girl, I don't know when / We're gonna get to that place / Where we really wanna go and we'll walk in the sun" and " You get up every morning at the sound of the bell / You get to work late and the boss man's giving you hell / Til you're out on a midnight run / Losing your heart to a beautiful one" are examples of lines that can still connect today.
In terms of how it changed the music landscape of the time, the album introduced a more dense yet still raw and energetic type of pop and rock-and-roll to the public. A landmark record in classic rock, the album harkens back to and embraces older styles of rock-and-roll, taking influence from figures such as Bob Dylan and Roy Orbison, and delivers a sound that was and is theatrical and inspiring to the American public. The album itself has gone on to influence other artists as well, such as Foo Fighters, Pearl Jam, Bon Iver, and U2. The passage of time indeed does not seem to keep The Boss himself from concerts, as he is performing in Cleveland on April 5th. Altogether, in the present day, Born To Run remains a well-produced, poetically written, and relevant record today, even as nearly 50 years have gone by.
Personal Enjoyment Rating: 8/10
Personal Favorite Tracks: Tenth Avenue Freeze-Out, Born To Run, Jungleland
Least Favorite Track: Night (Has grown on me a lot)
Advisor's Note: How does our current music critic's assessment compare with a Mentor student from 1975? Read here are compare!
Sources used for research:
https://www.loc.gov/static/programs/national-recording-preservation-board/documents/Born-To-Run_Hayes.pdf 
https://www.thestudentplaylist.com/bruce-springsteen-born-to-run/
https://www.yardbarker.com/entertainment/articles/musicians_who_were_influenced_by_bruce_springsteen/s1__30042824
Tenth Avenue Freeze-Out (Bruce Springsteen's Youtube channel):
Born To Run (Bruce Springsteen's Youtube channel):
Jungleland (Bruce Springsteen's Youtube channel):