Marketing & Business Students Travel to Columbus for DECA State Competition
Two Mentor students qualified for the international competition in Orlando, Florida!
After Mentor hosted their first regional competition for DECA in the Paradigm, the Marketing and Business Administration (MBA) program was proud to announce that they were sending 27 students down to Columbus to compete at the state level — nearly double the amount from last year.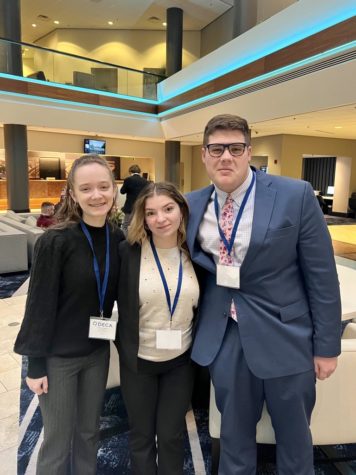 DECA (Emerging Leaders and Entrepreneurs) is a non-profit student organization that educates young leaders and entrepreneurs and prepares them for the business world. Every year, the organization hosts international competitions for both high school and college students to challenge their knowledge and apply what they have learned to real-world scenarios. Students are able to compete in any area that suits their interests, including sports and entertainment marketing, retail merchandising, principles of hospitality, marketing communications, human resources management, accounting, business finance, and more.
As a part of the Lake Shore Compact's Marketing and Business Administration program, students spend a few weeks in class preparing for their DECA exam and event. By taking practice tests, reviewing role-play scenarios and studying key performance indicators (KPIs), students are prepared and confident for the regional and state competitions.
"DECA means real world learning," explainedMrs. Tousignant, the MBA instructor for the junior classes. "Students are able to apply what they learn in the classroom to [the] competition. Through DECA, students are able to attend local, state and potentially international conferences where they compete in different categories of business and network with business professionals and students from DECA chapters all over the world."
The hard-working business students who placed at regionals and earned a spot at the state competition are: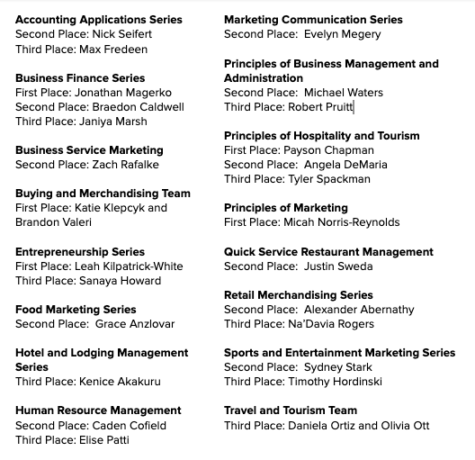 Out of the 28 students listed above, the MBA program was thrilled to send 27 of them to Columbus to encounter a variety of resume-building experiences.
"We are extremely proud of our students and their accomplishments in qualifying for the state DECA competition," shared Dr. Glavan, CTE Director. "Our Marketing and Business Administration students represent our commitment to helping ensure students are college prepared and career ready!"
On Friday, March 10th, the state qualifiers and MBA teachers, Mr. McKnight and Mrs. Tousignant, travelled to the Hyatt Regency Hotel in Columbus. With its prime location and large convention center, it was perfect for hosting both high school and college-level DECA competitions.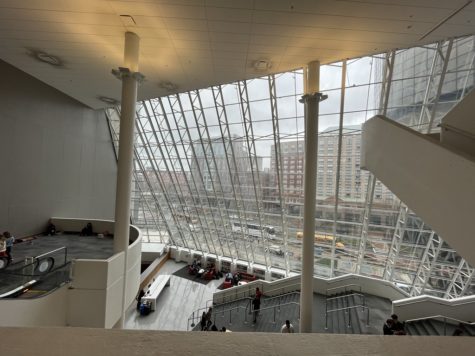 Once everyone arrived at the hotel Friday at 9 a.m., things got busy right away! Hundreds of students were arriving in the lobby at the same time Mentor was and changing into their professional dress.
Once suited up, the DECA competitors waited patiently for their competition times to come around. The time slots were either early in the morning or in the afternoon. No matter the time, it was an anxious wait for those competing. When it finally was their time, students sat down in their assigned chair outside of the preparation room. Once permitted by the staff, students were to walk into a large, silent room where their scenario awaited them. After they were given fifteen minutes to prepare for their role-play presentation, the competitors proceeded to the other side of the room where there were rows of curtain booths. Inside each booth was a judge who would talk with the competitors, playing their "role" in the scenario while the student presented their ideas, making sure to touch on all of the key performance indicators as they went.
While it sounds like a lot, the entire presentation only lasts for about 7-10 minutes. Before you know it, you're shaking the judge's hand and walking out the door. All done!
But they weren't finished for the night. After the competition, students were given a few hours to wind down, move their luggage into their hotel rooms and eat dinner. The class walked across the street to Buca de Beppo for a delicious Italian meal, complete with chocolate cake!
Once dinner was over, the DECA team quickly made their way back to the hotel to attend DECA's Opening Ceremony where Ohio's officers introduced themselves and presented to the hundreds of students in attendance. It's a great time for all of the students to get to know each other, have some fun and relieve the tension they've had pent up inside of them all day.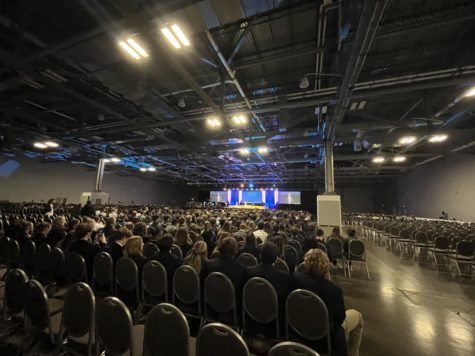 The next morning, students woke up early to attend the awards ceremony where they find out whether they've made it on to the final round. At this point, judges have determined which students performed the best in their respective events. Upon receiving their award, those students proceed to encounter one more round of competitions before they are finished for the weekend.
Out of the hundreds of students in the DECA competition, Mentor had SEVEN students make it to the final round: Michael Waters, Robert Pruitt, Nick Seifert, Max Fredeen, Delaney Gyure, Sydney Stark and Micah Norris-Reynolds. These students were able to walk across the stage and claim their DECA medals.
Mentor is SO PROUD to announce that TWO of our students qualified for the international DECA competition in Orlando, Florida: Delaney Gyure (2nd place Entrepreneurship) and Michael Waters (1st place Principles of Business)! This is a huge accomplishment and very exciting for the MBA program. Congratulations!
"It really was amazing spending so much time with likeminded people and getting to know about their personalities and their experiences, not just kids from Mentor, but all over the state," wrote Delaney Gyure. "I'm so grateful to have the opportunity to be in Orlando to build relationships and connections. I just want to thank Mrs. Tousignant, Mr. McKnight and everyone else that believed in me."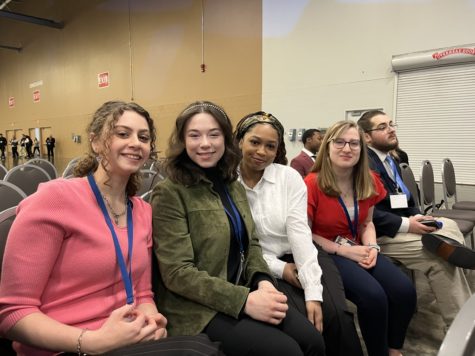 Overall, it was a great weekend and a wonderful resume-building experience for all of Mentor's state-qualifiers. Not only is DECA great to put on college applications, but involvement in this organization is often viewed as impressive to employers when students are applying for internships and jobs in the future. Since there was so much down time between competitions, many students acquainted themselves with other competitors and made connections with people from schools all over the state. The camaraderie and brief friendships formed between everyone was refreshing and helped ease the stress levels in the hotel.
"DECA is a unique and invaluable part of the MBA program," said Mr. McKnight. "[It] allows students to learn both in and outside of the classroom and is interactive, competitive, and fun!"
If you want to find out how you can get involved in this program, check out the Marketing and Business Administration's page on the Lake Shore Compact's website or through this article on Cardinal Nation. This is a two-year course that is only two mods long at Mentor High School and is a great opportunity for those wanting to learn the foundational skills they'll need in their future career.