Mentor High School: Art Show And Poetry Slam
Have something to say? Do it on Thursday night!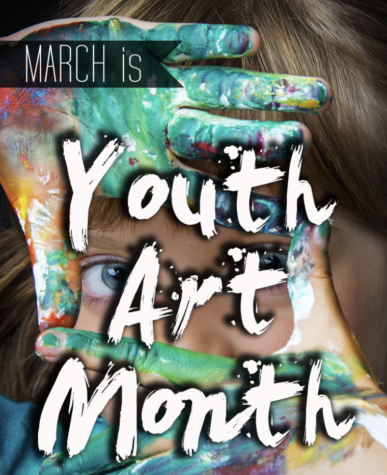 Youth-Art-Month is calling all artists, poets, and creative writers for an Art Show and Poetry Slam!
The third month of the year is an exciting time – Youth Art Month! This national event allows children of all ages to showcase their talents through events to promote arts and art education. This event allows students to demonstrate their creativity and talent along with the accomplishments of educators.
When children are able to express themselves through their art they open the door to higher self-esteem, problem-solving skills, and communication and allow them to be more self-aware according to National Today.
The Council of Art Education gives many reasons for the benefits of a month dedicated to youth art and how it exists to,
Recognize art education as a viable factor in the total education curriculum that develops citizens of a global society.
Recognize art is a necessity for the full development of better quality of life for all.
Direct attention to the value of art education for divergent and critical thinking.
Expand art programs in schools and stimulate new art programs.
Encourage commitment to the arts by students, community organizations, and individuals everywhere.
Provide additional opportunities for individuals of all ages to participate in creative art learning.
Increase community, business, and governmental support for art education.
Increase community understanding and interest in art and art education through involvement in art exhibits, workshops, and other creative ventures.
Reflect and demonstrate the goals of the National Art Education Association that work toward the improvement of art education at all levels.
Along with the month-long celebration of Youth Art, March 10th is Social Emotional Learning day which also includes the theme of "Uplifting Hearts, Connecting Minds" Check out the video below for more information on this day!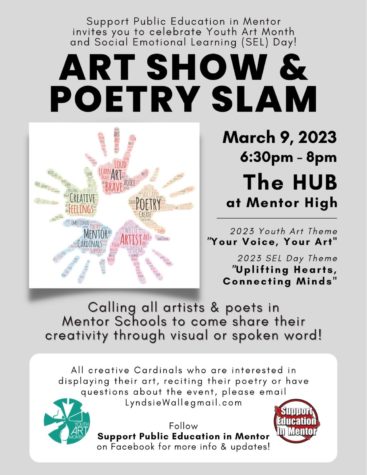 Support Public Education in Mentor, a parents group active in Mentor, is the host of this first-time Poetry Slam and Art Show!
This year's theme for Youth ArtMonth is "Your Voice, Your art" so join in on Thursday, March 9th from 6:30-8 p.m. at The Hub inside the High School. Message Support Public Education in Mentor if this is something you would like to participate in (see flyer). Everyone is invited to sign up, students of all grade levels or teachers to showcase your writing or artwork!
By exploring your artistic side you open doors to improving inventiveness, reducing feelings of anxiety and depression, and improving observation skills as well.
If you have any questions about this event, contact Lyndsie Wall (Shatkoff) at 440-840-3314
About the Contributor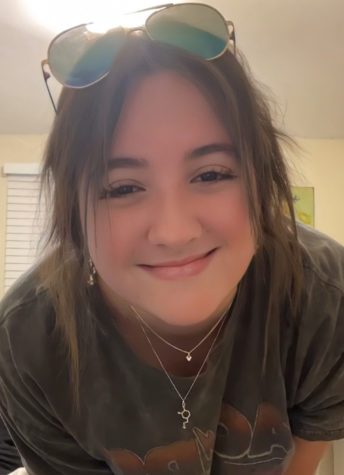 Loren Wandersleben, Contributor
Loren is a current sophomore at Mentor High School. She is currently involved in Cardinal Nation and Model United Nations and is in the process of starting...