Want to Go Behind The Scenes Of Lawnfield?
Be a part of the National Parks for a day!
Were you an APUSH student who enjoyed the tour that your class took back in January, or maybe someone who never got a chance to visit the National Historic Site right here in Mentor? Well now you can – and get service hours for it!
Lawnfield – the home of President James A. Garfield and a National Historic Landmark and National Park – is looking for around 20 volunteers for a very special Behind The Scenes Day!
Before we dive too far in, you should be aware that Ohio alone has 8 National Parks! But what's even better is that the National
Park Foundation is celebrating every single one in America for 8 days this April. The National Park Service staff and you are invited to share"your park story" Take to social media and share your stories with #MyParkStory and follow others with#YourParkStory.
The National Park Foundation even provides a theme for every day of the week,
Connection on Saturday, April 22.
Discovery on Sunday, April 23.
Accomplishment on Monday, April 24.
Tradition on Tuesday, April 25.
Gratitude on Wednesday, April 26.
Ingenuity on Thursday, April 27.
Inspiration on Friday, April 28.
Fun on Saturday, April 29.
Love on Sunday, April 30.
So What's Happening At Our Local National Park?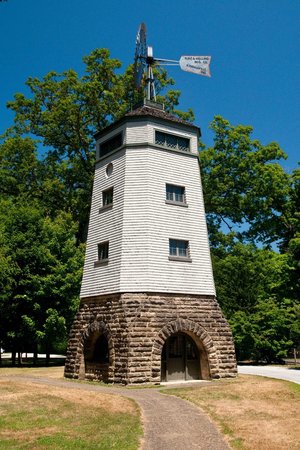 On April 22nd from 9 a.m. to 12 p.m., there is a celebration of areas at Lawnfield that aren't usually accessible to the public. Places like the windmill,  his campaign office, servant's quarters, historic barn, and chicken coop along with the elusive third floor and basement in the Garfield home!
If you do decide to volunteer, Lawfield will provide a script and talking points along with training, snacks, and even a Garfield House t-shirt! Wear comfortable shoes as you would be climbing many staircases in the sun, rain, or snow depending on the weather!
Volunteer Information Is Provided Below
Volunteer training is on Tuesday, April 18 from 5 p.m. -7 p.m. If students cannot make the in-person training, online training is also available.
Shifts will be 8:30 a.m.-12:30 p.m. and can even be split in half if needed.
Behind The Scenes Spots again are the 3rd floor and basement of the Garfield home, servant's quarters, windmill, horse barn, chicken coop, and campaign office.
This event is free and open to visitors of all ages.
If you're a teacher and reading this, don't be discouraged as you are also invited to volunteer!
If volunteering at the Garfield National Historic Site sounds interesting, visit the James A Garfield National Historic Site to volunteer or contact Allison Powell the Acting Site Manager and Park Ranger for the James A. Garfield National Historic Site at [email protected]