MHS Science Olympiad Team Advances to State Tournament
Read about their performance at Regionals from team member Zach Payne
On March 4, the Mentor High Science Olympiad team competed in the Northeast Ohio Regional Science Olympiad Competition held at Baldwin-Wallace University. 
Taking 5th place overall, the team was once again able to secure a bid to the Ohio Science Olympiad State Tournament — an event reserved for the top teams from each region in Ohio competing for the national tournament. Compared to others, the Northeast Ohio region is particularly competitive.
"Our region includes some of the top teams in the state, including a team that regularly makes it to nationals," confirms Mr. Michael Horvath, Assistant Advisor to the MHS Science Olympiad team. "At Saturday's regional tournament we showed once again that we can compete against some tough teams and earn our spot in the state competition."
"The Mentor High School Science Olympiad team has traditionally been very competitive and has often done well at Regionals, States, and has been to Nationals several times over the years," agrees Mrs. Michele Pugh, advisor to the team. "We have a great reputation in the Ohio and National Science Olympiad community."

Science Olympiad is a nationwide program where schools form teams to compete in competitions. Being described as "academic track meets" by the Science Olympiad Organization, each "Scioly" competition has students competing in events covering a range of science topics. Whether it is mechanical engineering, genetics, anatomy, or chemistry, Science Olympiad events allow students to explore the niches of their STEM related interests. For example, the "Flight" event has students construct rubber-band powered planes which compete to fly for the longest time. Another example of an event is "Forensics," where team members solve a fictional crime scene using chemistry and forensic methods. These are just a few of the many different Science Olympiad events which occur at every competition.
During this year's Scioly season, Mentor has competed at eight invitationals, including those held at Kenston, Solon, Beachwood, and other schools in Ohio. This past February, Mentor even hosted its own large competition at MHS, with approximately 50 teams competing. However, Mentor also played a role in helping to organize this regional competition.
"Over 150 adults — advisors, parents, alumni, and community members — helped to write and grade tests and evaluate the student-constructed devices," Mr. Horvath says of the Mentor event. "Even though we represented a lot of different teams, we worked together to make a very complex tournament run smoothly."
Mrs. Pugh, serving as one of the regional committee co-directors, added that Baldwin Wallace "was a new venue for us this year so there were a few glitches but it was a great place and we hope to be back there next year … The schools seemed to enjoy it, the food was great, and most of the buildings were close together which made it easier to get to."
"My favorite part of the competition was the dining hall, which held a wide variety of foods and the means to smuggle them out," said Manav Malik, senior team member.
In addition to food consumption, Mentor High students also had a hand in helping to make the competition a success, according to Mrs. Pugh.
"Shout out to Madeleine Bender," Mrs. Pugh says, "one of our team Captains, who provided the pre-awards entertainment, WIDSI [A game where one teammate must guide a blindfolded partner through an obstacle course], which was a big hit at our Mentor Scioly Invitational and here!"
The team itself has not been free from challenges this season, however.
"We got off to a slow start this year as we still do not have many event coaches and the team doubled in size from last year so there are a lot of schedules to manage and lots of new faces to get to know," Mrs. Pugh explains. "Since the COVID shutdown we have been working on rebuilding our team and this certainly showed this past weekend where the team came together and earned us a 5th place bid."
Despite these challenges, Mrs. Pugh says that "the team has certainly grown this year and has greatly improved since October."
"I am really proud of all the work the team did this year," says Madeleine Bender, one of the team captains. "There were a lot of improvements, from efforts in making team cheat sheets to builds, I think we had a really good year of putting in more effort and everyone being involved."
Compared to the usual high school competitions, competing at Baldwin Wallace University also provided a different atmosphere for the competition.
"It was a fun and unique experience to get to compete on a university campus," Mr. Horvath notes. "Baldwin-Wallace was a great host."
The observatory at Baldwin Wallace, built in 1940, also proved to be a highlight for students, with it being possible to see sunspots and Venus throughout the day and learn about astronomy from university faculty.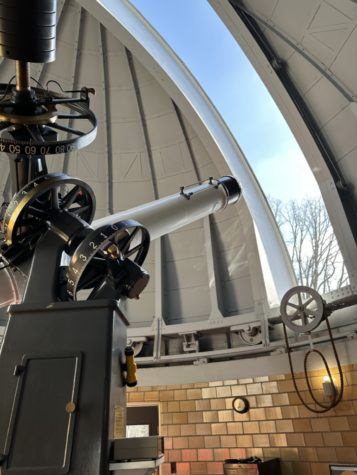 After competing in nearly 30 different events over this 9 hour regional competition, the day ended in an awards ceremony to recognize the top competitors in each event. In addition to the team's overall 5th place award, numerous Mentor students won individual awards for their events:
Fifth Place:
Remote Sensing – Gianna Cesari & Braden Lohrey
Fourth Place:
Dynamic Planet – Aiden Duraney & Abby Horvath

Environmental Chemistry – Abby Horvath & Emily Meckler

Experimental Design – Mark Pastore, Tony Pastore, Zach Payne
Third Place:
Codebusters – Madeleine Bender, Manav Malik, Aeryn Tecson

Write It Do It – Madeleine Bender & Abby Horvath
Second Place:
Disease Detectives – Manav Malik & Tony Pastore

Flight – Leah Meckler & Anushree Zimmerman

Green Generation – Zach Payne & Mack Wheeler
First Place:
Scrambler – Madeleine Bender & Emily Meckler
The success of Mentor Schools was not limited to MHS. Memorial Middle School and Shore Middle School also competed at this competition in the middle school division. Memorial placed 4th overall, winning four 1st place awards in individual events. Shore placed 6th overall, and also claimed some medals in individual events. Both schools qualified for the state tournament and will be joining Mentor High at The Ohio State University in April for the competition.
"I'm grateful for the strong leaders we have on the team," Mr. Horvath says, "including the captains and other seniors. I'll be sad to see the seniors graduate, but we've got a deep bench of talented juniors and sophomores and they're going to have a lot of momentum to build on."
If you want to get involved on the Science Olympiad team, Mr. Horvath says there are always opportunities.
"[There's] also room for new competitors on next year's team," Mr. Horvath says. "I encourage anyone who's thinking about joining Science Olympiad to talk to one of us. You don't have to have done it in middle school, or even as a sophomore or junior."
"I look forward to continuing this and building the team even more in the coming years," Mrs. Pugh agrees.
The Mentor High Science Olympiad team is open to anyone who is a Freshman, Junior, or Senior. If you want to join, look out for announcements regarding new members towards the beginning of next school year.