Mentor Hosts the First-Ever Northeast Ohio Girls Wrestling Regionals Tournament
MHS Girls Wrestling places 2nd out of 83 schools
March 8, 2023
On Sunday, March 5th, Mentor High School made history by hosting the first-ever Northeast Ohio Girls Wrestling Regionals Tournament. Since this is the first year that the Ohio High School Athletic Association (OHSAA) is recognizing girls wrestling as an official high school sport, it was significant that Mentor had the honor of welcoming a total of 83 schools to the campus.
"It was an awesome day and experience," says Mr. Jeff Cassella, MHS Athletic Director. "All of the wrestlers, coaches, and fans were so into the day and made for such a positive experience for all involved. It was a great day to make history!"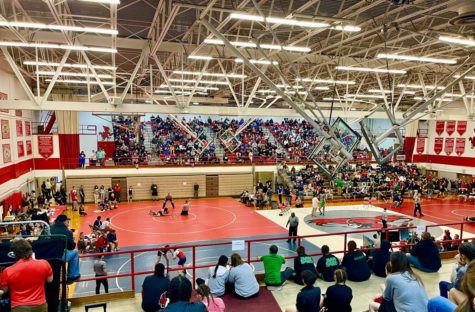 The Mentor Girl's Wrestling team took on a variety of skilled wrestlers to fight for a spot at states this coming weekend, and Lorelai Megery, Campbell Splete and Maddie Menchaca celebrated as they took their places on the podium by the end of the evening. Furthermore, Mentor congratulated another three of their wrestlers who placed 5th and are traveling to Columbus as State Alternates: Milo West-Ayala, Maddie Womack and Dlorrah Harrold. Overall, the team placed second out of eighty-three schools!
"Many of the girls wrestled the best that they had all season, defeating girls that they had previously lost to," says Mentor Coach Ken Skilton, "a testament to their hard work and dedication to continue to get better. Placing second is also very exciting for next year as this qualified our team to be able to compete in the state Dual Meet tournament for girls. We are extremely proud of the girls and are excited to see how they do at the State Tournament this weekend and next year as eight of our nine girls will return to wrestle next season."
The girls are looking forward to traveling to Columbus this weekend to compete at the state tournament. Good luck, wrestlers!
Check out some pictures below that were taken by the parents, coaches and wrestlers: