Mentor Fire EMT Academy Featured on Spectrum News
This CTE program allows students to invest time in learning skills that could not only shape their careers, but help save lives in the future as well.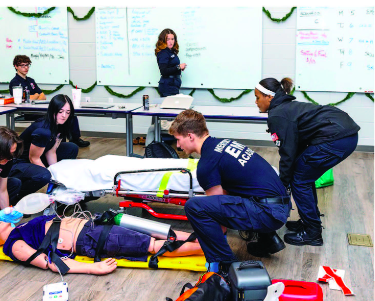 Our very own Mentor Fire EMT Academy was recently featured on Spectrum News for their success in educating and inspiring a new generation of potential firefighters and EMTs. In a time where the Mentor Fire Department is struggling to find new recruits and motivated learners, this CTE program allows students to invest time in learning skills that could not only shape their careers but help save lives in the future as well.
"We are proud to see our students and instructors recognized by Spectrum News," wrote Dr. Glavan, director of the CTE program. "Mentor Schools is appreciative of the amazing partners the city of Mentor and the Mentor Fire Department have been during the creation of the Mentor Fire EMT Academy. We believe our collaboration demonstrates a viable model of how to address the public safety workforce shortage and help prepare Ohio's future public safety professionals in a fiscally responsible manner."
This is the second year that this program has partnered with Mentor Public Schools, the Mentor Fire Department and Auburn Career Center, and so far, they are off to a great start! At this time, EMS and fire careers are in high demand and this program provides students with the opportunity to get a head start in their training and education.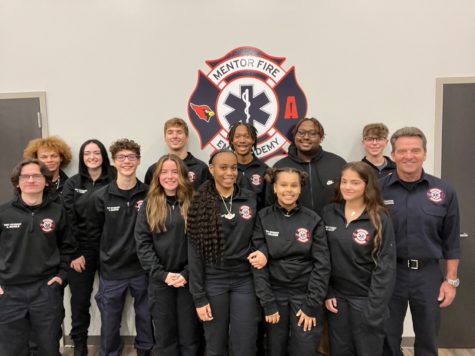 If you are a junior who will be seventeen by August 15, 2023 and have an interest in an EMS or fire department career, this program might be perfect for you. It is a great way to learn the foundational skills and gain valuable experiences.
A variety of industry credentials can be earned through this program, including:
OSHA 10-Hour Safety Certification
State of Ohio EMT-basic (upon completion of state exam)
American Health Association-CPR/BLS/for Healthcare Providers
National Incident Management System (NIMS) 100 & 700

Photo provided by Mr. Craddock
Mr. Craddock, Mentor Fire EMT Academy's instructor, has quite a few years of experience in the field. Having worked at the Mentor Fire Department for over 36 years and being their public education specialist for the past six, Mr. Craddock decided to pass on his knowledge to the next generation.
Cardinal Nation was given the opportunity to talk to Mr. Craddock, who said:
This program will act as a good foundation for someone interested in a medical career whether it be nursing or respiratory therapy and so on. We cover medical subjects such as anatomy & physiology, medical terminology the important difference is our studies are aimed at medical emergencies and preparing students to function and manage these emergencies under stressful conditions. Our class isn't for everyone and sometimes our students may discover that about themselves as we go on. Our program is aimed to be able to support the demand for paramedics and firefighters in our community and beyond. Now a days I think more young people are rethinking the idea about going away to college and incurring thousands of dollars in loans for education. The career opportunities are here in our community whether it be the fire/EMS service or doing something else. For me, the fire/EMS service has been a great career for me. It matched up for me where I was and who I was in my early twenties. I'm thrilled now that after retiring from the Mentor Fire Department after 36 plus years I have the chance to introduce young people to this very noble career.
Dr. Glavan commented that "through [the] collaboration of business, government, and education, we are able to maximize our resources and ensure students are provided an opportunity to learn more about this amazing profession and earn industry recognized credentials in the process."
This program is for seniors only, so if you're a junior looking towards this career path, the Mentor Fire EMT Academy might be the choice for you. For more information, check out their page on the Lake Shore Compact's website or contact the instructor, Mr. Craddock, with questions and additional information.