National Coming Out Day
National Coming Out Day has been celebrated annually on October 11 since 1988.
October 11, 2022
This day was chosen to remember the anniversary of the 1987 National March on Washington for Gay and Lesbian Rights. National Coming Out Day was originally established to bring awareness to the bravery of LGBTQ+ individuals choosing to come out and live openly.
What is Coming Out?
Shortened from "coming out of the closet", coming out is when a member of the LGBTQ+ community shares with someone their identity in romantic orientation, sexual orientation, or gender identity. For many LGBTQ+ people, this can be very freeing, very anxiety-inducing, or anything in between. The choice to share such a personal piece of their life can be difficult, especially if they do not know how the person or people will react. Coming out is a huge milestone for many LGBTQ+ individuals, and the reactions of others can heavily affect how they see themselves and how they feel. There is not one way to come out and there is not one reason, as both of these are different for everyone. Some people choose to come out if they are in a queer relationship, or if they use pronouns that are different than the ones people typically use for them. National Coming Out Day has been a day to recognize the bravery of the individuals who choose to come out, and to celebrate the LGBTQ+ community as a whole.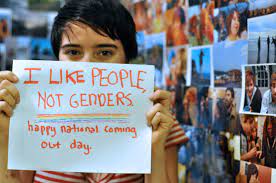 National March on Washington for Gay and Lesbian Rights
One of many National Marches on Washington for Gay and Lesbian Rights occurred on October 11, 1987.  There have been other marches under this name in 1979, 1993, 2000, and 2009. Both LGBTQ+ individuals and allies peacefully marched for five demands:
"1. Pass a comprehensive lesbian/gay rights bill in Congress.
2. Issues a presidential executive order banning discrimination based on sexual orientation in the Federal Government, the military and federally-contracted private employment.
3. Repeal all anti-lesbian/gay laws.
4. End discrimination in lesbian mother and gay father custody cases.
5.Protect gay and lesbian youth from any laws which are used to discriminate against, oppose and/or harass them in their homes, schools, jobs and social environments." (Howard University)
These demands were extremely prevalent at the time, and many of them are still relevant today.
LGBTQ+ Policies Today
From state policies such as Florida's "Don't Say Gay" bill to district policies concerning privacy in regard to student's pronouns (see What's In a Pronoun?) there have been lots of controversy towards LGBTQ+ laws and bills. The bottom line is that even in 2022, LGBTQ+ students are subject to discrimination, bullying, and severe mental health issues. LGBTQ+ youth are four times more likely than their cisgender, straight peers to attempt suicide, and anti-LGBTQ+ legislation only makes those statistics worse. Threats of outing students to their parents if they are known to be a member of the LGBTQ+ community only brings more harm and pain upon these students, along with being a prime example of how coming out, while typically being a personal experience, can be rushed or even ruined.  By schools and teachers providing a safe space for LGBTQ+ students, they will be more likely to experience life happily and authentically.
Authors note: If you are a member of the LGBTQ+ community and do not feel safe coming out, you can speak with a trained counselor by texting 'START' to 678-678 for free, confidential help from the Trevor Project. If you or someone else is in immediate danger, call 911.
Additional Resources:
Why Do We Need National Coming Out Day?