Staff Profile – Mr. Couch
Meet Mr. Couch, our Cardinal Nation Advisor!
Name: Steve Couch
Social Media: Twitter @MrCouchMHS
Subjects: AP U.S. Government and Politics; American Government; International Diplomacy. Mr. Couch has also taught AP U.S. History, Economics, and Contemporary World Issues in his 25 years at the high school.
Cardinal Nation: How long have you been teaching, and where? 
I was a substitute teacher at Mentor High School from 1993-94 and subbed in Mentor and throughout Lake County in 1994-95. From 1995 to 1997 I taught social studies and drama for grades 6-8 at the former Phillips-Osborne School in Painesville. I was hired full-time at Mentor High School in 1997.
Cardinal Nation: Why did you become a teacher?
I have a lot of interests – history, politics, current events, but also theatre arts, journalism, sports, and debate. Teaching is one of the few places where I can actually dabble in all of those things at one time. I also had some great teachers growing up that were also inspiring role models, such as Mr. Mike Hanlon (6th grade, Hopkins), Mrs. Lynn Kleinman (choir), Mrs. Joyce Culek (English), Mr. Chuck Horn (German) and Mr. Jim Michels (English) at Memorial Junior High School, and Mr. Joe Lorek (theatre), Mr. Ted Hieronymus (choir), Mr. Tom Voyten (social studies), Mr. Mitchell Korcheck (math), Mr. Sam Osborne (journalism), Mrs. Ellen Geisler & Mr. Chris Young (English), and Mr. Tom Ramsey (science) at Mentor High School, just to name a few. I also had influential professors at Miami University in Dr. Clayton Parr (Miami University Men's Glee Club), Mr. Andrew Cayton (U.S. History), and Dr. Mike Fuller (social studies education). Good teachers have all been inspired by other good teachers. I hope that I am carrying that on successfully and will always be grateful to Mr. Mike Glaros for hiring me here waaay back in the 20th century!
Cardinal Nation: What can you tell us about your family?
I'm the oldest of three sons who moved to Mentor from Euclid in 1977. My mom was a full-blooded German-American, and both of my maternal grandparents came from Germany individually and separately in the 1920s. I was born on my grandfather's birthday, so I bear his middle name Rudolf although I never met the man. His shop still stands as a private residence, however, on Superior Avenue in Cleveland not far from Slyman's. My dad still lives on Wildwood Drive in Mentor in the home they built new that year – back when the original "Star Wars" came out! My wife of 24 years, Melissa, teaches English at Madison Middle School. My daughter, Mallory is a nursing student at Cleveland State University, and Casey assists me in directing musicals at Madison High School and is currently taking classes through Lakeland Community College. Ella and Olivia are finishing 5th grade at South Elementary in Madison.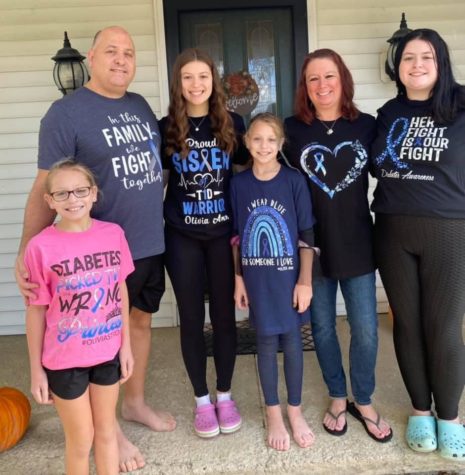 Cardinal Nation: What are some of your hobbies?
I love Cleveland sports, but I spend most of my time involved in theatre when not in class. I direct Wildwood Theatre Camp for the City of Mentor and have written my own productions there since 1995. Check out th3 20-year old video of me working there – with hair! I am also working on a new musical that I have chronicled in my own podcast, "Two Fools Trying to Make a Musical." Check it out on all platforms! I also direct theatre at Madison High School and Madison Middle School and am a proud first class inductee into the Mentor Theatre Hall of Fame. I write a column for the News-Herald called "Young Thespians" about young actors, and I also advise the Mentor Model U.N. team and have taken us to conferences in Cleveland, Chicago, and Washington, D.C.
Two Fools Trying to Make a Musical
Cardinal Nation: What is your favorite story of you in high school?
So, so many embarrassing disasters. Named Class Clown in Mentor for the Class of '88. It's a wonder I'm still here.
Cardinal Nation: What are some of your obsessives?
I love movies and wrote a movie review column for the Miami Student in college. Mr. Poremba is – of course – flat out wrong about hating the "Star Wars" prequels. Harrison Ford is the most exciting actor in the last 50 years – fight me. Huey Lewis and the News is well overdue for induction in the Rock and Roll Hall of Fame. Traveling amongst historical sites is also a favorite during the summer, although COVID has scuttled that the last few years. I love traveling in the American Southwest and have been to more than 35 states.
Cardinal Nation: Do you have any hidden talents that might surprise people?
My '80s music collection is unrivaled, but that is not a surprise to anyone who knows me or has taken my class. 🙂 I also rode 54 miles in the Velosano bike race for the Cleveland Clinic last year, part of 500 miles on the season! My friends and I are now known as the Donut Dudes.
Cardinal Nation: What's the best advice you've been given that you can share?
Three words – patience, patience, patience. My colleagues may not recognize this quality in me as I rant and rave about various topics, but I am known for this at home with my wife and four daughters. Come to think of it, perhaps that's why I have less at school!