The MHS Wellness Program
What is it, and who is behind it all?
The MHS Wellness Program was started by MHS student Caden Coleman and includes "Get Up and Move Wednesdays" and monthly choice board challenges. It is free to participate for all students at Mentor High. Want to know more about it? Cardinal Nation interviewed Caden Coleman to learn more about where the Wellness Program came from and how it works.
Cardinal Nation: What is the MHS Wellness Program?
Caden Coleman: In the summers of 2021 and 2022, I had a paid internship at the Cleveland Clinic where I worked with an organization called the Effective Leadership Academy. In 2021, I learned about wellness grants they offer to students to start programs at their schools. I wrote one and pitched it and got $1000 to start a Wellness Program at MHS where we have Get Up and Move Wednesdays during late starts where people can come play kickball, whiffle ball, or basketball and choice boards where students can choose from a menu of wellness activities. Between the Wellness Wednesdays and the choice boards, over 400 students participated last year, so I wrote a second grant to the Mentor Schools Foundation for almost $500 to keep the program going this year.
Cardinal Nation: What inspired you to create the Wellness Program?
Caden Coleman: We participated in Wellness Wednesdays through the Effective Leadership Academy in my summer internships and focused on diet, exercise, mindfulness, and general self-care. When I heard about the grant, I thought it would be helpful to implement some of these activities at MHS. My first thought was to work with Mrs. Vaccaro who runs the districtwide wellness program and motivate more students to complete those activities. When I reached out to her, she said no one from the high school ever really participated in the districtwide activities, and I started to think that high school students might want choices for activities, so that's when I decided to make choice boards with different activities each month. I try to make the activities things that high school students would want to do, so some involve music, pets, friends, and taking pictures. For "Get Up and Move," I ask kids what they want to do each month so they have choices about that, too.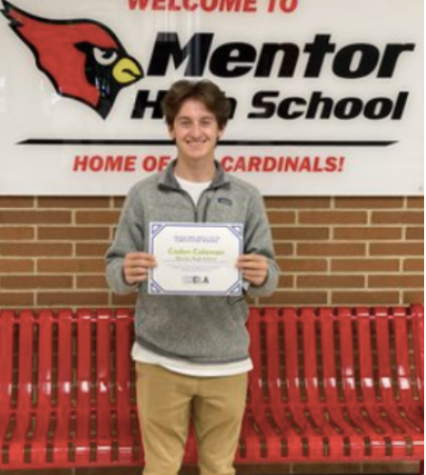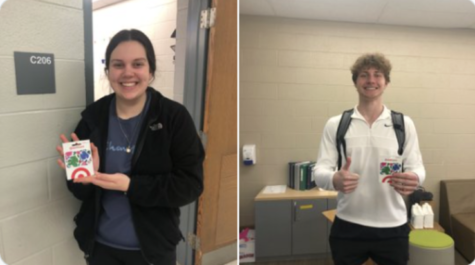 Cardinal Nation: When did the Wellness Program first begin?
Caden Coleman: The first activities were in October of 2021.
Cardinal Nation: Who helped you put it together? How did you complete it?
Caden Coleman: My mom is a teacher here, so she puts on the announcements and supervises our games on Get Up and Move Wednesdays because we need an adult to be there.
Cardinal Nation: How are the monthly activities determined?
Caden Coleman: For the choice boards, I make the activities based on what I think students will enjoy and, like I said earlier, I try to include activities that high school students will enjoy. At Get Up and Move, I ask students what they want to do.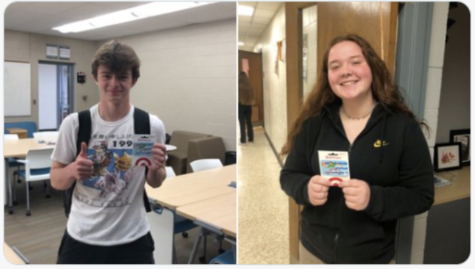 Cardinal Nation: Where do the gift card prizes come from?
Caden Coleman: The gift cards come from the grant money I received.
Cardinal Nation: Is the Wellness Program strictly at the high school level, or have you expanded it to other schools in the district?
Caden Coleman: The Mentor High Wellness Program is just for Mentor High because there is also a district wellness program.
Cardinal Nation: Do you think the Wellness Program has more benefits mentally or physically?
Caden Coleman: I think it benefits students in both ways. I think the choice boards have activities that can help students take better care of themselves in general. Get Up and Move Wednesdays are good mentally and physically because it gets kids off their phones and moving around.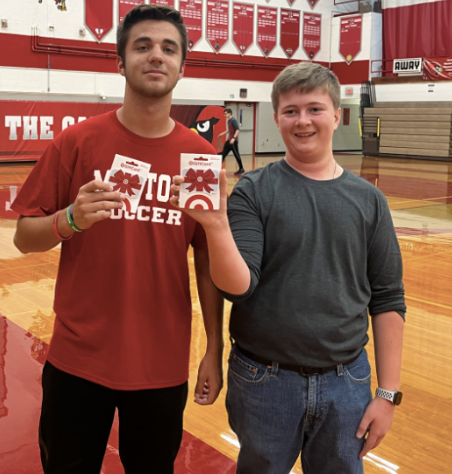 Cardinal Nation: What is one thing you would like your classmates to know about the Wellness Program?
Caden Coleman: Everyone should check it out! It's a great way to think about ways to take care of yourself.
Cardinal Nation: Do you feel that it has created the impact you hoped for?
Caden Coleman: I really wondered if anyone would participate at all, so the fact that we some months have had over 60 kids and overall over 400 is more than I hoped for when I started the program.
Cardinal Nation: Will anybody work to continue it after you graduate?
Caden Coleman: I am not sure. The grant money is all gone, but if someone wanted to continue the program, I would be glad to help them get started.
Cardinal Nation reached out to Mr. Crowe to find out what he has to say about the program.
Mr. Crowe: Promoting a healthy lifestyle focused on overall well-being is extremely important.  Over the past two school years I am happy our students had the opportunity to take part in a variety of activities through the monthly wellness choice board activities to the Get Up and Move Wednesdays. Caden Coleman has done a fantastic job leading this program over the past 2 years and with him graduating I'd love to see another student step up to take on a leadership role with the wellness program.
Interested in participating in the Wellness Program? Learn about this month's choice board options here for your chance to win a $25 Target gift card. On late start Wednesdays, come in early to join the Get Up and Move Wednesday fun!