Mentor Sparkles "Spark-tacular" Basketball Season
Read about the 2022-23 Sparkles seasons and their annual Sparktacular!
April 6, 2023
Earlier this year, the Mentor Sparkles cheerleading team traveled to Springfield High School for the annual "Spark"-tacular to conclude their 2022-2023 season. This event is comprised of local Sparkle teams and individuals, including the Springfield Sparkles, Super Learning Center Stars and Starlets, Barberton Sparkes, Medina Sparkle and Shine, Portage Special Olympics Team, Ellet Stars, Monroe Budd, additional teams from Green, North Ridgeville, and Hudson, and – of course – the Mentor Sparkles. These inclusive teams are made up of students with and without disabilities and advocate for inclusion and equality. Mrs. Ambrus, the Mentor Sparkles Coach, said the event was an amazing day full of love, kindness and acceptance.
The Sparktacular
The Sparktacular was established in 2018 by the Springfield Sparkles team, and has been held annually ever since. It is a day that consists of dance parties, games, food, raffle baskets, solo, duo, small group, and whole group performances, and making new friends in a welcoming and accepting environment.
The event started with an opening ceremony introducing previous Miss Amazing winners. Miss Amazing is a competition held for girls and women with disabilities with a goal to encourage them to "consider their goals, challenge themselves, and take pride in every aspect of their identities."
After introducing these individuals, each team walked out carrying American flags and were introduced. After the national anthem was played and signed in American Sign Language, Mentor was the very first team to perform! They performed their high school musical dance along with a cheer, which they've performed at many of the Mentor basketball home games, which can be viewed here!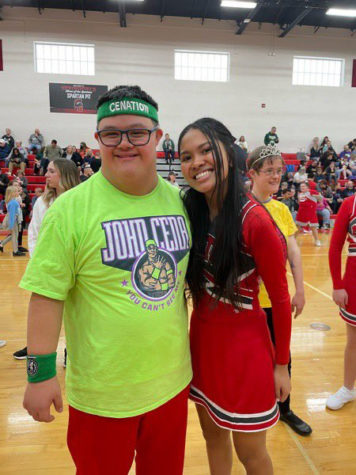 Proceeding the Mentor dance, Mentor had a small group who danced to "Can't Stop the Feeling." After performances from Springfield, Super Learning Center, Barberton, Green, North Ridgeville, and Hudson, Mentor had three more performances. Two of these were duos featuring Marke and Alleyna and Haley and Maddie.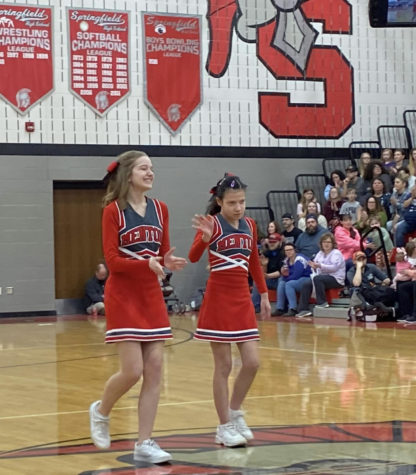 The third of these was a solo to "Don't Stop Believing", performed by Aurora Lavrich. Aurora has been a part of the Mentor Sparkles team for ten years, and this was her final season on the team as she prepares to graduate from Cardinal Works, Mentor's job training program for adult students ages 19-21 with disabilities. In talking to Aurora, she was extremely proud of how she performed and was overjoyed about the entire event.
"Excited and sad at the same time," Aurora said of her feelings, "because I'd be leaving the high school, but excited for that same reason. I can always come back to see my friends. Once a Sparkle, always a Sparkle."
Senior Sparkle Cora Gedeon shared that one of the highlights from the Sparktacular was watching Aurora perform her solo.
Following Mentor's last performances, there was an intermission so audience members could get food like hot dogs, sloppy joes, and baked goods, along with getting 50/50 tickets and putting tickets into the many raffle baskets there were. While that was happening, back in the gym there was a dance party where cheerleaders from all the teams talked and danced together.
"It's a day full of happiness and smiles bigger than I've ever seen," says Captain Taylor Schindley about how the day was for her. "To be in an environment that is free of judgement and free of any type of exclusion is a feeling words can't describe. It's an event that gives these individuals an opportunity to just be who they are and not have to worry about what anyone else has to say or think. Differences don't exist at the Sparktacular. It's simply embracing who we are as people."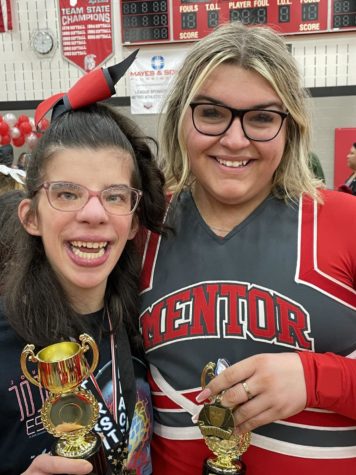 "The Sparktacular atmosphere is by far the best atmosphere ever," agreed Co-Captain Hannah Colao, saying that it was a great way to end the season. "Everyone is so supportive and excited to be there. I love getting to see all the Sparkle teams in our area perform and show off their talents, and of course I loved watching our team members perform their solo and duos. However, as a senior it was very bittersweet to see everything come to an end."
After the 50/50 raffle winner was announced, more dances were performed, and the Springfield Sparkles performed the final dance, "True Colors." It shared the message of always being yourself, being confident, and loving others. After this, the Sparkle teams made their way to the floor for awards as the raffle basket winners were announced. Two of our Mentor team members won baskets too!
Finally, all the teams headed down to the court to receive awards. Each group receives an award dedicated specifically for them based on their strengths, which not only encourages the cheerleaders to keep cheering and doing what they love, but celebrating the strengths of others.
(The entire Sparktacular event can be viewed in the featured video.)
A Successful Season
In addition to the Sparktacular, the Sparkles cheered at five home basketball games, bringing spirit and smiles to the court. They performed a cheer and dance, both to the theme of inclusion and togetherness. Their dance was to a mix of high school musical songs including "We're All In This Together," "Bop To The Top," and "Get'cha Head In The Game."
Co-captains Taylor Schindley and Hannah Colao elaborated on their thoughts about Sparkles and their senior season with Cardinal Nation. Below are their comments:
Cardinal Nation: How long have you been involved in Sparkles?
Taylor: This was my 4th year on Sparkles.
Hannah: I have been involved with Sparkles for four years.
Cardinal Nation: What made you want to get involved?
Taylor: My brother has autism, so since I was younger I have always had a passion for working with those of differing abilities. When I heard about this team in 8th grade I knew it was meant for me. I wanted to learn and grow my abilities and Sparkles gave me the opportunity to do that, while also building life changing relationships with people. I wanted to make a difference in the fight for disability equality and this team gives me the resources to do that.
Hannah: Ever since elementary school, I've loved meeting, working with, and being around students with disabilities. So, joining the team seemed like a no brainer and it was by far the best decision I made all of high school.
Cardinal Nation: What is your favorite memory, whether it be from this year or years past?
Taylor: This is honestly such a hard question because there are so many life changing memories of this team. If I had to pick I'd say it was from my freshman year. My partner, who I will leave unnamed, struggled to complete the dances. My Sparkle would stand there and not complete the moves or be a part of the dance. From the start of the season I made it my mission to push my Sparkle to do the entire halftime performance because I knew my Sparkle was more than capable. My favorite memories were midway through the season when my Sparkle did complete all the moves start to and finish. I was so beyond proud of my Sparkle and to see how excited it made her that she made it through was such a life changing experience. Not only just my Sparkle, but having her mom tell me that she had never seen her daughter be pushed like I had pushed her and be able to perform as much as she had over the course of multiple years on Sparkles made it a memory I would never forget.
Hannah: My favorite memory would have to be all of our games. The atmosphere and excitement is amazing.
Cardinal Nation: What would you tell someone who wants to join Sparkles?
Taylor: Just do it. You may be scared of the unknown, but you will add so much to your life and so much to theirs. I can not even begin to explain the difference you make by joining this team, not only adding to the Sparkles lives, but adding to your own. Every person who makes the choice to push for inclusion gets the special needs community one step closer to equality. If you want to make a difference in this world, this is your sign and a step that you can take to do so.
Hannah:  I would tell them to do it in a heartbeat! It will be one of the best experiences ever. The connections you make with the team members last a lifetime. Whatever happens in the end, they won't regret trying.
Cardinal Nation: What was it like leading the team this season?
Taylor: It has been honestly the most amazing experience. Being a leader of a Sparkles team makes me look at situations in so many perspectives. It makes me brainstorm and think harder on all the ways to best accommodate everyone. It has given me the opportunity to put my team into the community and advocate for what our team is about. I definitely think it has improved my leadership skills, allowed me to advocate more, and to get involved with things even further than just Sparkles (talking with the founder of Sparkles, getting involved with other community programs like Sparkles, putting myself out there to get opportunities to learn more, etc.).
Hannah: Leading the team this season was so much fun! While it could be stressful planning some activities, seeing everyone's smiles and excitement made it all worthwhile. It was also really fun getting to collaborate and work with Taylor this season.
Cardinal Nation: What has been your favorite part about being a captain?
Taylor: My favorite part about being a captain was having the power to make a difference in my own ways. Being in a position of power gives me the resources I need to make a bigger impact. On top of that, I am able to build stronger relationships with each of my Sparkles and educate my peers.
Hannah: My favorite part of being a Captain is getting to be a partner to everyone. Since I didn't have one specific partner as Captain, at games, events, and practices I was able to talk and work with every Sparkle and peer.
Cardinal Nation: How has Sparkles impacted your life?
Taylor: In so many ways. I have learned so much through being on this team. It has grown me as a person, as a leader, as an advocate, and simply as a peer. I have built relationships that I will carry for the rest of my life. It has made me a better individual and has pushed me in so many ways. Sparkles has made me want to learn more and made me want to continue for the rest of my life adding to the lives of those with differing abilities. I am more educated on how to work with differing abilities, approaches to take to best include and accommodate to make sure everyone is having the best experience possible, I feel that I am a kinder person because of this team, I am more inclusive and advocate every chance I can because of this team. Sparkles has grown my love even more than it already was for working with those who have special needs. Because of this team, I will go any mile and fight to the very end for their equality. I will not let the issues of inequality go unheard and will not let these individuals fight alone. Because of this team, my life is forever changed.
Hannah: Sparkles has impacted my life in so many ways. I could not imagine my life without this team. I have created friendships that will last a lifetime. I have created memories I will carry with me forever. And, the lessons I've learned have helped shaped me as a person. I am forever grateful for this team!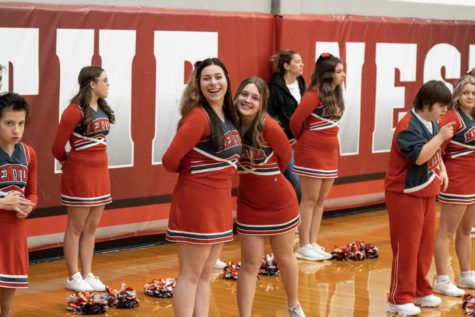 The season ended with a banquet and awards ceremony with both the football and basketball teams.  Each member was recognized for their time on the team, and some Sparkles, like Jacob and Aurora, got awards for being on the team for 10 years! All of the seniors were recognized too, and Coach Ambrus and Coach Siskind shared their appreciation for this year's seniors.
In celebration of her senior year, Sparkle Cora Gedeon, who was interviewed during football season, was interviewed again to find out the best parts of the past year for her. She said that she "liked having fun cheering and doing the dance, along with my small group" at the Sparktacular. Her other favorite events were the pep rally and senior night.
The coaches and captains for next year are looking forward to the thirteenth year of the Mentor Sparkles team, and are so proud of the season the Sparkles had this year!