"Prelude to a Kiss" packs them in!
Check out this behind the scenes look at the Mentor Theatre annual winter play
February 15, 2023
This past weekend, Mentor Theatre performed their Winter show, "Prelude to a Kiss." Audiences were found laughing and cheering all while holding on to the edges of their seats.
Behind the scenes, actors and crew members had equally as much fun participating in activities such as long marathons of the "Chicken Dance" and even mini puppet shows performed by Mentor Theatre secretary, AJ Jerson.
"From the first rehearsal to the final curtain, the energy and excitement in the theatre was palpable. The performances in 'Prelude to a Kiss' will stay with me for a lifetime," said Mentor Theatre director, John Greene, "I am incredibly proud of the entire cast and crew for their hard work and dedication. Their talent and artistry has left a lasting impact on audiences and I am grateful to have been a part of this unforgettable production."
Amidst the roller coaster of emotions, "Prelude to a Kiss" actually holds quite a lot of hidden secrets throughout the show. Who is the surprise cameo? Why does the name Mark Rotar appear in so many shows? And why is the audience on stage? 
Within many of the productions there are small roles which appear for mere minutes. These roles tend to not require any sort of audition and often only come up when the cast is reading through the script. Consequently, present crew-members will often read the part and then be officially cast in the role.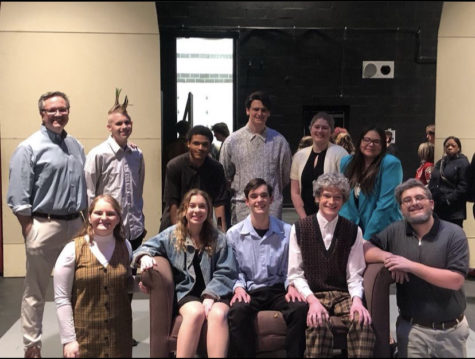 However, one of these roles was given to senior Joseph Goodman who had never expected to be in a Mentor Theatre production. 
"I quite literally stumbled into my role in the MHS winter play," Joe says. "I wasn't in the theater program at the time, but my brother, James Goodman, was, and has starred in many shows prior. So, I was walking out of the school to be picked up from Spanish Club when I passed Mr. Greene's room on the way out. I get a look from Mr. Greene and as I'm passing, I hear, 'What's your brother's name…Joseph!' To make a long story short, I was generously given the opportunity to take my brother's small waiter role, and I am glad for it. And despite not technically being a part of theater, I do sure feel like a part of theater."
Goodman has had a fantastic time amidst the cast and crew for "Prelude to a Kiss."
"This is a very accepting group," Joe mentioned in a conversation with Cardinal Nation, "I think I was able to fit in fairly quickly." 
Some adept listeners within the audience may have noticed a name which appears in many of Mentor Theatre's productions: Mr. Mark Rotar. But who is this Mark Rotar guy? Cardinal Nation asked A.J. Jerson, Mentor Theatre secretary to explain the story behind the name.
"Mark Rotar… helps build the set [for the performances]," A.J. explains. "He is the longest current staff member of Mentor Theatre; he retired from teaching back in 2021 but came back for this semester to fulfill a long time substitute role for an English teacher who went on medical leave for the rest of the year. His name is always mentioned because he is a legend in Mentor Theatre. Ask any former student of Mentor Theatre and they know who he is."
If you attended the performance and were curious as to why the winter plays held the audience on stage, Jerson provided quite the thorough response.
"We put the audience on stage to give them the opportunity to be close to the actors and make them feel like they are really there[,]" A.J. says, "experiencing the show from a close up not from far away in the auditorium. As I like to say it is like the audience is a fly on the wall. It gives them the impression that they are actually going through everything with the actors."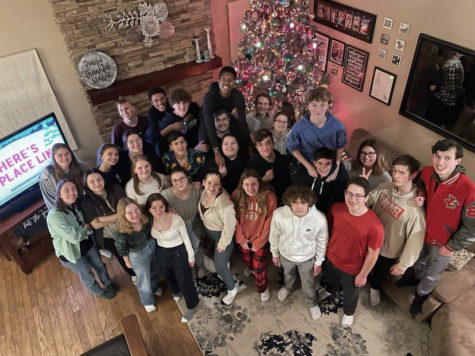 Mentor Theatre's "Prelude to a Kiss" was performed on February 2nd through the 4th.