MHS students get APUSHed to Lawnfield
AP US History visited the home of President James A. Garfield - here is why you should, too!
February 24, 2023
"A pound of pluck is worth a ton of luck." – James A. Garfield, 20th President of the United States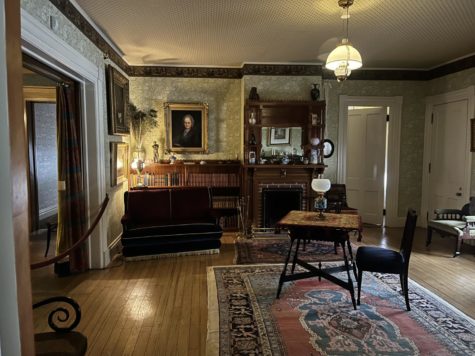 In January, the Mentor High School APUSH (A.P. United States History) students had the luck of experiencing a piece of history living in our own city! In the early hours of the morning, Mr. Chicone's APUSH class – and later Mr. St. Hilaire's students – departed Mentor High School heading ten minutes away to Lawnfield – the home of President James A. Garfied and a National Historic Landmark.
At the house, the students walked into the past by walking into Garfield's own home and a museum accompanying the house. During the trip, the students had many activities, such as scavenger hunts throughout the museum, and participated in a guided tour through the home. When walking out many, had been enlightened about the life of Garfield.
History
First off, who even is Garfield? And why in the world would APUSH students miss school for him?
Well, James A. Garfield was the 20th President of the United States. Yes, we said president! Just down the road from many of us, 150 years ago, a President lived.
Garfield moved into the home when he was 45 years old in 1876, accompanied by his wife and seven children. With 158 acres of land, the President and his children lived in a small home; however, only a year later, Garfield added an additional nineteen rooms to the house. On the tour of the home, the APUSH students learned that whilst in the home, it was dark due to the kerosene lamps lighting the home. In the dim light, the children would run through the frightening halls, thinking that the monster of the dark was chasing after them.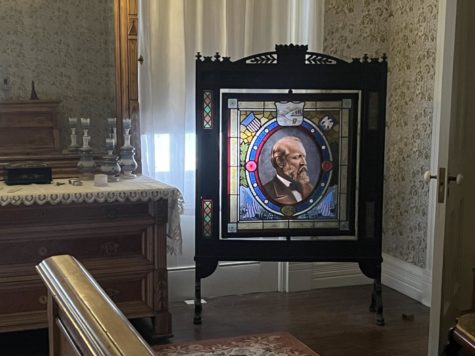 During Garfield's running for the presidency, only four years later, the students learned that across the street in the corn fields reporters would tent out waiting for the future president to emerge from his home. It was the reporters that walked up from the same railroad tracks that pass through Mentor today that dubbed Garfield's home "Lawnfield."
President Garfield was most notable for carrying out the first-ever "front-porch" campaign, where he would come out of his home and speak to reporters or citizens gathered on the front lawn outside of the house. From this "front-porch" campaign, thousands of eager citizens came to Mentor waiting for the President to emerge from his home.
When the President obtained office, he and his family moved to the White House, even though the family always longed to return to the Mentor farm. On the tour, the guides mentioned how the children would reminisce on the family farm; they would mention fishing in the ponds and horseback riding to the schools. On the day that he left the home, President Garfield always thought he would once again return home to the Mentor farm.
But on September 19th, 1881, the President succumbed to wounds suffered after a fatal shot at the Baltimore and Potomac Railroad Station by Charles Guiteau weeks before. James A. Garfield was the second president to be assassinated. On that day it was certain that his wish to return to the Mentor farm would forever be that – a wish. 
Importance
So why is it important that students visit the house itself? What legacy did Garfield leave in the United States that merits a class visiting this historic site?
Visiting the Garfield House is a great way to get a glimpse of history, and see what kind of man James Garfield really was. Site manager and National Park Service ranger Todd Arrington spoke to Cardinal Nation about why it is important to visit the Garfield House. 
Cardinal Nation: Why is it important the students come here to learn about Garfield?
Arrington: Well, like I mention to anybody growing up around a national park – it's cool! A really neat thing – whether it's a small historic site or a big National Park. I grew up near Gettysburg National Military Park in Pennsylvania and that really got me interested in history. So I think one, taking advantage of these really beautiful historical places is one thing but I think Garfield has a lot to teach us even today. Some of the issues he talked about – education, taxes, financial issues, civil rights – these are are things in 2023 we are still talking about. I think it does people good to come into a place like this and realize there were more people who were on the right side of history on a lot of issues, Garfield being one of them…Not on every issue, for example. He was not at all interested in women's suffrage but he was very concerned about civil rights. I think it does people good to come in here and learn that some issues have been with us for a very long time. These are not new issues.
Cardinal Nation:  What do you think is the most interesting thing about James Garfield?
Arrington: I think for young people today who are going to be voting soon, the idea that someone could be on very few people's radars and then suddenly be nominated to run for president, I think that's fascinating. Also, the idea that he was fairly vocal about civil rights. There were a lot of Republicans by 1880 who had felt like the Republican party had done all it needed to do about civil rights, that they were done with those issues and needed to move on to bigger and better things, and Garfield was one of the few who was still very publicly talking about civil rights and saying "we still have some work we need to do here."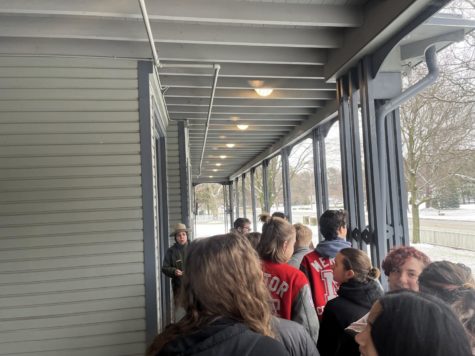 Conclusion
James Garfield played an important part in history, even before he was President. He was commanding and was able to speak about topics that others ignored. He was a good president because he advocated for rights and against the spoils system, and would give speeches to the people about both. He wanted to encourage the American citizens and wanted to make an impact, which he did – because 140 years later, people are still visiting his house to see what kind of person he was.
Mr. Couch started the annual trip to the Garfield House when he taught APUSH.
"The idea that any Mentor student could have graduated from this building and never visited the presidential home down the street would be an MHS fail," Couch states. "There are only a handful of presidential homes that exist, and one of them is in our town. It has one of the highest percentages of original items in it. Students should see it."
Students also enjoyed the field trip immensely! Many students learned new information which they could use in their own APUSH class!
"I really learned a lot through this experience," says Charlie Partlow, a student of Mr. Chicones's class. "Talking with the park rangers about the history of Garfield really expanded my thinking and knowledge on James A. Garfield's presidency."
"Going on this trip really helped me in class and opened my eyes to the living history that we have in our backyard!" agreed Loren Wandersleben.
Overall, student approval of this field trip is high and – as this feedback shows – students really enjoy this trip! By going on this trip, especially whilst APUSH students are learning about Garfield's presidency, students expanded their knowledge of the presidency and our own American history.
Resources:
White House – James A. Garfield
History Channel – James A. Garfield
The American Presidency Project – James A. Garfield
Library of Congress – James A. Garfield Papers