MacBooks to Chromebooks: Why Mentor's Technology Transition?
Cardinal Nation talked to administration members about their reasoning - and its implications
February 21, 2023
In the 2023-2024 school year, Mentor High School will be transitioning students from the use of MacBook computers to Chromebooks. The incoming Class of 2027 will be receiving new Chromebooks rather than receiving MacBooks, while the Class of 2026 – current ninth graders – will be switching out their MacBooks for Chromebooks for the next school year. The rest of Mentor High remains unaffected, remaining with their current use of technology.
The Class of 2026 has had many different changes to their technological use at Mentor, from using Chromebooks in elementary school, upgrading to iPads in middle school, then transitioning back to Chromebooks in the eighth grade. They were moved up to the top of the electronic hierarchy with MacBooks as they entered Mentor High School – but, once again, the class will be going back to the use of Chromebooks in their coming year as sophomores.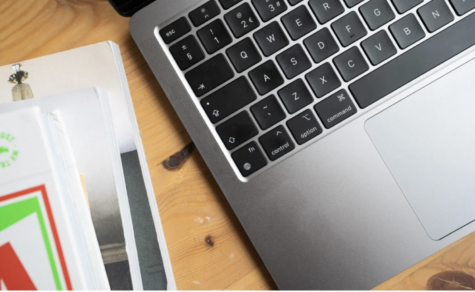 This leads to the question pressing a lot of this year's newbie class – but why?
Cardinal Nation asked Mr. Mike Lynch (Director of Innovation and Instructional Technology), Mr. Jason Crowe (MHS Principal), and Mr. Woodworth (Supervisor of Informational Technology) to provide a combined response on the issue. These were their responses, via Mr. Lynch:
Cardinal Nation: Why are students' devices being switched from MacBooks to Chromebooks?
Mr. Lynch: Our high school students have used MacBooks since the 2015 school year. The funding for these MacBooks came from a grant the district received (Straight A Grant).  Over the last 8 years, we have used these same sustainability funds to purchase MacBooks. Although the cost of these MacBooks has stayed stable, there are three other factors that have made ownership of these MacBooks significantly higher than when we first began purchasing them in 2015:
The amount of repairs on newer MacBook models (specifically screens) has increased tremendously. 

The cost of screen repairs has more than doubled since the 18-19 school year. The average cost for just screen repairs is projected to be close to $50,000 for this school year

Each year, the district uses the funds from the auction of 12th-grade devices to offset the cost of purchasing the next round of MacBooks. The amount that we receive each year has been declining. For example, in 2019 we received $231 per device.  This past year we received $89.
Cardinal Nation: When will the switch take place? How is it going to occur?
Mr. Lynch: We are finalizing plans to exchange current 9th-grade student MacBooks with new Chromebooks in May 2023. Current 8th grade students will also receive their new Chromebook sometime in May 2023. Current 10th and 11th graders will keep their MacBooks until they graduate.
Cardinal Nation: What are the advantages of the switch? What are some disadvantages?
Mr. Lynch:
Staying with the current model of purchasing MacBooks each year would cause us to have to increase the overall district budget for devices. With this change, we are able to be fiscally responsible and reduce the cost while still being able to maintain a 1:1 model in our schools.

We are able to repair the Chromebook at a fraction of the cost of what it is to repair a MacBook. 

One disadvantage is the loss of certain programs used by specific departments (Adobe for Art is a good example of this). We will be supplying a cart of MacBooks for the Art Department so that they can continue to use these resources. 
Cardinal Nation: What will the benefit be to giving the current freshmen class Chromebooks while the rest of the students stay with their MacBooks?
Mr. Lynch: To clarify, during the 2023-2024 school year, 9th and 10th graders will be using Chromebooks. We are able to make this switch because of the money we have budgeted this year for MacBooks. We will be using the MacBooks collected to replace staff MacBooks that can no longer be upgraded to the latest OS. We will also use some of the collected MacBooks for the lab mentioned above.
Cardinal Nation: Were students or staff asked for their opinions about this? Why or why not?
Mr. Lynch: We spent over two months planning and meeting with key stakeholders before a final decision was made. This includes meeting with department chairs at the high school along with gathering feedback from all staff through a survey.  
Cardinal Nation also asked some ninth-grade students how they felt about the upcoming change. The common theme seemed to be negative.
"I am not a fan of the change as my experience with Chromebooks throughout middle school was not the most pleasant," says Summer Compton. "The Chromebooks were often slow and confusing, which made completing work a challenge." 
As stated by Mr. Lynch, another issue posed by Chromebooks is their certain lack of capabilities. Many teachers build their activities around student technology, and this change may merit some adjustments. Often, students prefer the functionality of the MacBooks and find the Chromebooks limited. 
"I personally feel I work better on the MacBooks, and they offer better features," says Rose Wirsing.
Other students are worried about how the switch will affect them and their schoolwork.
"The switch back to Chromebooks is going to be complicated since we are already used to using our MacBooks," Sydney Cahill tells Cardinal Nation.
For Mentor High, this is a new transition, but this isn't necessarily the case for other schools. Cardinal Nation found that many other nearby districts already use Chromebooks as their go-to devices for students, including Willoughby-Eastlake, Solon, Medina, and Riverside High Schools. Others, like Kirtland High School, still use MacBooks. This change, just one of many in the coming 2023-2024 school year, may pose some challenges. However, it's nothing that Mentor students won't be able to adapt to.