Cardboard Canoe Race for Inventors
Check out highlights of the educational - and entertaining - annual Cardinal Cardboard Canoe Race!
January 30, 2023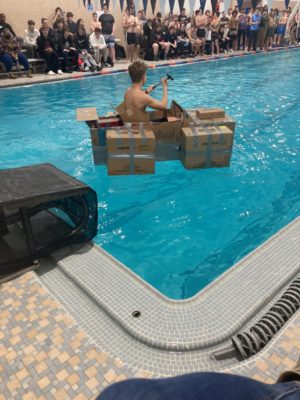 Congratulations to all students who participated in the Cardboard Canoe race!   
Mentor students in  Intro to Engineering Design, Principles of Engineering, Civil Engineering and Architecture, and Home Maintenance classes spent 2 weeks before and after winter break designing and constructing their boats.
"
I think this is a very good exercise for Engineering and Design students.
— Katie Polanz
The students had to come up with a solution on how to build a boat out of nothing but recycled cardboard and a maximum of two rolls of duct tape. They had to use their problem-solving skills, creativity, and teamwork to design and build their canoe. This exercise teaches valuable skills that will help students in the future. 
"I think this is a very good exercise for Engineering and Design students," sophomore Katie Polanz told Cardinal Nation, "because not only does it allow students to design and build a boat but it also allows students to see a project through and test it. That being said, this is a great project because it closely follows the design process which students will need later in life. Also, it allows students to get used to working with a team."
On January 11th, students took their boats to the Painesville YMCAs pool to test their designs in real-world conditions, with many successful designs and a few entertaining failures! Many teams encountered difficulties, with canoes taking on water or breaking apart, but the students remained determined and continued to paddle through. In the end, approximately 20% of the around 35 boats reigned supreme. The Top two boats even held up to three people!
Huge thanks to the YMCA for their support in allowing our Mentor students to use their facility to test their creations.