Mentor Jr. MUN comes to MHS
Mentor's Model U.N. team hosted 20 middle schoolers to help them prepare for their own conference in Cleveland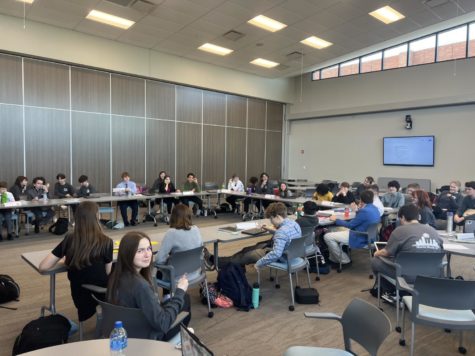 Early Thursday morning, students were arriving at school as usual, but not all were high schoolers.
Mentor High welcomed almost twenty middle schoolers in the Paradigm for a Junior Model United Nations conference. From Shore and Memorial Middle schools, delegates tackled the issue of  "The Illicit Supply of Weapons to Non-State Actors" in the General Assembly committee.
As most people know, the government is always trying to solve issues like this, but it's not always easy sitting down and voting. In this committee, the delegates faced rough waters at first, Iceland going as far as saying, "We're going to war with Australia!"
But as tensions died down, eventually countries were able to overcome differences and solve the issues at hand. Iceland, the UK, Denmark, North Macedonia, Liberia, and Slovenia worked toward pledging to not distribute weapons and stop exports of weapons from one country to another.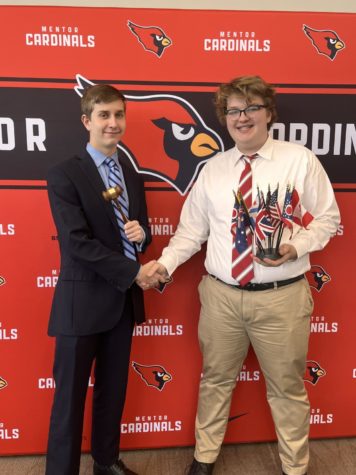 The delegates were able to build on their public speaking, critical thinking, and thinking on their feet.
"I think Jr. MUN is a great opportunity for the middle schoolers to practice and get the middle schoolers introduced to Model United Nations," said Andrew Freeman, one of the co-presidents of Mentor's Model U.N., "and shows what the MUN experience is like. Also, having done MUN for seven years, it's a great experience for them, and the high school club works hard to put it together."
"I was born with a gavel in my hand," Freeman added, which is not difficult to believe at all after seeing him in action.
"Feels pretty good and is a lot of fun," said one middle school delegate from the Russian Federation.
"MUN is fun and helps me be a more social person along with helping build my speaking abilities," agreed a delegate from Australia.
"I was scared at first but now doing better," said a delegate from the United Kingdom, "along with building my speaking abilities and talking to more delegates."
Later in the conference, the delegates started on their working papers, which means building alliances and what issues need to be addressed in their resolutions. North Macedonia and Slovenia formed an alliance with the paper "Reducing the Flow of Illegal Weapons From Non-State Members" while Australia and Denmark formed an alliance with the paper "Controlling the Flow" Both resolutions were able to provide a call to action on what can be done to stop "The Illicit Supply of Weapons to Non-State Actors"
The conference was a success as the delegates were able to provide two resolutions that would be voted on in a round-robin. As everyone waited in anticipation, the first resolution from Australia and Denmark received eight yays and two nays, passing the resolution. The other resolution presented by North Macedonia and Slovenia, was not as successful as it received seven nays and three yays, ultimately not passing in committee.
Mrs. Compton, the advisor of Shore Model UN states, "I am truly grateful for the high school mentors and their abilities to coach the kids before going to their first conference. It gives the middle schoolers the confidence to be able to speak and adjust to what will happen for them next week."
Mentor MUN wishes the middle school groups good luck at their first Cleveland Council World Affair conference next week and hopes to see these brilliant students joining the high school team in the near future!
About the Contributors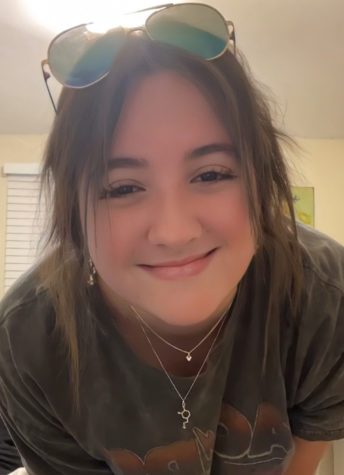 Loren Wandersleben, Contributor
Loren is a current sophomore at Mentor High School. She is currently involved in Cardinal Nation and Model United Nations and is in the process of starting...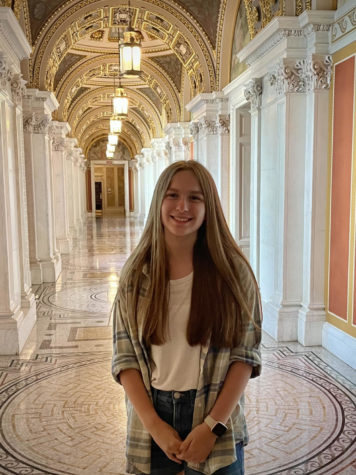 Sarah Blakemore, Contributor
Sarah is a current sophomore at Mentor High School. Some extracurriculars she is involved in are Model UN, Student Government, Helping Lake County, and...