Mentor High School Has a Time Capsule!
January 17, 2023
You may have heard rumors of a lost treasure from staff or students, but we can confirm those rumors are true.
For thirty years, a time capsule has been hiding in Mentor High School. Maybe you know where it is, perhaps you've heard your teachers talking about it, or maybe you just want to know what's inside.
Well, after much searching, the Mentor High School time capsule was recently discovered as part of a Cardinal Nation Investigation!
Members from Mentor High's very own Cardinal Nation went on a grand journey, for you – the people – to locate this treasure.
So you may be asking where is this time capsule or what's in it? We would love to disclose that information to you, but unfortunately, we cannot. Yet.
Don't feel disheartened, a select few of us do know its location.
If you would like to try and see it for yourself, simply follow our poem: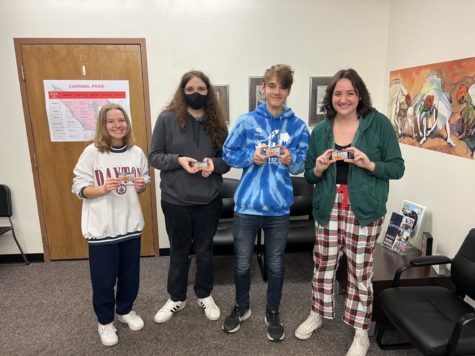 In a place where we all learn 
There is a place of no return 
This place is where the capsule lies 
Please, under no circumstances, vandalize
Where the presidents watch over you
This is somewhere you may find a clue 
Take a look toward the north 
And the prize will be set forth 
Set sail, the journey you begin
to what extent you need 
If you're in luck you find a golden plaque
and rich you'll be indeed!
If you need more clues, another one will soon be published. So make sure to be on the lookout for more news on this mysterious Mentor High School capsule.
The class that installed the capsule intended to leave a legacy, to leave something for the future that was bigger than themselves. Hopefully, one day when this capsule is opened, it gives an insight into what was considered important then compared to now.
If we're lucky enough, maybe one day soon, students can leave their own time capsule and make an impact on the school by leaving a legacy that won't be forgotten.