MHS Career Expo: Who Was There?
Featuring local employers and their employment opportunities
The annual Mentor High School Career Expo was held last Thursday, November 10, in the Paradigm. This event provided a multitude of employers from Lake County to present their employment opportunities to high school students.
The Career Expo is organized by Mrs. Lauren Tousignant, a teacher for the Marketing and Business Administration Career Tech class. With her background in marketing and passion for event planning, Mrs. Tousignant was able to coordinate an Expo that opens up potential career paths for students.
In an interview, Mrs. Tousignant expressed that one of the most rewarding parts of the Career Expo is "…just seeing students talk to adults and build those soft skills: being professional, shaking hands, eye contact. Things like that. It's really cool to see them in a different element than just regular school."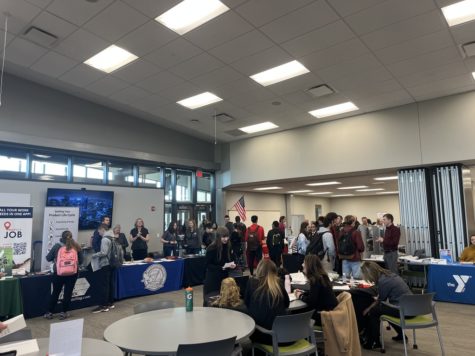 To give you a glimpse of the Expo, we've featured a few of the employers and their representatives.
The Cement Masons' local apprenticeship program was present, looking to hire those who are interested in learning a trade. Their goal is to promote quality skilled labor in a variety of counties in Ohio, such as Lorain, Cuyahoga, Geauga, Lake and Ashtabula county.
"We do concrete construction and the concrete construction industry is in high demand. Employment for apprentices is in high demand," informed Barry at the Expo. "There's no experience is necessary. We start anywhere from $19-22 an hour and job growth is booming."
Featured in the Cement Mason display was a QR code to give students more information about their apprenticeship opportunities.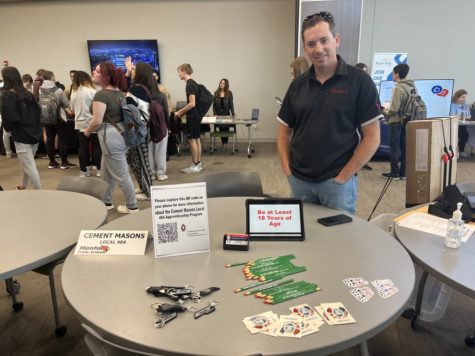 Next up on our featured list is Martinet Recchia, a CPA firm in Willoughby. The business was opening in 1955, and since then they have gotten to know their clients both "personally and professionally" to best assist them with their tax and business consulting needs.
"We want to start teaching younger high school students the importance of accounting, and the outlook for accounting is amazing," their representatives expressed. "[They] are always going to be needed."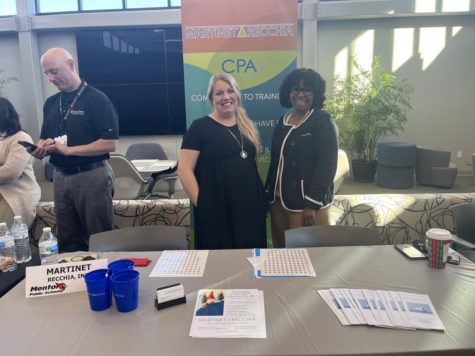 Emily from Jergens Inc. provided an abundance of information about the company. She is their Talent Acquisition Specialist and works with recruiting and onboarding for the organization. Jergens is a private manufacturer that his been family-owned in Cleveland since 1942.
"We're primarily known for metal products and industrial cooling," said Emily. "We have three divisions at Jergens, but our largest division is our manufacturing division. We manufacture workholdings, so like vises and fixtures. We do a lot of custom design work with external machine shops. We're also known for our press-release pins, which are actually used in the military in their aircraft and submarines. Or if you go to a concert and see the speakers up of the wall, our press-release pins hold the speakers up."
The company is very flexible when it comes to hiring high school students, even if they would like to work for a few hours after school. According to Emily, their typical jobs would be as a floater in the shop, allowing them to get exposure to a variety of different departments, such as assembly and machining. If students chose to work for them after graduation, they also provide tuition reimbursement opportunities.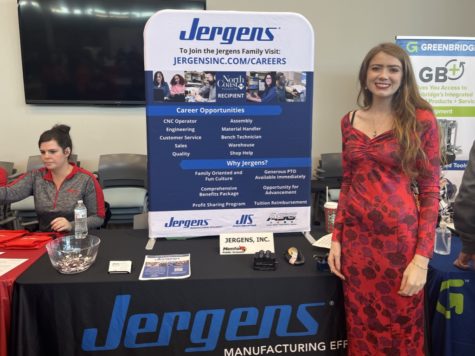 All in all, attending the Career Expo was a great way to learn more about a variety of job industries and discover ways high school students can start getting involved in the workforce. There are many business in Lake County that are reaching out to students at Mentor High in hopes that they can appeal to their interests and begin mentoring them.
Thank you Mrs. Tousignant for putting together such a wonderful event and a special thanks to all of the representatives who took the time for an interview.
One last memo: if you weren't able to attend the event, be sure to check into Cardinal Nation in the future for updates on next years' expo!