Future Leaders Surpasses Their Goal for the Socktober Collection!
1,205 socks were collected at Mentor High School for charity
As the seasons are changing and colder weather is approaching, the Future Leaders club spearheaded a "Socktober" collection. The initiative asked Mentor High School students and staff to donate new pairs of socks throughout the week of October 17.
Future Leaders is proud to share that their goal of 500 pairs was greatly exceeded, and they were able to donate 1,205 pairs to Sub Zero Mission. Madame Farabaugh's class won the 5-6 donut award, averaging 14 socks per student. For the 11-12 prize, Mrs. Kerul and Mr. Greene tied with an average of 5 socks per student.
Overall, the entire collection was a success and Future Leaders is grateful for the generous contributions made by the Mentor community.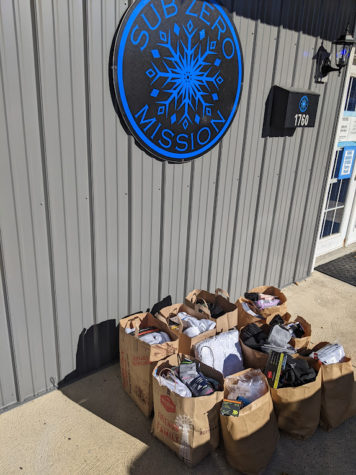 Does this type of community service interest you? Future Leaders meets every Friday morning in B-Lecture at 7 am. We do leadership exercises, organize volunteering opportunities, and find ways to help the Mentor community. You can join at any time, and the team would be more than happy to welcome you.
For more information, email Mrs. Skouby and she will be able to answer any questions you may have.
Follow Future Leaders on Insagram @mhsfutureleaders.