Mentor Theatre Presents "Leading Ladies"
Columnist and cast member Doug Slovenkay says this Can't-Miss Comedy is Sure to Be a Crowd-Pleaser!
At long last, the 99th season of Mentor Theatre is underway! This weekend, audiences have the opportunity to get their first taste of Mentor's season of "Love and Romance" with the hit comedy "Leading Ladies" by Ken Ludwig, which will run October 28-29th at 7 p.m., and October 30th and 2 p.m. 
"Leading Ladies" follows two lackluster Shakespearean actors, Leo and Jack, who are desperate to keep their dreams of success alive in spite of having made very little progress towards this goal. One day following an especially discouraging performance, the two men read a message in the local newspaper that a nearby dying woman is seeking to locate her two long-lost nephews, Max and Steve, to bequeath her fortune to.
In a fit of desperation rooted in a desire to turn their acting careers around, the two men decide to pose as Max and Steve in order to receive a significant portion of the woman's money upon her death. This plan seemed foolproof, however, they had missed one rather important detail: The woman was looking for her long-lost nieces named Max and Steve (short for Maxine and Stephanie), not nephews. Upon learning of their gaffe, Jack and Leo remain undeterred and decide to dress as women and pretend to be Maxine and Stephanie.
The remainder of the story is centered around the hilarity that accompanies the two men's attempts to convince the woman's entire family that they are in fact her long-lost nieces. Along the way, the men fall head over heels in love with two of the woman's female family members, a complicated romance given their determination to keep their true male identities under wraps.
"[The show is] sure to leave the audience laughing and having a great time!" says Junior Josh Schmidt. "The entire cast and crew behind this hope you can come and enjoy the show that we've had such a great time putting together!"
Cast and Crew of "Leading Ladies"
Leo – James Goodman
Jack – Joshua Schmitt
Meg –  Sidney Kramer
Doc – Doug Slovenkay
Audrey – Emily Burns
Florence – Reagan Simon
Butch – Joey Myles
Duncan – Sam Cantu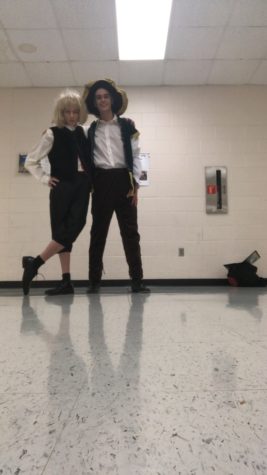 The rehearsal process for "Leading Ladies" began in early September very shortly after the cast lists for all of the shows were released. Traditionally, the fall play opens the first weekend of November, however, due to a scheduling conflict with the Fine Arts Center, the performances had to be moved up by one week. While this did certainly speed the production along at a rate that was foreign to most members of the cast crew, overall the consensus seems to be that all involved did an excellent job of adapting and putting together an excellent product in spite of the time crunch.
This was touched upon by freshman Reagon Simon, who will be playing the character Florence.
"While things were not always super smooth,"Reagan says, "our improvement was amazing – the best I've ever seen in a theatre production that I've been a part of. This cast has put together a truly amazing show."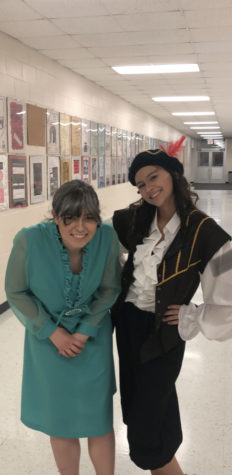 This weekend will actually not be the "Leading Ladies" premiere on the Fine Arts Center Stage. During the 2006-2007 school year, Mentor became the first high school in the nation to perform the hit comedy, which was relatively new at that point in time. The play became so popular within the community that it was performed again that winter for another weekend. While performing the show beyond this weekend is not an option because there is already another play scheduled for February, the hope is that "Leading Ladies" receives a similar reception this time around. 
James Goodman, who will be starring as Leo, conducted a brief interview with Cardinal Nation regarding his overall experience with the production. His responses can be found below:
Cardinal Nation: What did you find to be your biggest challenge?
James: Costume changes.
Cardinal Nation: If you had to pick one part or scene of the show to call your favorite, what would it be?
James: Any scene that I don't have a costume change in.
Cardinal Nation: Have you felt that this production has allowed you to grow as a performer? If so, how?
James: Definitely. I've had to learn how to switch quickly between the characters I'm playing.
Cardinal Nation: Why should people come and see "Leading Ladies"?
James: It's a "rollicking" good time. It's one of the funniest shows I've ever been in. It's good fun for all ages.
Cardinal Nation: Many members of Mentor's "original" cast of "Leading Ladies" plan on attending the show this weekend. In what ways do you find this significant?
James: It's honestly an honor that many members of the cast are taking time out of their lives to see this performance.
Over the course of the last two years, the arts – much like the rest of the world – have struggled to maintain a sense of normalcy amidst a pandemic that dominated everybody's way of life. As the world begins its slow return to normalcy, the arts are following suit. "Leading Ladies" has been Mentor's first show since the 2019-2020 school year that has been completely "normal." Gone (at least, for now) are the days of socially distanced and masked rehearsals, limited audience sizes, and minimal student crew positions. For the first time in three years, not a single rehearsal was conducted with a mask mandate in place and a full makeup and hair crew was put together and served all of the actors involved in "Leading Ladies."
This entire production has been a continuation of an upward trajectory of Mentor Theatre post-pandemic, and it is the sincerest belief of all involved that the quality of the show is a reflection of these positive changes.