Meet Shqipe Mjekiqi: Mentor MUN VI's Keynote Speaker and Kosovo Politician
When Mentor Model U.N. hosts its sixth annual Mentor MUN conference at MHS on October 14, they will have a distinguished virtual keynote speaker. Hear what she has to say to today's students.
September 27, 2022
On September 16, Cardinal Nation spoke virtually with Shqipe Mjekiqi, a politician in the government of Kosovo in southern Europe, to learn more about her life and work as Mentor Model U.N. anticipates her joining us live at our conference in October. Here is our conversation:

Cardinal Nation: What can you tell us about you?
Shqipe: I just want to say, I'm really glad to be doing this. It's been twenty years since I graduated from Madison High School, so I'm glad to get involved in any way I can. I am 37 years of age. I was 16 when I left Kosovo to go to the states. I am married and have two beautiful kids… I have, I would say many hobbies. I like swimming. I like running, as well. Unfortunately, I don't have a lot of time for these regularly but I try to do them with my kids. For example, instead of myself going for a swim, I take both my kids for swimming lessons twice a week. I find that everything I do myself, I have my kids doing as well…I enjoy seeing them. It's very rewarding. I did swimming when I was at Madison High School…That was something new to me because in high schools here you don't get to do as many clubs, it's more like additional classes…
Cardinal Nation: What was your time like traveling to the States and your time as an exchange student in Madison?
Shqipe: So, it was quite popular when I was in high school for kids from high schools here to apply for funding to go to the United States. I was very keen so I entered the competition for that but I didn't get in because I made a very terrible mistake. We had to take this English test where you would be sitting in this large room with two to three hundred people and we would listen to this cassette and write our answers from this on a piece of paper but I hadn't heard the instructions well and so I wrote the answers down incorrectly and that impacted my results. I was very disappointed and then my parents said "if you would really like to go to the United States we can look out to find an organization and that they would pay for it"…We found an organization that was arranging to bring kids from Kosovo to the United States. I was happy to do that then. It's been a great experience really .

I remember when they told me we would be going to Madison, Ohio, I started googling what "OH" stood for and where I was going to be placed. I found Madison in Chicago and knew it couldn't be that one. There were lots of unknown things at the beginning. In addition to that, I was meant to go to the States in 2001 and we were supposed to go to North Macedonia to get our U.S. Visa because the U.S. Embassy was not issuing visas in Kosovo. We ended up having  to travel to Hungary to get the visas. All of this took a lot of time and we ended up in the States after the school year had already started…
I was hesitating, for example, when teachers were giving homework…It all worked out well, I guess. It took me a little bit to get used to the accent and language. It overall has made me stronger for all of the things that came after that…I didn't do much traveling when I was in the sates. There was no time really. We spent most of the time going to places there, like Niagara Falls and things like that. When we went up to see the falls there was a bunch of European exchange students but some of our visas didn't allow us into Canada, we couldn't really see the best part. I think this has followed me since then in that Kosovo is the only country in the Western Balkans that cannot move freely between countries. We have been demanding this for so many years now…it just doesn't make sense. But we are still locked in that sense…Let's hope we get visa free travel soon. They're supposed to reach a decision in October…
Cardinal Nation: Can you give us a little background on Kosovo?
Shqipe: Kosovo is a small country, smaller than Ohio, about 1.7 million people. It's a landlocked country in the Western Balkans. We became independent in 2008. In 1999 there was a war, and even before that the Kosovo people were oppressed by the Serbian regime at that time. For example, when I started elementary school we couldn't go to school, only Serbians have access to school. So we had to improvise…this is what everybody did. Then, at some point, the Serbians began to use 1/3 of schools so we did night shift. For example, I went to school from 4-8 p.m.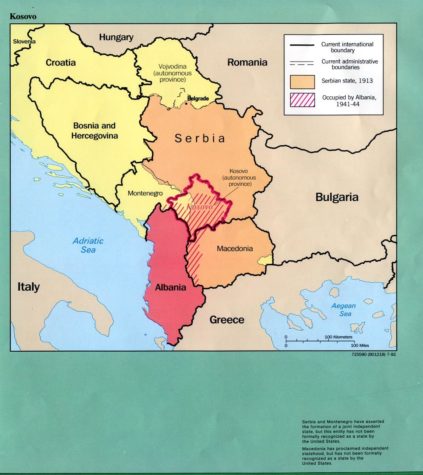 We didn't flee the country, many people did flee. We stayed at the border for two days because it was a tense situation, but they did not let us out so we returned and we were not able to leave after that. I saw bombs, NATO bombs for example. It was quite liberating when NATO intervened in Kosovo, for the people of Kosovo, of course. Luckily, the war ended in June of 1999. Then of course, it took us quite a few years to gain independence. The United States had helped us in our strife for independence and infrastructure building. The people of Kosovo remain some of the most pro-United States people in the world…There are still some countries that don't recognize us. For example,  Spain, Romania, China, etc. This makes it impossible for us to join the United Nations until some other nations recognize us. To not have this is detrimental for us… China and Russia have mainly supported Serbian interests but the US supports us…
Editor's Note: Read more about the background of this conflict here: Kosovo Conflict 1999
Cardinal Nation: What were your college years like?
Shqipe: I actually graduated from high school in the States…I was a junior when I came to the States. When I came back, the Ministry of Education accepted that. So, I started studying political science in Kosovo and when I finished that I started working for some NGOs. I was then invited to work for the then president of Kosovo, Fatmir Sejdiu. I worked for a few months in his office.
A year after that, I applied for a scholarship from the European Commission and I got it. I ended up going to the London School of Economics for a masters in politics and government of the European Union. Then it was quite popular, but at some point I thought, well, what if there is no European Union? I am very much a supporter of the European Union and I would like to see Kosovo join the union at some point…Then I went back to science and I applied for a scholarship from the Department of Political Science at Trinity College in Ireland. I got the scholarship. I had not been to Ireland before but I knew I wanted to do something with political studies and I was very keen of studying elections and electoral studies. I was also very keen of the work of Professor Michael Gallagher so I went after him and he was my mentor for my PHD…
Cardinal Nation: What has been your experience with the United Nations?
Shqipe: When I used to work for the president and the Internal Affairs minister, we would go to New York. We were invited when the General Assembly and Security Council were meeting. Even today, they meet and talk about Kosovo. The president would join them and give a speech but because we are not members, we had restricted access and had trouble meeting with other nations. Albania, our neighboring country, was helpful at times providing office space so we did not have to meet in the hallway… For some time, we had the UN mission in Kosovo…It is still present but doesn't retain many major powers. It is phasing out. Hopefully, we'll gain recognition from other countries to be able to join the UN…
Cardinal Nation: What are you currently doing in terms of work?
Shqipe: I have been in politics from the background; I never ran for office. I worked mainly in campaigning, helping other people and stuff…So last year, [I joined] the Democratic League of Kosovo, the eldest league and it was founded by our first president. I have always been affiliated with this party. It's a central right party. Last year I was invited to formally join the party by the new leadership because in February of last year they had the worst results during an election ever, and so they invited me to join the senior leadership of the party. I thought that was my moment because I always wanted to become politically active…It can get busy…I am one of the vice chair's of the party. I also chair the Department of Foreign Policy. Most of what we do in that department relates to the European People's party. We are an observing member of that so we have established relations with them… Elections are still two and a half years away from now, but I want to take my time to campaign. I realize that some people know me, but I haven't really had the chance to get down to the grass roots and talk to people…
Cardinal Nation: Any aspirations for the future?
Shqipe: As I said, this will be my first time running so I hope I will get elected to office…So, I'm working towards that. I'm taking my time and getting more physical in the media and talking to people… I would very much like to be in parliament and I would very much like to be an advocate, especially for women's rights in this part of the world.