Get Creative With MHS Art Club!
A column by Art Club President Teresa Morek on Mentor High School's most colorful club
September 26, 2022
Do you want to learn how to work with different mediums? Do you want extra time to work on class projects? How about creating a portfolio for scholarships? Or even just a place to be creative? Well, MHS Art Club is for you!
Art Club is a great way to find like-minded, creative people! We pride ourselves on being inclusive of anyone, so a fee is not required. But if an activity requires excess supplies, members may need to buy their own to bring. If this is a problem please talk to Mrs. Toot as needed. We do not want cost to deter anyone! Additionally, collaboration is not necessary, but it is highly encouraged as we will often work in groups to brainstorm ideas and consider differing viewpoints.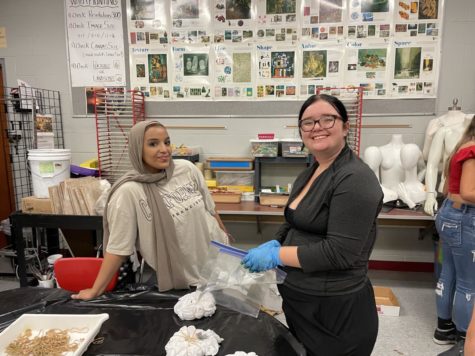 Meetings are on Tuesdays after school in I-102 until 3:30 p.m. and are open to anyone interested in art regardless of grade level or enrollment in an art course. No experience level is required; however, each member should come with a goal. This could be as broad as "I want to get better at working with charcoal" or as specific as "I want to be able to watercolor cats through a fisheye lens." This should be your underlying goal throughout the year or until you are ready to move to a new one. On top of that, most meetings will have specified activities such as our most recent meeting in which we finished rinsing our tie-dyed shirts.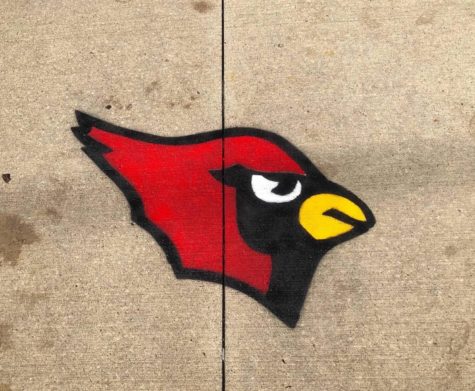 Art Club is unique because it is almost completely student-led, which I feel makes it less intimidating. Each meeting starts out with a weekly agenda read by our president (me), in which members can suggest ideas for future meetings, ways to fundraise, and even ways to integrate art into the school and community. Our current fundraiser involves spray painting a cardinal onto driveways in order to bring life to the community and help people show their Mentor pride.
In addition to our tie-dying activity, we already have plans to screen-print an Art Club logo onto our tie-dyed shirts, enter pieces into the umbrella art show, paint a picnic table outside, and more! If you plan on coming to our next meeting, please bring a pumpkin you would like to paint. We are also open to suggestions if you have an activity idea for a future meeting.
Cardinal Nation asked current art club members: "Why should people join art club?" Some of our member answers included the following:
"I'm not in any art classes but I love Art Club because it is a way for me to do some fun art things without a ton of commitment."
"Students should join Art Club as a creative outlet and a way to clear their minds and have fun."
"We get to do creative projects that are exclusive to Art Club and it makes me feel like I'm getting to do things that I wouldn't be able to do in a traditional art class. I also really like that we get to suggest ideas that actually get used."
"Art club for me has always been a safe space where I am given a community and resources that promote me to bring my ideas to life and put my creativity to endless use. It is a place for people to be themselves and have fun, and I am so excited to have that experience back at Mentor High."
If you have any questions or concerns about Art Club please do not hesitate to contact me at [email protected] or our advisor Mrs. Toot at [email protected].
I hope to see you there!