Top 25 Presents Their Annual "Big Show"
Mentor Top 25 Show Choir's Big Show Opens this Weekend! Come See Top 25 in Action this Friday and Saturday, the 22nd and 23rd of April
Do you happen to find yourself with free time this Friday and/or Saturday night? If so, Mentor Top 25 may have just given you a reason to get off of your couch and take in some good ol' fashioned live entertainment. This Friday and Saturday, the 22nd and 23rd of April at 7 p.m., Top 25 will be having their annual "Big Show," in which all of the music pieces that the group has worked on throughout the year will be performed, resulting in a product that is bound to make for an exhilarating hour of entertainment!
What is Top 25?
Top 25 is a show choir here at Mentor High School, meaning that the students in this group perform a series of musical numbers that encompass a form of choreography to go along with choral performance (think about a dance number in a musical in which the actors sing songs while dancing. Show Choir is a series of this variety of musical numbers).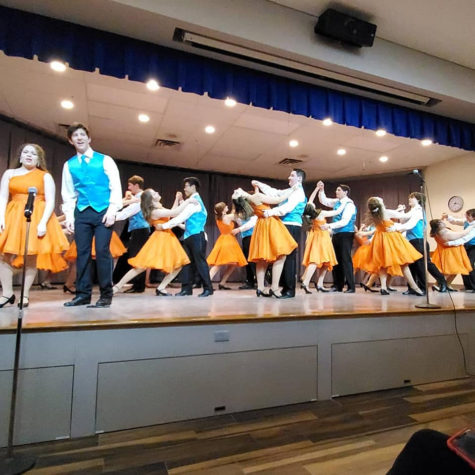 The songs in which Top 25 sings each year are dependent on a theme that varies on a year-to-year basis. This year, Top 25's theme is "All about Disney!" in celebration of the 50th anniversary of Disney World. This means that lovers of all things Disney may take a special liking to Top 25's Big Show performance, which will be an hour of non-stop renditions of a multiple Disney classics, including "Under the Sea" and  "Be our Guest" in addition to some modern hits such as "We Don't Talk About Bruno"! Each summer, Top 25 travels to different locations around the United States in order to deliver their performances to new audiences. This summer, Top 25 will be spending a week in Disney World (a location that is rather fitting given their theme)!
Members of Top 25 began rehearsing in late July of 2021, and have met approximately once a week since.
"I have loved every minute in which I have been able to perform alongside all of my friends this year," says Claire English, the group's lone 4-year member. "This group is truly like one big, giant family, and I am eternally grateful for the friendships and experiences that I have made as a result of my participation in Top 25."
Throughout the year, Top 25 has held various performances at a variety of locations, ranging from Show Choir Festivals at neighboring high schools to car dealerships. Yet none of their performances thus far have included their entire set-list, making the Big Show an incredibly unique and exciting opportunity for audience members that you most certainly will not want to miss!