"Mentor, Who?" The Game That Made The Cardinals
A monumental football victory more than 50 years ago in the cradle of Ohio high school football was the first Mentor Cardinal game to put the squad on the map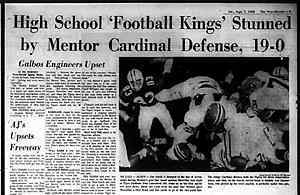 "Mentor Who?" – That's what the papers read the morning of September 7th, 1968. 
Back then, Mentor was a small, unknown suburb in the Northeast, a region not known for its football teams. So when they beat the football powerhouse Massillon Tigers 19-0, people took notice. 
Massillon was the top school for football in Ohio, with multiple state championships, undefeated seasons, and years of coaching from Paul Brown under their belt.
In stark contrast, Mentor was a bunch of nobodies.
So on September 6th, the scene was set for a complete wipeout.
Massillon, the best of the best, took the field at Tigers Stadium expecting an easy win. Newspapers, radio stations, and everyday people all expected the same result – a landslide victory for the Tigers. In a 2018 Teamsite interview, former Mentor Quarterback Rick Galbos recalled, "I think I heard around town some people were saying we would get beat by 35 points that night…we were in uncharted territory playing a team like Massillon." 
Yet, even with everyone betting against them, the Cardinals were determined to win.
A victory against Massillon would be huge, and the players knew it. A win would give the Cardinals enough momentum to push themselves to the top and cement their place among the greats. As Galbos put it, "To make a move into the big time, we had to win that game."
But Mentor's legacy as a school wasn't all that was on the line. Underneath the great underdog story was a personal competition that went back years. 
Dick Crum, Mentor's coach and a future coach at Miami, Kent State, and North Carolina Universities, had started his football career as an assistant coach at Sandusky High. Bob Seaman, Massillon's head coach, had worked right alongside him. As coworkers, Crum and Seaman became close friends, staying in touch even after they each left for greener pastures. But with Massillon lined up to play Mentor, Crum had a chance to prove he was the better coach. After years of being professional equals, the Mentor-Massillon game would not only propel the Cardinals to local fame, but also settle a friendly rivalry between the two coaches.
Despite the community's certainty in the Tigers, with the stakes as high as they were, Seaman was still wary of what Mentor might pull off. According to Crum, during the Cardinals' last practice before the game, a Massillon scout was sent to gather info on Mentor.
"He wasn't a very good spy," recalled Crum in the Mentor Teamsite interview, "because I knew who he was".
The Cardinals ran a dive play ad infinitum to throw off the scout, who presumably went home and told Seaman there was nothing to worry about. Unbeknownst to him, that was a game-losing mistake.
When the game finally kicked off, things went bad for Massillon from the get-go. The first quarter saw neither team score as the Cardinals kept the Tigers at bay, with Massillon missing opportunities to score left and right. As Seaman said in a Massillon school newspaper article account of that day, "We put the ball everywhere except the endzone". 
Massillon was in shambles, having clearly underestimated the Cardinals. It only got worse as the game rolled on. A spark of hope was ignited with a 63-yard drive, but was quickly extinguished when Tigers player Jim Smith tried to go off left tackle on third down from the three yard line, meeting Mentor tacklers before the end zone.
"Close is only good in horseshoes," Seaman angrily spewed in response to the play.
Mentor racked up seven points by the end of the second quarter, with Massillon only gaining a series of penalties. As the players emptied the field for halftime, they knew their fate was sealed. Massillon hadn't lost an opening game since 1962, and they certainly hadn't expected Mentor to change that. So, when Rick Galbos's final touchdown in the last three minutes of the game sealed the deal on one of Massillon's worst losses in history, the crowd of 13,000 looked on in disbelief.
Plagued by incomplete passes, poor blocking, and an injured safety, the Tigers stared up at the clock as it ticked down to zero, matching their score. After the game, Seaman put it plainly, "I think Mentor has a good team."
On Massillon's website, it still reads under the entry for the 1968 game against Mentor, "One of the worst opening losses for Tigers".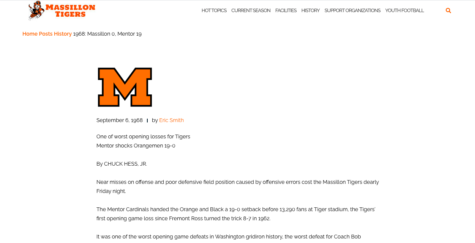 Mentor's win against Massillon propelled them to an undefeated season that year, and built the momentum that has carried the team to become the winner of various titles and over 600 individual games. The News-Herald places multiple members of the 1968 Cardinals on the list of the top 50 highschool football players of the 20th century, with many of the players going on to have successful college and professional careers.

"It was our miracle on ice, our Tyson knockout, our victory," Coach Steve Trivisonno, now retired, said in the Teamsite interview. "That game is one of those that we all know. I grew up as a young boy around 6-years-old and we knew about the win over Massillon…It is a signature game for the program. It put Mentor on the state map. Coach Crum and his guys really did something special that day. Something we all remember."
And yet, barely any Mentor students know this game even took place. The story of the 1968 Mentor v. Massillon game has been called a lot of things: "one of the worst opening game defeats", "the worst defeat for Coach Bob Seaman", "a monumental triumph", and so on. But the Massillon game of 1968 is something bigger.
It's a reminder that Mentor High is its own community, with its own heroes, and its own victories. It's easy to forget that our school has a history, and that it was built by students just like the ones we have now. Each working dutifully in their sport or club, contributing to something bigger than themselves, bigger than 2022, and bigger than 1968.